Basement Remodel in a 1923 Tudor Revival Bungalow in the heart of Nakoma City of Madison, WI
Challenge
This family with younger children wanted to design a new living space in their 1923 bungalow basement from a cold, damp, unpleasant space to a living area they would love to spend time in. It contained an unleveled, sloped concrete floor with no floor drain system, and worn vinyl flooring and carpeting. An existing bathroom was placed on an elevated plywood floor, with a small modular shower and tiny vanity. And there was no place for a workout room. The mechanical systems (electrical, heating, and plumbing) were also outdated.
The walls were formed from plywood and drywall and covered with wallpaper, with grid drop-down ceilings. The new design also required us to remove a wall located in the center of the room in order to expand the living space into an existing workshop area. Soil stacks needed to be relocated.
Solution
Sweeney Design Remodel redesigned the existing basement space to create the following areas: exercise room, media room, 3/4 bathroom, landing zone, raw storage, and furnace room.
In addition to leveling the floor and installing new luxury vinyl tile (LVT) throughout, we reworked the entire mechanical system, including electrical, heating and plumbing, within the exposed ceiling (the first floor joist space).
We updated the finishes with laminated veneer lumber (LVL) flooring and a shiplap finish on all walls, and added new windows in the existing openings and new fixtures in the bathroom.
Other features:
Built-in bench and wall hooks in the drop zone
Dramatic exposed ceiling beams
Large workout room with wall mirror
Enclosed mechanical area
Result
By remodeling the basement, the homeowners were able to add square footage and a new living area to their home without building an addition, and now enjoy a climate-controlled space for workouts and family TV viewing, a new drop zone for family activities, and dedicated storage.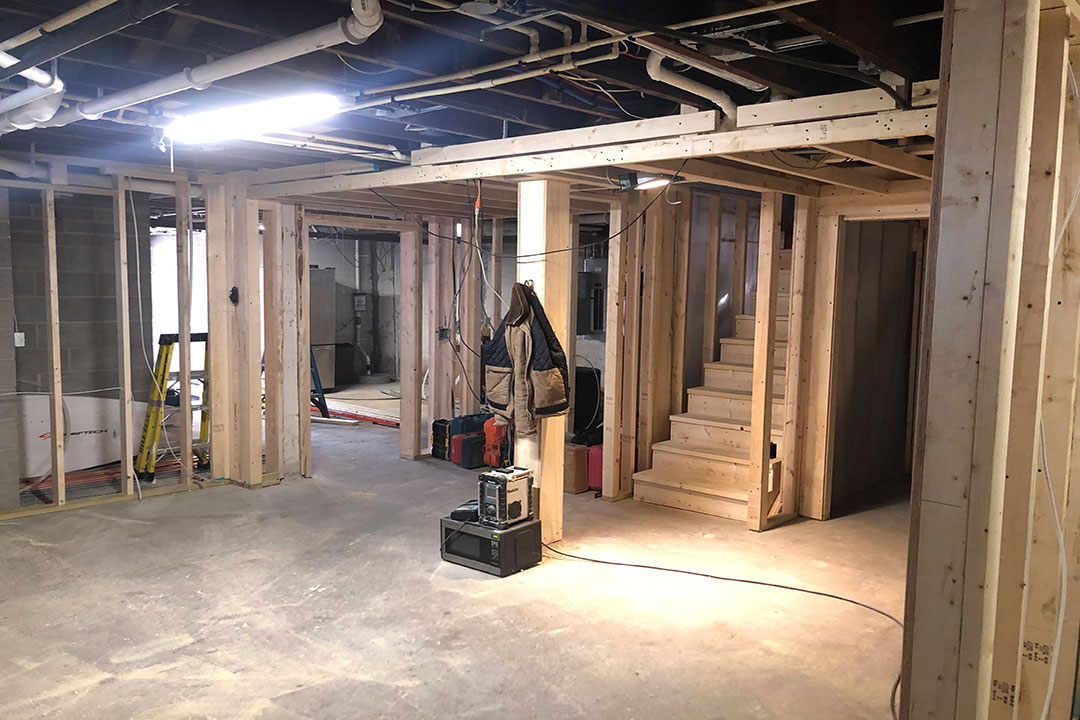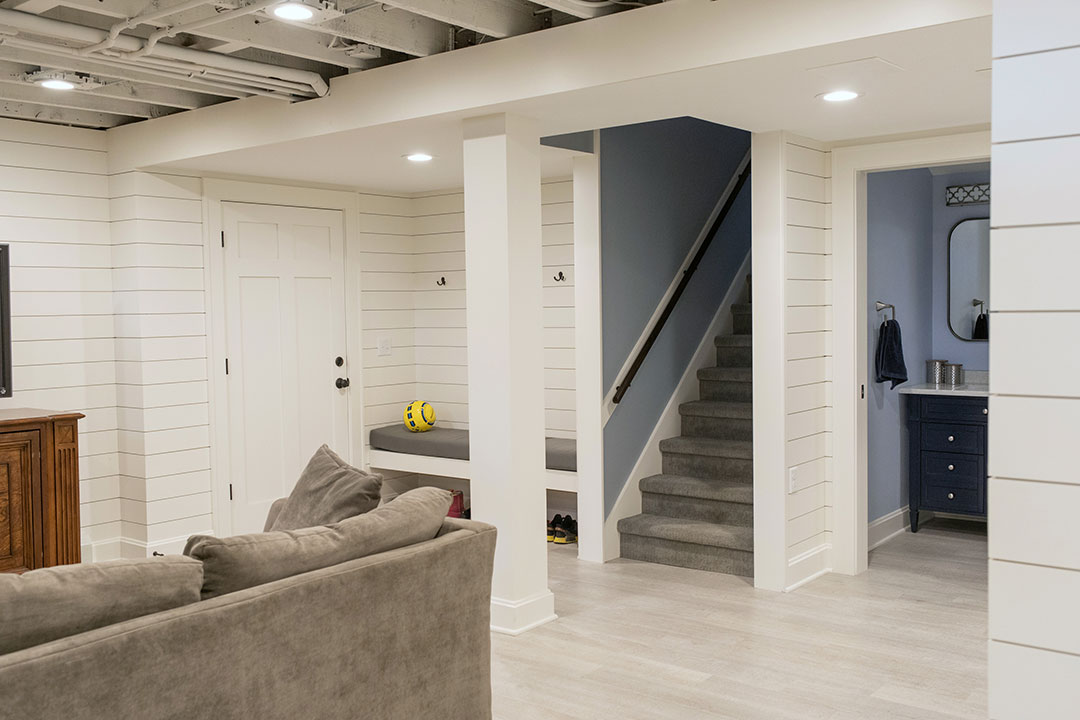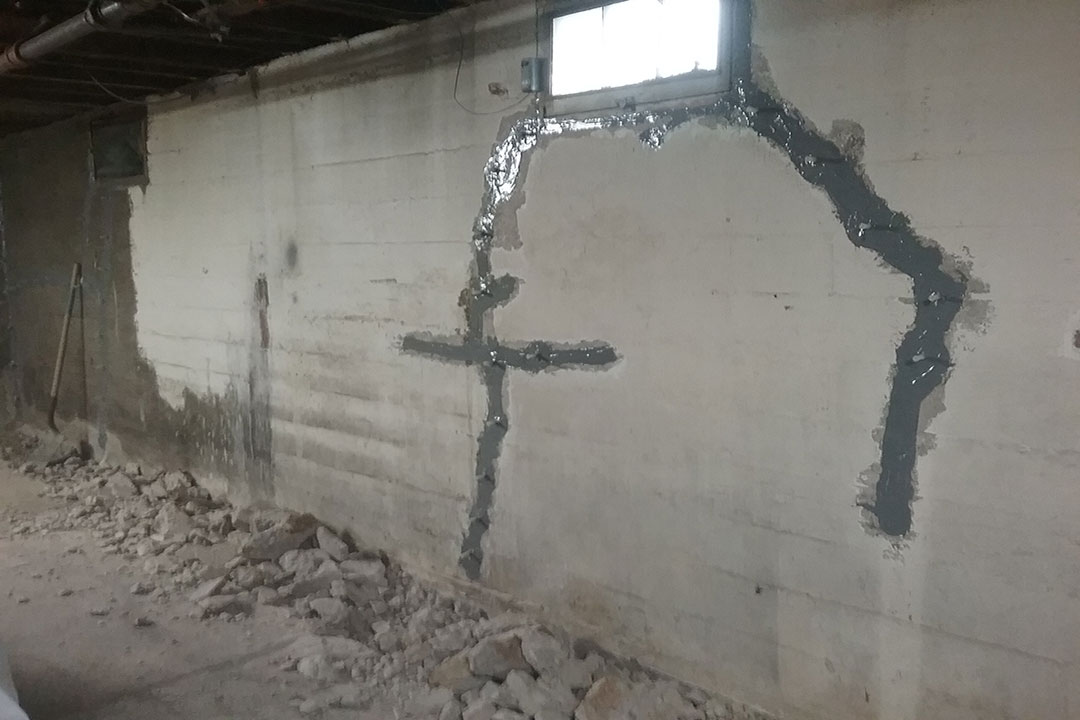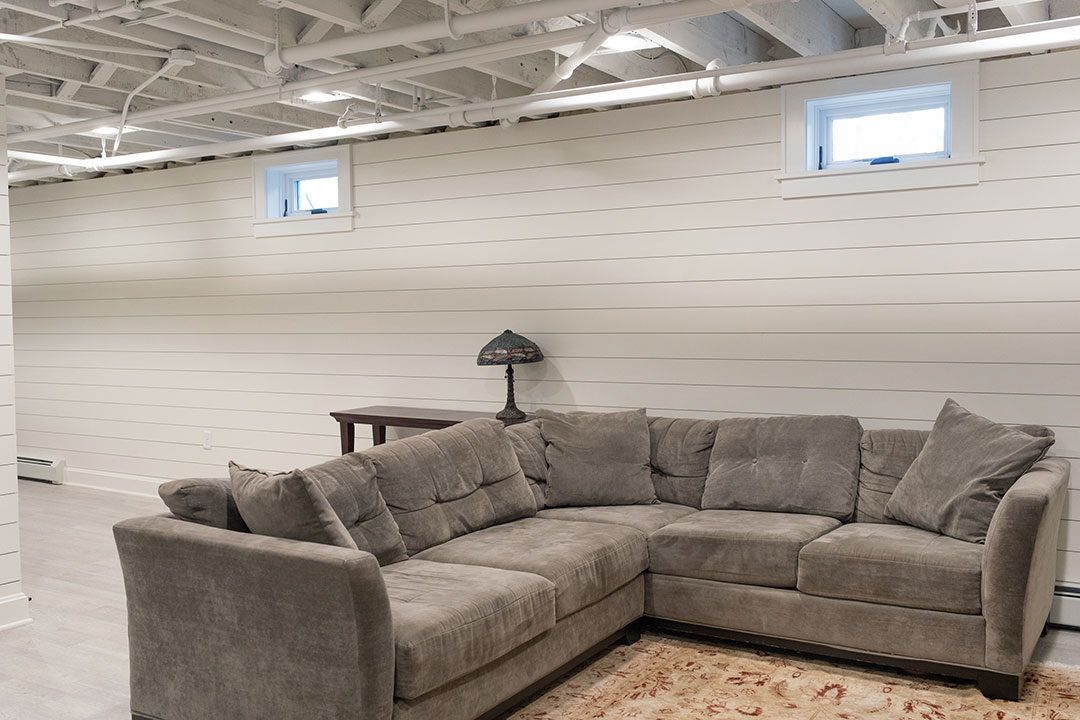 Are you ready to discuss your ideas with a remodeling contractor who will talk to you straight?
LET'S TALK SHOP