A Ranch-Style Home First Floor Remodel in Gateway Estates, Verona, WI
Challenge
After purchasing their home in Gateway Estates, these Verona homeowners had visions of remodeling their entire first floor, which included updating the master bathroom, main bath, kitchen, dining, and family rooms. Although not in disrepair, the home was dated with original builder-grade finishes and a traditional closed floor plan. 
When our clients came to Sweeney Design Remodel, they wanted to open up the kitchen/dining area into the living room and replace the peninsula with an island. They also wanted new cabinetry, countertops, appliances, and consistent flooring to tie the main living areas together.
Kitchen and Dining Area
Beyond updating the kitchen with modern amenities, the refrigerator stuck out into the room, the lighting was poor (one center light and no under cabinet lighting) and the tile and wood flooring were inconsistent throughout the space. The dining room was small with flat 8' ceilings and was tucked away from the kitchen.
Living Room
Unlike the dining room, the adjoining living room had cathedral/sloped 12' ceilings of which the homeowners wanted to add two new skylights. They also wanted to replace and reconfigure the railings in the foyer. Any changes to the walls would result in additional repairs to the wood floors.
Solution
After working with Sweeney's design team through space planning, our clients decided on elements that worked well in their space. We addressed items in particular that would be important to incorporate into the design, following form and function.
Sweeney Design Remodel's design solution included removing the walls that separated the dining room to open up the space. Then, we re-positioning the large refrigerator into the pantry wall to seamlessly integrate it into the kitchen and create better flow. This solution also created plenty of space to add a large island with seating and room to walk around it.
With the walls removed, the kitchen and dining space became open and airy. The room was  brought to life with new buffet cabinetry, a new gas range, and refinished wood floors—just what the homeowners asked for. 
The kitchen backsplash was designed in a beautiful Arctic White Cepac® Chalet tile complemented by custom Starmark maple cabinets in a Roseville door style and topped with Berwyn Cambria countertops. Above the island is a beautiful satin nickel Jonah Feiss pendant light from Generation Lighting. 
Keeping the original layout in both bathrooms, all outdated fixtures and finishes were updated with new cabinetry, fixtures, paint, tile, countertops, and new shower doors.
Covering the master bathroom floors, shower walls, and shower curb, we laid beautiful unpolished Statuary 21st Century Tile. This was complemented by striking Limestone Gris Et Blanc Daltile in the shower niche and a Greige Stone Peak Highland tile, in a herringbone pattern, on the shower floor.
The hallway bathroom was designed in 12" x 24" Newport Bay tile, covering the bathroom floors, shower walls, and shower curb. A shower accent (1.5" x 4" trapezoid Contessa Charm Daltile Regal Pendant tile) and shower floor design (1.5" x 1.5" Relic Umber Vintage Hex tile) complete the look, along with a new Spendor Galileo glass shower door.
Last but not least, the first floor remodel resulted in updated stair railings with plain hollow and double square balusters, new skylights, paint, and consistent red oak hardwood flooring throughout. 
Result
Sweeney completely transformed the first floor of this ranch-style home into a bright, open, and airy space. Perfect for living and entertaining for many years to come.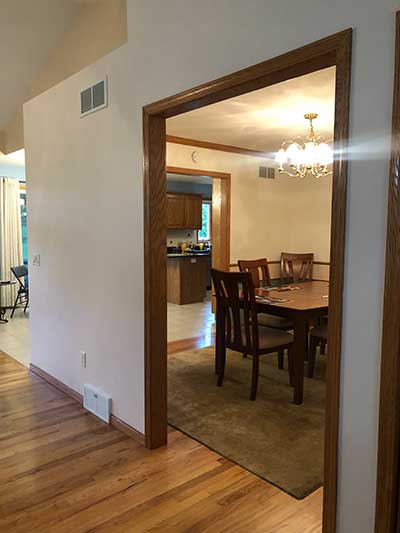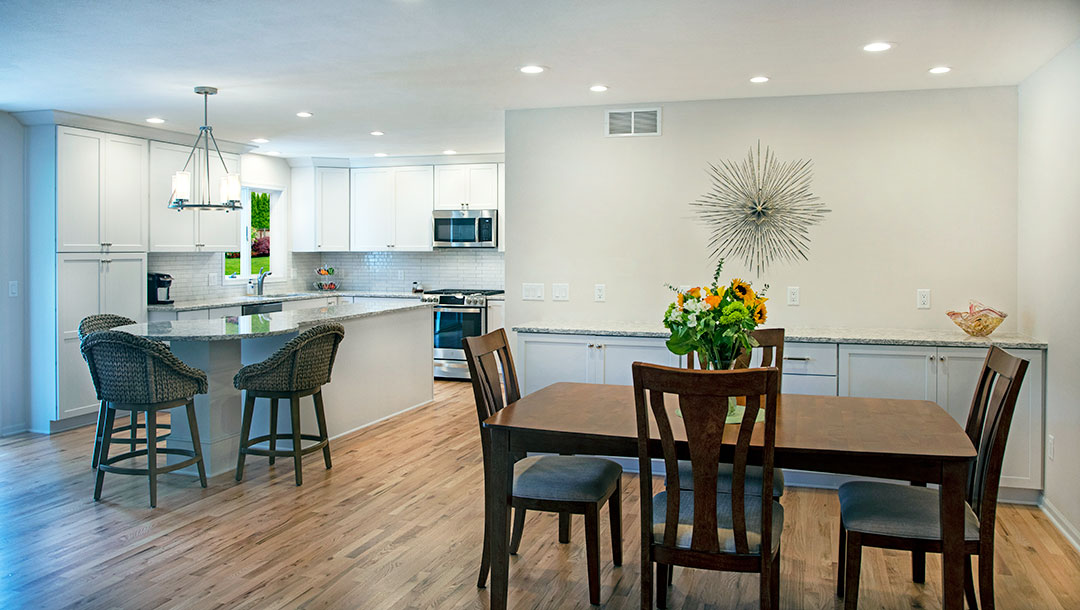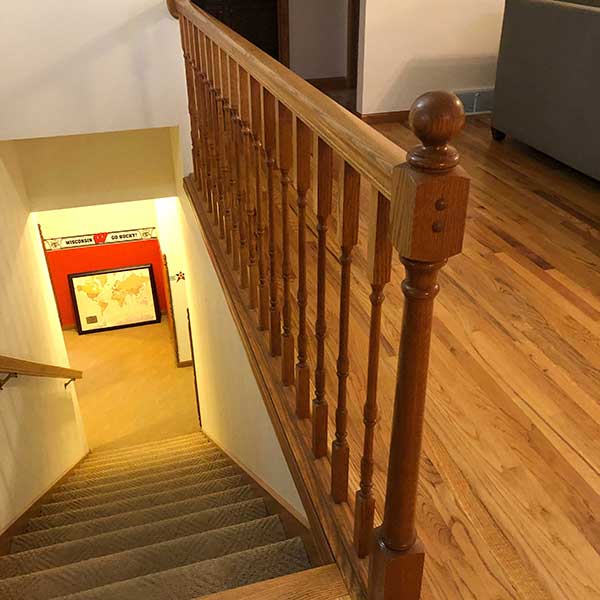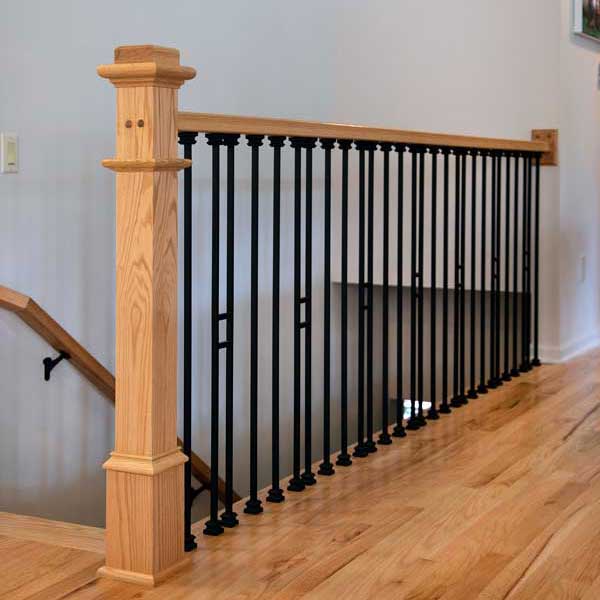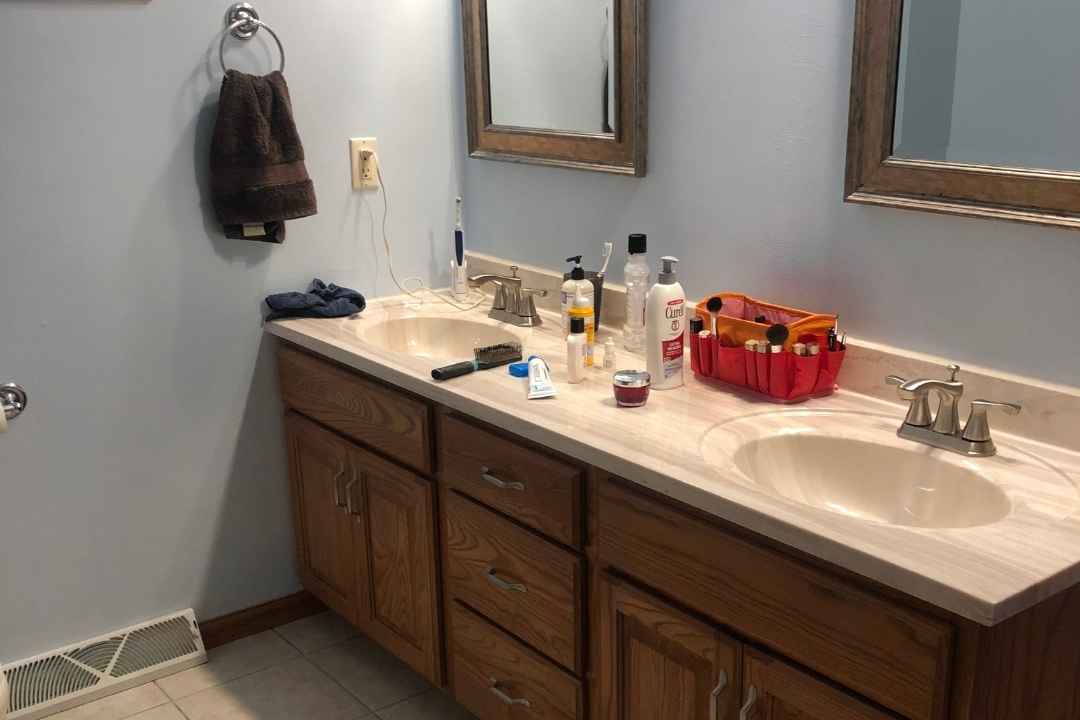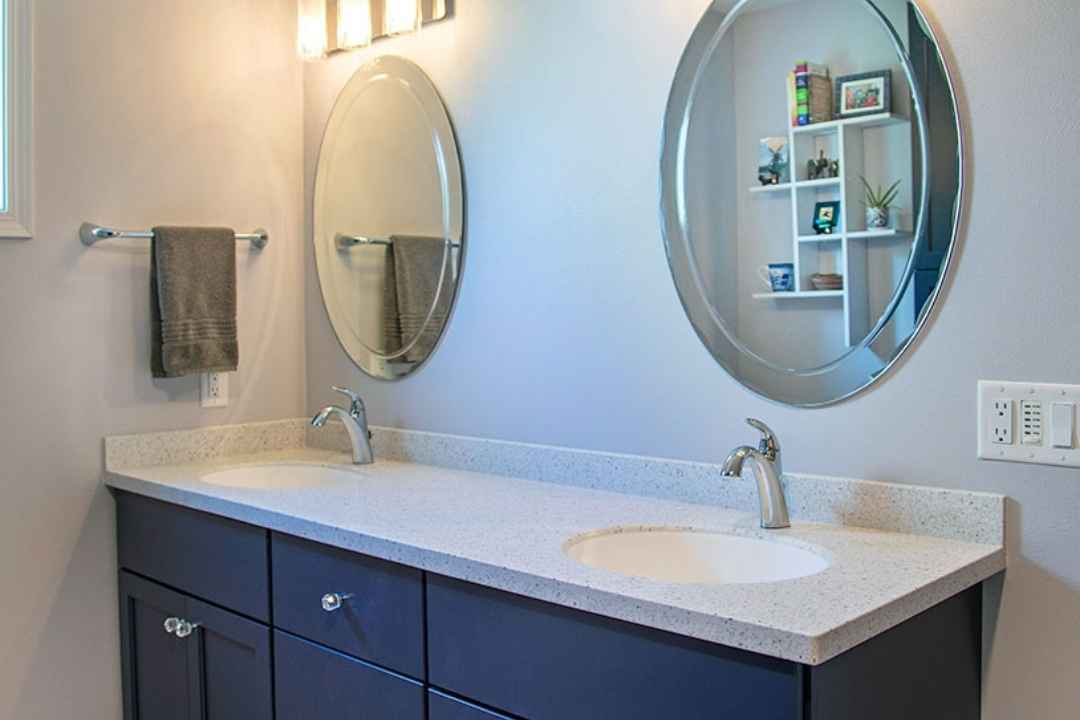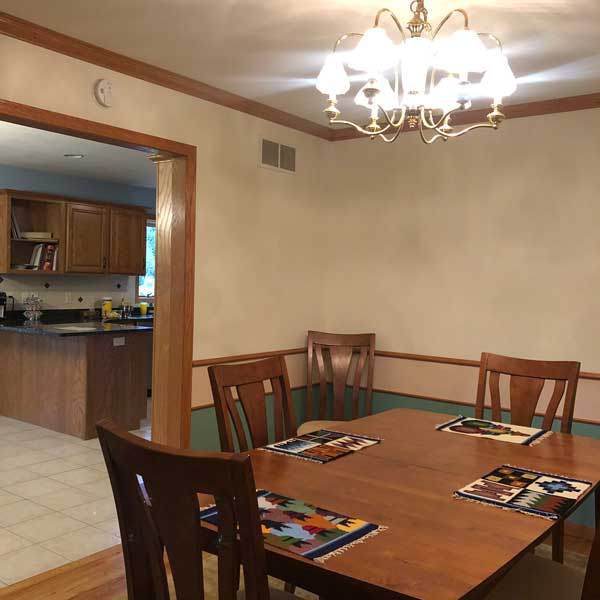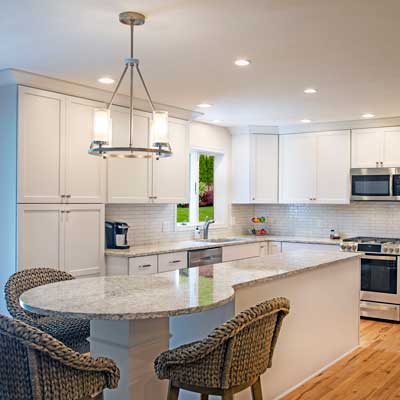 Are you ready to discuss your ideas with a remodeling contractor who will talk to you straight?
LET'S TALK SHOP