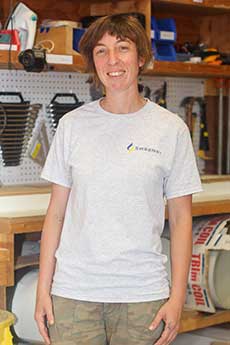 Kerry Devlin
Carpenter
A shining star and new addition to the Sweeney carpentry team is Kerry Devlin. Kerry is a recent graduate from Madison Area Technical College in Construction and Remodeling. She also completed an OSHA Outreach Training Program course and CPR/AED certification from Red Cross.
Prior to returning to school, she managed a large-scale organic farm for 13 years.
"I am excited to begin my new career at such a top-notch company. The field crew and the office staff are attentively showing me how to apply my carpentry knowledge to the varied world of remodeling."
Also a member of the Women in Trades Pre-Apprenticeship Program, Kerry will continue to hone her skills under the mentorship of Sweeney's seasoned journeymen carpenters— measuring, cutting, and shaping materials; following blueprints, building plans; and constructing building frameworks such as walls, floors and door frames.
When Kerry isn't working, you'll find her gardening, hiking, or gathering wild edibles. She loves to take her nephews berry picking.