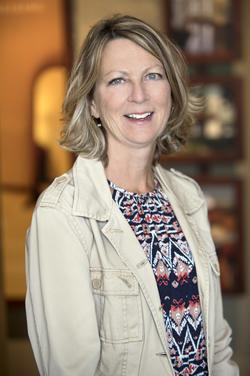 Linda Sweeney
Vice President and Design Consultant
With a passion for design, nearly 30 years of experience managing small businesses and a degree in architectural drafting, Linda is a true asset to the Sweeney team. Linda joined her husband Tim in the business in 2004 to assist clients in converting their wishes into actionable designs.
Linda enjoys keeping up with new decorating styles and is always eager to learn about the latest home design trends. From traditional to contemporary, Linda's expertise and experience always result in accurate, high quality designs that translate into beautiful finished projects—from concept to completion. On any given day, you will find Linda drafting or meeting with clients to ensure no detail is overlooked. One of her essential skill sets is finding creative ways to build custom features, whether aesthetic or functional, into every remodel. When she's not in the office, you might find her visiting with clients on-site to measure or  follow upon progress, as she remains by your side until your project is done.
Prior to her work at Sweeney, Linda spent many years as a veterinary technician and manager at a 4-vet veterinary specialty hospital in Verona. Linda is an animal lover and an equestrian at heart. She couldn't imagine her life without horses.
Linda, and her husband Tim participate in combined driving events, an equestrian sport involving horse-driven carriages, all across the Midwest. While Tim takes on the important part of being the navigator, it is the true team effort that both love about this sport… aside from the horses of course.  
Speaking of love, mention Linda's two horses and she beams. One of them, she uses for ridden dressage and driven dressage competitions (with a carriage). This same horse she uses for trail riding and horse camping. It's the second horse she calls her steady eddy—one that is so gentle and steady that a two-year old could ride him. But no matter the horse, if you bring them up to Linda, you can hear the joy in her heart. As she puts it, "gosh I could talk endlessly about my horses!"
Linda and Tim live in Verona and have two grown children, Chris and Kelsey.