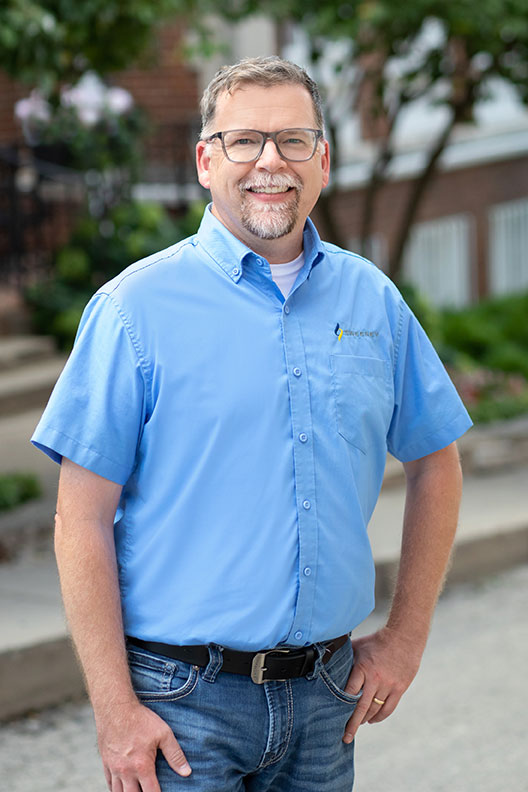 Sweeney Design Remodel is pleased to announce that Brett Clarke has joined Madison's renowned residential design-build firm as their new Project Developer, effective July 25, 2022.
Brett's long-standing reputation and service to the construction industry are attributed to his 24-year history with Brunsell Lumber and Millwork, a well-respected, fourth-generation, family-owned building supply company in Madison, WI. Brett's incredible career started as a cashier when he was working his way through college. He soon became a paint specialist and then graduated to the sales desk where he learned a lot about the industry and began developing relationships with the trades. Brett spent the next 8 years in management, responsible for the inside sales staff and managing the installation and repair tool departments.
Dedicated to family and his life at home, Brett also sought balance and wanted a change. Brett transferred to outside sales a year later where he developed deep relationships with general contractors throughout the region—problem-solving, visiting job sites, and immersing himself in the end-to-end client experience. In this outside sales role, he became particularly familiar with Sweeney Design Remodel.
"I am really excited to join the Sweeney team," admits Brett, who is now responsible for managing residential remodeling projects in a similar capacity, but on a smaller scale and a more intimate way. As a project developer, Brett has jumped right into his role working alongside the project managers to develop project activities and schedules and ensure that everyone involved adheres to work ethics and quality production standards. He also works closely with clients throughout the entire design-build process to help make the journey as satisfying and easy-going as possible.
"I met Tim and Jeff several years ago. There was always something inherently different about Sweeney and the family-focused, people-centered culture that stood out. It was the focus on integrity, professionalism, attention to detail, and transparency that drew me to Sweeney. I also valued the efficient processes they had in place and the team environment. Everyone's role in the company is important and valued."
"I really enjoy working with clients and understanding their needs, said Brett. "Listening is key to success, especially as a project developer, even more so than talking. Our successful journey together starts by asking the right questions to really learn a homeowner's story, needs, and dreams for their home. Then, I work collaboratively with our skilled team (including mechanical, electrical, and plumbing systems; structural engineers; subcontractors; and architectural and interior designers). I oversee the development of the design documents, manage the budget, and ultimately orchestrate the fulfillment of a perfectly executed remodel. Nothing is more rewarding."