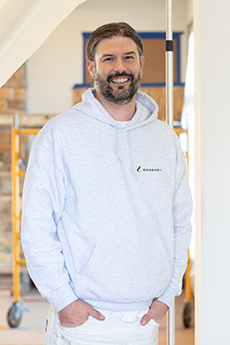 Jamie Cash
Painter
Essential to any residential remodel is a professional painter, a skillful artisan, who paints interior and exterior structures and surfaces. Hired in September 2022, Jamie's experience in painting with various tools and his knowledge in selecting the right materials has proven to be invaluable to the company and Sweeney clients.
Jamie has not only been working in the trades since high school, he also worked for two local paint companies and owned his own company for approximately 12 years. When asked what he's known for professionally, he said "staining and varnishing, as well as fixing problems with weathered pieces. I love reviving old wood and bringing it back to life."
When Jamie isn't working, he is doting on his two young children. One of his family's favorite activities is racing their sailboat on Sundays, sleeping and camping on the boat. Jamie is also a musician. He has had the privilege of entertaining large groups in festivals and venues in the Caribbean and Europe. Today, you can see him perform with Moonhouse at the Up North Bar in Madison, WI.

1008 Fish Hatchery Road
Madison WI, 53715
Phone: 608.257.3034
Home
About
Design+Build
Your Impact
Services
Portfolio
News/Events
Blog
Contact
RECENT WORKS
[Portfolio images here]