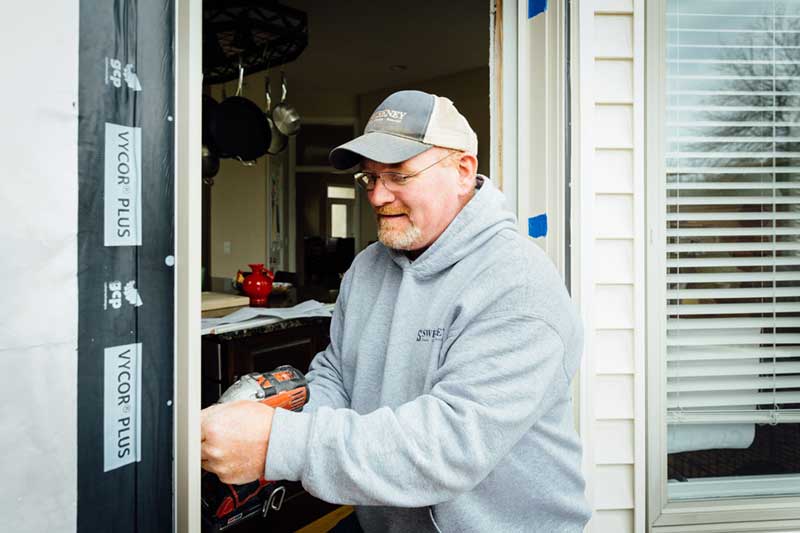 Primary Purpose:
The lead finish carpenter has strong organizations and communication skills. A good understanding of rough and finish carpentry methods and techniques, refined carpentry skills and the ability to interact with subcontractors and clients.
Job Duties:
As a skilled remodeling carpenter, you will work collaboratively with Sweeney clients, estimators, field personnel and office project managers performing demolition through finish carpentry on all remodeling projects. You will assist in the supervision and scheduling of subcontractors, venders, and field crew, as well as order material for Sweeney remodeling projects. This fast-paced position requires a "service first" attitude. And, by joining our team, you are contributing to our 60-year history of delivering outstanding customer service and superior finish carpentry work that is delivered on time and on budget.
Work Hours:
The lead finish carpenter's work day starts at 7:00 a.m. and ends at 3:30 p.m. with 30 minutes for lunch, and two fifteen minute breaks, once in the morning and the other in the afternoon. The work week is typically Monday through Friday, however the days may adjust due to the responsibilities needed on each construction site.
Salary:
Full time/permanent position commensurate with experience, 40-hour work week paid on a weekly basis, company provided vehicle to drive home that is equipped with tools and equipment, uniform provided, health and dental insurance, vacation and company match 401K retirement plan, and paid holidays.
Position Responsibilities:
Perform carpentry at the highest level with minimal direct supervision.
Understand blueprint drawings and written specifications. Also understand work orders, change orders and all other carpentry related job documents.
Perform rough and finish carpentry to company's standard of quality and according to the plans and specifications.
Bring discrepancies and special conditions to the attention of the Field Production Manager for discussion. If situation cannot be resolved, notify sales staff and Production Manager.
Lay out and install stud wall framing.
Lay out and install stairs for a basement or deck using a framing square.
Establish grades for proper drainage of flatwork and simple structures.
Use a transit level to establish grades and elevations.
Install standard wall-hung cabinetry and accessories.
Install pre-hung door units and windows.
Install interior trim, base, casing, crown molding, etc. with superior craftsmanship.
Install drywall.
Complete simple repairs in painting/staining, mechanical, plumbing, electrical and flooring.
Ensure jobsite safety, protection and maintenance of company tools.
Maintain a safe and clean jobsite.
Miscellaneous other site duties as required to provide excellent customer service
Position Requirements:
Minimum four year's carpentry experience.
Complete command of rough and finish carpentry skills.
Ability to perform work according to Sweeney Construction's quality standards.
Exceptional verbal and interpersonal communication skills.
The ability to read and understand construction documents.
Neat appearance.
Forty hours per weekly period.
Ability to perform physically demanding work on a consistent basis, including lifting 100 pounds.
Driver's license and maintain a good driving record.