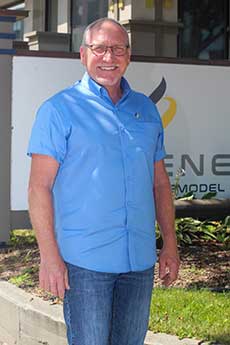 Doug Deegan
Project Manager
Doug joined Sweeney in 2018 as a Carpenter where his responsibilities included reviewing and implementing design plans, handling procurement, demolition, framing, and finishing. In June of 2020, Doug was promoted to Project Manager. His responsibilites now include acting as a liaison between estimators, the design team, subcontractors and field staff – from inception to completion.
What we love about him most? His contagious 'can do' attitude and relaxed, easy going nature.  
When asked what he is most passionate about, Doug replied, "Providing extraordinary customer service. I really enjoy seeing the wonderment and joy our clients express as we near project completion."
Not surprising, Doug has a history of displaying customer service excellence from past employers—receiving a classroom certification for Achievement of Extraordinary Customer Relations, and a Sales and Customer Service Excellence award.
When he is not working, Doug enjoys being with his wife and visiting his children and grandchildren. Doug and his wife also value time together working on their 5-acre property.
You might also find him volunteering for Habitat for Humanity. Near and dear to his heart, putting his skills to good use, Doug plans to continue supporting this organization well after he retires.