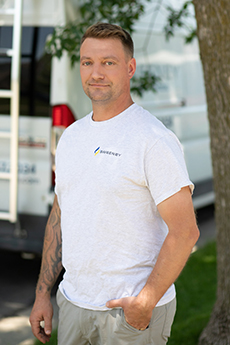 Dennis Weaver
Lead Carpenter
Starting as a carpenter's helper after getting out of the army, Dennis has honed his skills as a lead carpenter for over two decades. He worked at Sweeney back in 2006 through the economic downturn in 2008 that sent everyone reinventing themselves. During that time, Dennis worked as a carpenter on multiple projects and most recently for a high-end custom home builder. Fast forward to 2020, and Sweeney had the fortunate opportunity to bring Dennis back into the family.
As a lead carpenter, Dennis is responsible for monitoring field carpenters, scheduling subs, ordering materials, analyzing blueprints, following clients' specifications, and completing projects within the agreed-upon timeframe. Above all of that, Dennis has a penchant for high-end finish work—a master of his craft.
"Beyond getting a paycheck," laughed Dennis, "I really do enjoy finish work, particularly custom trim work. After working for several years as a high-end custom home builder, I got really good at it."
A parent of three boys (one 22-year-old and two 2-year-old twins), Dennis is a busy family man immersed in raising his family. When he does have time to get away and enjoy the outdoors, you'll find him prioritizing activities around hiking, fishing, hunting, camping, or off-roading.

1008 Fish Hatchery Road
Madison WI, 53715
Phone: 608.257.3034
Home
About
Design+Build
Your Impact
Services
Portfolio
News/Events
Blog
Contact
RECENT WORKS
[Portfolio images here]