When it comes to planning a master suite renovation, "more" is the word that comes to mind. More substantial than a master bedroom and bath, a master suite has evolved from being just larger and grander. Master suites are being designed for functionality with more thought going into the efficient use of storage and features that will be used on a daily basis. Perhaps you need laundry facilities close to the master bath, or a home office? Many homeowners are opting to create a master suite that functions as a retreat with its own self-contained living area.
What functional areas are important to you in your home?
Once you know what you want, it's important to choose the right remodeling partner—one that minimizes your frustration and maximizes your home's potential. A design-build firm guides you through the design and construction process and remains 100% accountable for handling all aspects of your project. More on that below.
Ready to get started?
Consider these steps to plan a master suite remodel that fits your needs exactly.
Think About What You Need and Can Spend
Before meeting with any design and construction professionals, prioritize your needs, determine your wants, gather design ideas that you like, and determine your remodeling budget.
Determine Your Needs
You can't always afford what you want. Use your remodeling budget most efficiently by identifying design elements and amenities that are essential versus appealing. Maybe a walk-in shower is more important than a spa tub, for example. Make a list and prioritize your wish list items.
Gather Ideas
Keep a design idea notebook — online or in a binder — as you explore master suite design ideas and visit sites such as Houzz or Pinterest. If you are lucky enough to know someone who has remodeled a master bedroom, ask what enhancements were the most and least beneficial. Attending home showcases and real estate open houses can also be helpful.
Know Your Budget
Outline your monthly expenses and savings to get a clear picture of what budget is available for your remodel. Then, visit with lenders online and in banks to learn how much you can borrow and what kinds of loans are available. You can also find remodeling tips online, like these helpful budgeting insights for remodeling from HGTV. 
Get Your Project Started with a Professional Design Team
Once you have visualized your potential master suite remodel and understand your finances, it's time to seek professional help.
Select a Professional
When choosing a remodeling professional, there are two common choices: design-build vs. design-bid-build. Design-Bid-Build is a traditional process where the architect or designer and a contractor are hired separately. First, an owner hires a professional to put together a design based on their needs and wants. The final design is then used to receive bids from various contractors. In many cases, once service providers have been selected, the owner serves as the middleman between the designer and the contractor.
On the other hand, Design-Build companies offer both design and construction services under one contract. This method of construction is showing the most growth both with residential and non-residential construction projects.
In its article Tips on How to Hire a Remodeler, the National Association of the Remodeling Industry (NARI) notes that a design-build contractor "understands job costs as well as design concepts" and can organize a project "to fit your budget and vision from the very beginning." NARI stresses (1) seeking professionals with well-established records of successful work; (2) interviewing at least two remodelers; (2) asking questions about essentials such as licensing and bonding; (3) checking references; and (4) being wary of unusually low project bids.
Discuss Look, Functions & Layout
After selecting your design and construction team, meet with them to discuss how you want your master suite to function and look.
Choose Your Master Suite Location & Layout
Depending on its existing location, a master suite may need to be relocated to maximize space or allow for features or amenities desired in the new remodel (i.e., moving a bedroom to the first floor to accommodate an age-in-place design). After listening to your functional needs and desires, good designers will help you consider alternative options for relocating or expanding your master bedroom footprint.
They can also provide a variety of possible layouts based on essential functions, such as storage space, laundry access or office space.  Do you need more natural light? Want better views or privacy? By working with a designer and a contractor together, they can come up with creative ways to accommodate your needs while working within your budget. 
Finally, if you are adding on to your home, your design team needs to verify whether local zoning laws allow the improvements. Rules about bumping out or up can also be surprisingly limiting.
Determine Structural Impacts
Whether you know if a wall can be removed or not, it is always wise to consult the professionals to verify what structural changes you can make to your home to accommodate your remodeling needs.
Select Amenities
Costly master suite amenities need to be considered in light of how much you will use them. Consider your selections based on importance. Will you select radiant bathroom flooring or a cozy, in-bedroom fireplace, for example?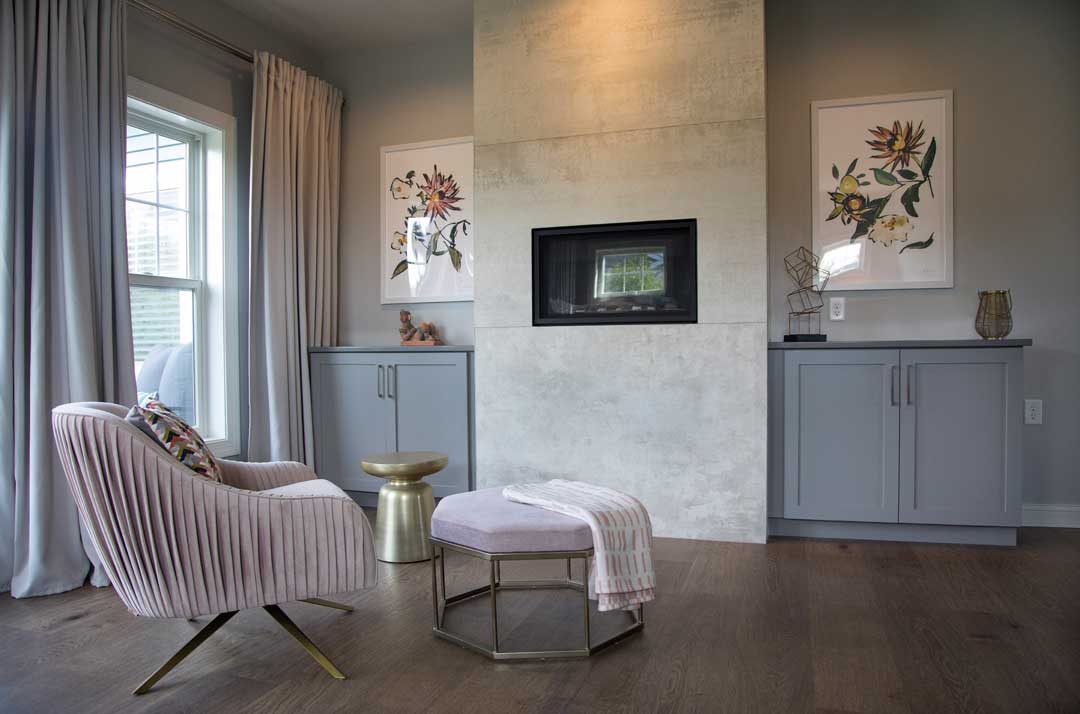 Participate in the Design
After selecting a design and construction team and communicating your initial ideas, it may seem tempting to let them take over and handle the rest of your remodel without further input. But it's important not to do this. Be directly involved.
Review & Discuss the Design
As your design team starts drafting your master suite drawings, make yourself available to review, discuss and approve the floor plans. If you work with a design-build team, you'll have the advantage of working on your project in collaboration with the contractor to make sure what you want to design can be built, while maximizing space and staying within your budget. 
Choose Interior Finishes & Fixtures
Whether you hire an independent interior designer or work with one in a design-build firm, you need to make decisions about finishes and fixtures such as cabinetry, paint, and flooring. Be brave. Rely on your designers for support and go boldly forward, considering your unique design style and the architectural detail of your home.
Get to Know Your Contractors
Communication is key to having your expectations met. Get to know the professionals on your design-build team or general contractor so you can make an informed decision and feel comfortable working with someone who is right for you.
Ready to create a master suite of your dreams? Contact Sweeney Design Remodel for a design consultation. Not quite ready? Sign up for our monthly eNewsletter to stay up to date on all things home remodeling.