As 60 becomes the new 50 or even younger, millions of Americans are reimagining their senior years to live longer, happier, and more active lives. Creative and enthusiastic Baby Boomers are choosing to stay in their homes for as long as possible. Their secret? Working with trusted and experienced remodelers who have mastered the art and science of Universal Design. 
In essence, Universal Design principles create living spaces ideally suited for a multigenerational family. From toddlers to teens, parents to grandparents, homes are now proactively remodeled to optimize functionality, luxury, and safety for everyone in the house. Since family members of different ages have different needs, these principles vary; in this article, we'll focus on 6 tips to enable and encourage seniors to comfortably age-in-place. 
Tip #1: Start with the Big Picture
The most important thing to keep in mind, especially when starting to transform your home into a more convenient and safer environment is to "begin with the end in mind." Specifically, envision your entire home as best-suited for aging-in-place, and first tackle those features that impact your lifestyle throughout the house. That will help ensure an immediate level of comfort and security, after which you can concentrate on upgrades to each room in order of priority. 
General age-in-place upgrades range from relatively simple ones such as replacing door handles to more significant structural alterations such as wider doorways. The goal here is to make movement throughout your home effortless and safe for anyone at any age, even if using a stroller or wheelchair. You can also adapt your home incrementally, starting with easier and more basic enhancements, and progressively making more sophisticated ones as needed. 
Your best bet is to work with a trustworthy contractor with proven experience in Universal Design for age-in-place remodeling. They'll work with you to determine your exact needs and expectations and then plan the process step-by-step and room-to-room. Whether you need lower profile room transitions, shifted light switch placement, or new easy clean and maintain surface materials, starting broadly and then focusing on each living area is a winning strategy.
Tip #2: Make Your Bathrooms Safe & Comfortable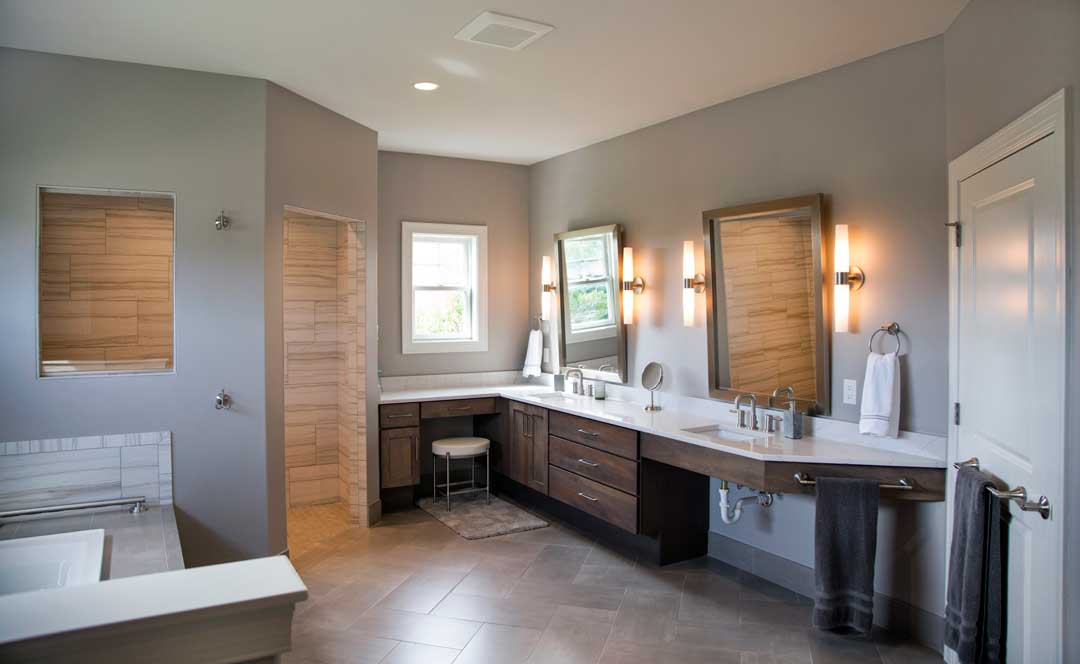 If there's any living space you can't live without, that's the bathroom. So as you prioritize your age-in-place strategy from room to room, ensuring you have a fully functional, comfortable, and safe first-floor bathroom is a must. Since you'll need multiple upgrades from doors to flooring to lighting, bathtub to sink to toilet, you can learn as you go and then apply what works best to the other bathrooms in your home. Here are a few things to keep top of mind for all your bathrooms.
Installing shower benches and grab bars quickly provide extra support. Strong lighting with conveniently placed switches or motion sensors greatly enhances safety. Changes to layout and flooring are more complex and costly, but necessary to ensure enough space for strollers or wheelchairs. Doors might have to be widened and fixtures moved; floor tiling is popular in most bathrooms, but dangerously slippery, so rubber or vinyl upgrades or mats help prevent falls. 
Bathtubs and shower combos likely also need replacing, since climbing in and out is awkward and dangerous, regardless of how old you may be. In their stead, walk-in tubs with seating — or spacious, zero-clearance shower stalls — are a great option. Toilet seats may need to be raised, and grab bars installed. And don't forget the cabinetry and sinks, which need to be safe, accessible, and easy to use. Rounded corners and voice- or foot-operated faucets work wonders.
Tip #3: Reimagine Your Kitchen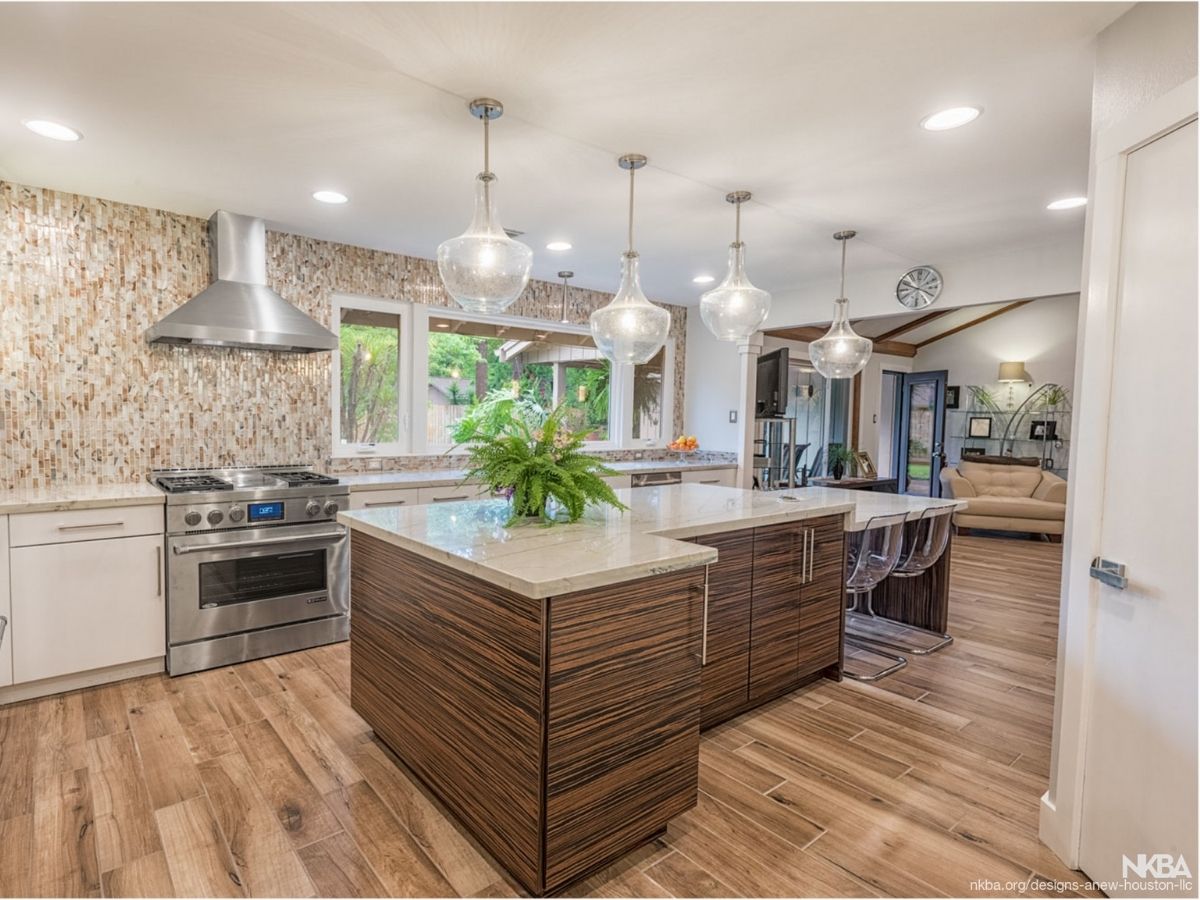 Your kitchen is likely the center of your home experience, the room where you and your family spend the most time together. Kitchens are also the most complicated and potentially dangerous living spaces, with sharp instruments, electrical appliances, running water, and heavy objects. All these factors make planning your universal design upgrades particularly complex. Prioritization helps here, too, and begins with determining your exact needs. 
Safety should be at the top of your list, some upgrades easier than others. A faster fix includes a pressure balance device on your sink and motion sensor handles, while more sophisticated enhancements include appliances with big and bold information displays, front-mounted controls, and even a color indicator on burner ovens to reveal when they are still hot. Non-slip flooring is a must in age-in kitchens, as is strong lighting with readily accessible controls.  
Speaking of accessibility — a challenge when designing any kitchen, let alone an age-in-place one — ensuring that everything is in easy reach should be next on your list. Wheelchair-friendly sinks are mandatory if you or a loved one needs such assistance, and a side-by-side refrigerator/freezer provides the easiest reach for both compartments. All countertops and appliances from microwaves to wall ovens should be positioned within a seated arms reach.
Tip #4: Don't Forget Other Rooms & Outdoor Living Spaces
Proactively preparing your bathrooms and kitchen for optimal safety and comfort as you and your loved ones age is essential — but continuing to get the most out of your entire home is what Universal Design is all about. So consider additional upgrades to bedrooms, a home office, recreational rooms, and other living spaces throughout the house. With an eye toward security and easy access, discuss various options with your remodeling contractor and take things a step at a time. 
Effortlessly getting from room to room is a key consideration, so ensure mobility with widened hallways and doors throughout your home. Be creative and stay flexible: If beds are too high then consider lowering them or adding benches and step stools; if shelves or cabinets are out of reach then place new ones to accommodate; if stairs are prohibitive then consider installing an elevator, or if infeasible or too expensive then create redundant living spaces on the first floor. 
An often neglected area for universal design upgrades is your backyard, weather permitting an extension of your home for enjoying the great outdoors with family and friends. An open layout with wider walkways, ramps instead of stairs, and fall-resistant surfaces creates a great foundation. Easy-access tables and chairs, a wheelchair-friendly grill and counter spaces, and bright lighting can turn a potentially dangerous outdoor space into a safe and comfortable experience for all.
Tip #5: Choose Madison's Premier Design-Build Firm
Tens of millions of Baby Boomers insist on staying in their homes as they age, as well they should, and firms well-versed in Universal Design principles and practice are poised to make that dream a reality. Limited only by your flexibility and imagination, and the proven design-build experience of your all-important remodeling contractor, you'll be able to ensure a safe, convenient, and beautiful age-in home remodeling experience for your entire family. 
A people-centered business since inception in 1954, Sweeney Design Remodel of Madison, WI believes that remodeling is better when steeped in values. By guiding homeowners through a proprietary design-build process, customers are informed, engaged, and 100% satisfied. Their commitment to transparency and accountability has made Sweeney one of the most trusted names in remodeling, garnering gushing reviews, stunning work, and award-winning design.   
Our 4-step design build methodology integrates both phases of a project, ensuring seamless communication and accountability from everyone involved. That results in an unprecedented level of transparency and efficiency proven by client reviews of our stunning work and award-winning design. But don't just take our word for it: Take a look at our successful projects, sign up for our newsletter, and reach out to us directly. Let's keep you in your happy home!