Using the right professional for the right job is arguably one of the most important decisions you need to make when starting any project, let alone one as complex as a home remodel. Deciding to use an architect or interior designer is usually fairly straightforward while working with a structural engineer is often not considered. Depending on your remodeling needs, a highly skilled structural engineer could make all the difference. Let's explore the rationale for bringing one into your remodeling project, describe exactly what they do, and define the specific types of projects where they're needed. 
Question #1: Why Do I Need a Structural Engineer?
The easiest way to decide whether or not your renovation project requires a structural engineer is to ask yourself and your contractor if any structural components of your home are directly impacted. That sounds pretty obvious, but remodels can be confusing because so many specialties come into play with even the "simplest" of jobs. For example, removing a non-loadbearing wall that divides your kitchen and dining room is required to open up your space, yet bringing in a structural engineer for that work isn't necessary. So, when should you need one?
A clear best practice is to consider using a structural engineer whenever your remodel affects your home's layout or has the potential to jeopardize your home's stability. A room addition is a classic example of a project where a structural engineer can help ensure that tearing down and building walls, extending the roofline, and adding square footage won't collapse or negatively affect your house's structural elements. For these complex remodeling projects, an engineer is like your safety wingman, ensuring to protect the structural integrity of your home.
A structural engineer is useful and often vital across the full spectrum of potential risks, particularly a major room addition, vaulting a ceiling, installing a staircase, adding or repairing a chimney, and even a relatively minor door or window frame alteration. That's because any changes you make to walls, floors, or ceilings can cascade, impacting your home's stability.
Question #2: What Does a Structural Engineer Actually Do?
Thanks to YouTube and other social media networks, the "Do It Yourself" or DIY craze has taken the world by storm. That approach might work well for minor home improvements and other chores around the house, but when it comes to ensuring the structural integrity of your home, staying compliant with government regulations, and preventing foreseeable consequences of major remodeling work, DIY might instead be your road to unforeseen problems ahead. Instead, based on the criteria we discussed above, make sure you consider utilizing a capable structural engineer.
What, you are no doubt asking, does a structural engineer actually do? Good question. For starters, a certified structural engineer is an expert in all things mathematics and physics as they relate to home building materials, architecture, and engineering. But expertise alone isn't enough; they need to take a hands-on approach to conduct and analyze vital calculations related to your home's foundation; structural supports including joints, fittings, walls, and beams; reinforcement materials strengths and weaknesses; load bearing; wind shear; and more.
Within an ideal contractor-client relationship, your structural engineer is part of an integrated design-build team that seamlessly integrates across the design, planning, and construction phases to ensure nothing is "lost in translation" between experts. In that capacity, your dedicated engineer checks and influences the initial design and planning specifications to ensure costly problems don't occur during and after construction. A good engineer is also knowledgeable about permits and codes and will help you get them processed and approved.
Question #3: What Types of Projects Require a Structural Engineer?
As we've discussed above, any renovation project that impact's your home's structure should activate a consult with a structural engineer. But the devil is always in the details, as are the angels. So let's dive a bit deeper into a few examples of common home remodeling projects and see how working with a good structural engineer can help improve the results and prevent potential problems.
For starters, open concept spaces and room additions are becoming increasingly popular, and each demands the specialized expertise of a structural engineer.
Many homeowners throughout the greater Madison and Dane County area have transformed their living spaces by opening up their kitchens and living rooms with the removal of a wall or two. Take this project, for example, where creative homeowners transformed their floor plan by removing the wall that separated their kitchen from the living and dining rooms. The challenge: the wall was load-bearing, which meant consulting with a structural engineer was necessary to calculate the required changes.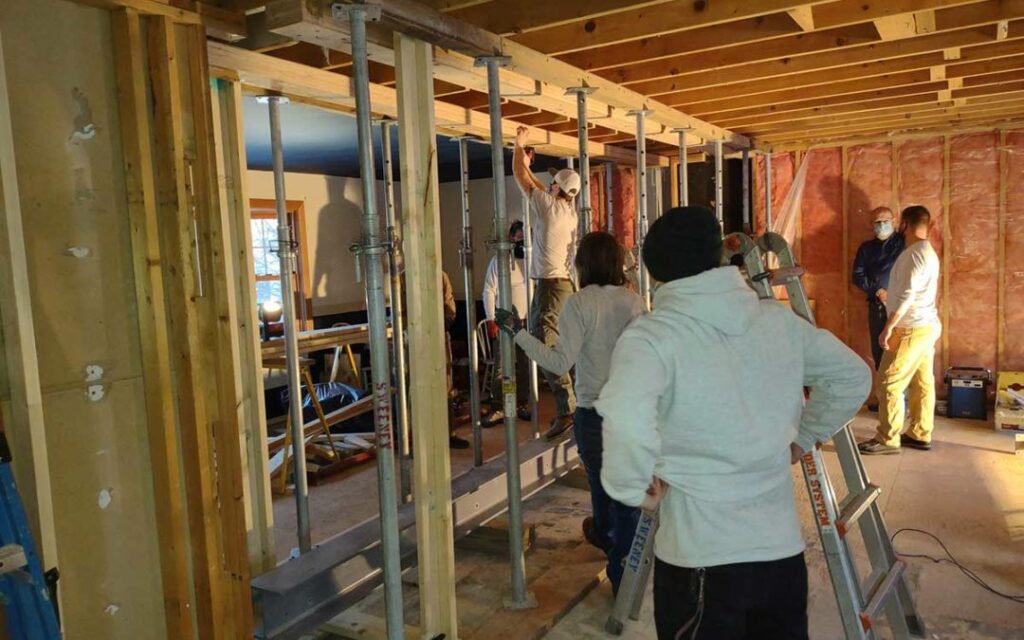 The engineer's recommendation was to install a 20' steel I-beam (at each end with support posts capable of carrying at least 15,000 pounds each) to help carry the weight of the missing wall. In addition to figuring out what was necessary to compensate for the wall's removal, the structural engineer also helped plan the various phases of construction, including installation of the temporary support structure, bringing into the house and properly preparing the support materials, and ensuring the basement support structure was sufficient to handle the shifting weights.
Another example features an ADA-compliant, two-story home addition that seamlessly adds hundreds, sometimes thousands, of square feet to a house, like this project. The role of the structural engineer was important to help ensure this 2,000-square-foot home addition was designed and built to seamlessly blend with the home's original structure. In doing so, in addition to the stone, siding, and trim details precisely matching, the foundation was measured and ensured to carry the additional weight and accommodate the entirely new build above.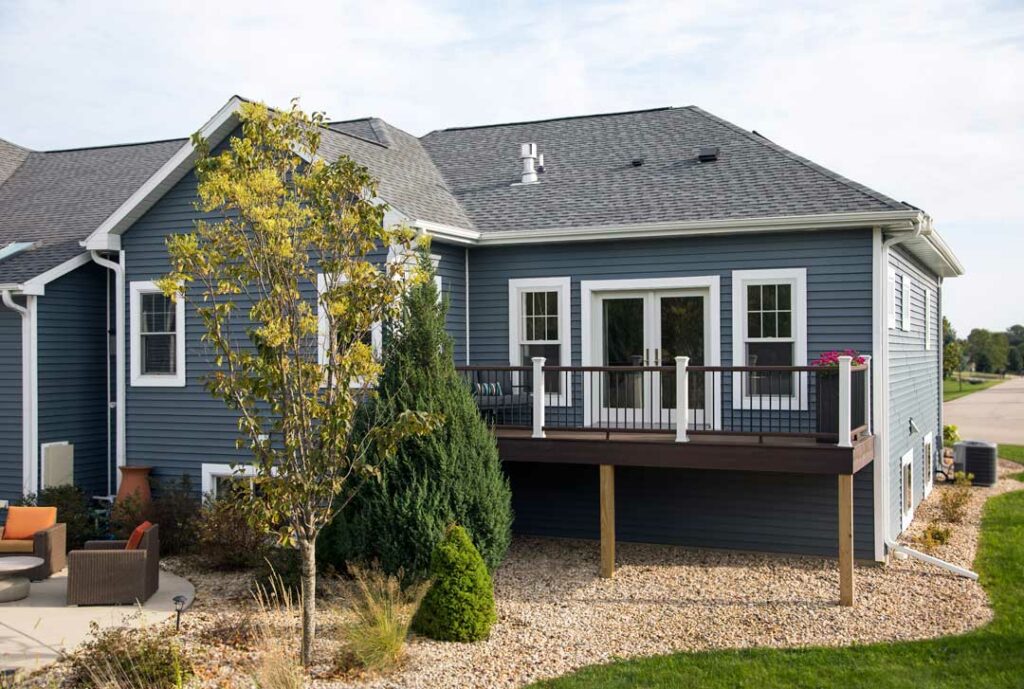 Not only do you need to ensure that all necessary plumbing and electrical work is integrated into your home's legacy infrastructure, but your home's very foundation needs to be extended to accommodate the added load. Only a certified structural engineer knows how to calculate the extent of load the structure is meant to carry, designs a suitable structure that can withstand the load, and prescribes the materials suitable for such construction.
Other projects requiring a structural engineer include basement renovations, structural changes to a chimney, or a deck or sunroom.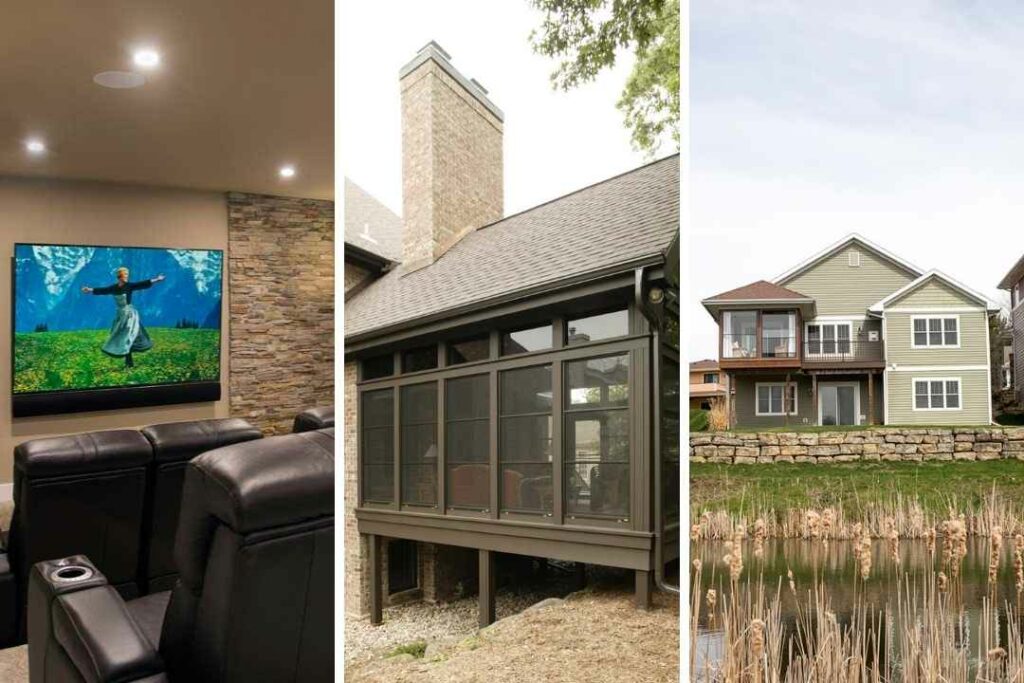 Question #4: How Do I Find a Qualified Structural Engineer?
Sweeney Design Remodel of Madison has an integrated team of structural engineers with experience in open concepts, room additions, basement, chimney, and sunroom remodels, and more! A people-centered business since its inception in 1954, Sweeney believes that remodeling is better when steeped in values. By guiding homeowners through a proprietary design-build process, customers are informed, engaged, and 100% satisfied. Their commitment to transparency and accountability has made Sweeney the most trusted name in remodeling.
With a proven track record of garnering gushing reviews, stunning work, and award-winning design for complex projects involving structural integrity, Sweeney delivers. No matter if you are remodeling your entire home or one room, planning to stay and live your best life there or increase your home's value, Sweeney Design Remodel utilizes a deep team of highly skilled tradespeople guided by structural engineers as needed. Each professional is highly skilled, with extensive experience in circumventing potential issues, from design through construction.
Sweeney never cuts corners and always adheres to the highest level set quality standards. That ensures your remodel is completed on time and on budget, thanks to seamless communication and accountability from everyone assigned to your project. That results in unprecedented transparency and efficiency proven by client reviews. But don't take our word for it: Take a look at our successful projects, sign up for our newsletter, and reach out to us directly. Our structural engineers help bring your dream home to life safely and effectively.