As we are all staying at home more, you may be noticing your bathroom is not as functional or beautiful as you would like it to be. A spacious, amenities-rich bath has been the trend over the last few years, and especially now with so many of us spending more time at home. If you're considering a bathroom renovation, you'll soon learn that there is a wide range of creative design choices and material selections. Regardless of the type of bathroom you envision, there are ten fundamentals to follow when designing your perfect space.
Function First
Think clearly and honestly about how you use your bathroom to make the smartest use of the space you have. Above all, a bathroom must be comfortable to work for you. It should be intuitive and welcoming for each member of the family, as well as any guests. Some key elements include:
Easy access to essentials
Easy to navigate
Easy to clean
Well ventilated
Layered lighting
Think about traffic patterns in the bathroom. Do two people need to use the bathroom at once in the morning? If so, you likely need two sinks. If not, opt for one sink and extra storage space.
Go For Simplicity
Too many elements can make your bathroom feel cluttered and stressful. Keeping things simple and streamlined is critical for winding down at the end of a long day or going through your morning routine and quickly finding everything you need.
While the current style may be to have a separate bath and shower, if you don't have room for it, don't try to cram it in. On the other hand, if you have a larger bathroom, you should still resist the urge to over-complicate it. A clean, open space gives you more room to relax and more options for focal points that will draw the eye and invite relaxation.
You Can Never Have Too Much Storage
The battle against bathroom clutter is real. Ample, smartly-imagined storage space is the answer. Incorporate drawers to tuck away toiletries, a linen closet for towels, or a hidden mirrored medicine cabinet. Although freestanding pedestal sinks are popular, a custom vanity can dramatically increase your storage space while also looking stunningly beautiful. Blank wall space above the toilet? Install open shelving to display candles and pretty accessories.
Layer the Lighting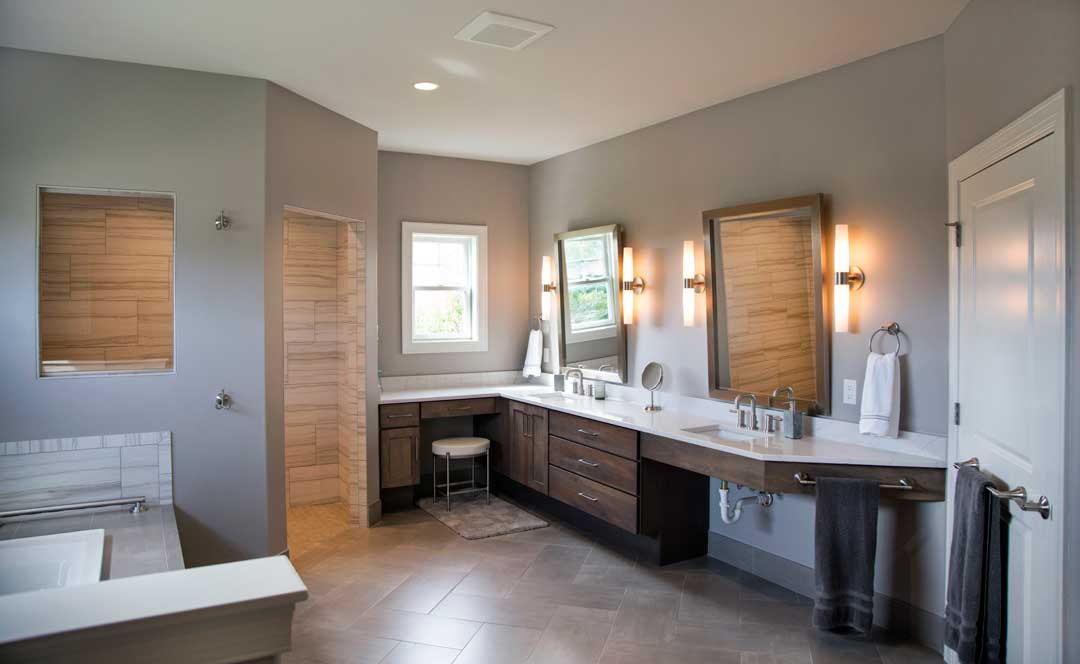 If you're lucky enough to have a bathroom with windows or a skylight, make the most of your natural light. If your bathroom has no windows, there are still many lighting options to make the room sparkle or cast a soft, warm glow. You'll want to work with a qualified designer to create a lighting plan that fulfills multiple functions:
Ambient light—Every bathroom needs "foundation" lighting that casts broad, general illumination to the largest area possible.
Task lighting—Focused task lighting where you do your grooming, makeup, and shaving is essential and should cast no shadows on your face.
Accent lighting—Accent lighting should throw illumination on focal points in the bathroom that you want to stand out and capture attention.
You can also use design elements like wall color, mirrors, and shiny tiles that can reflect light around the room, eliminate dark spots, improve visibility, and make even a small bathroom feel more substantial. With layered lighting, you can brighten or dim different areas of the bath, depending on your activity or time of day.
Don't Forget the Details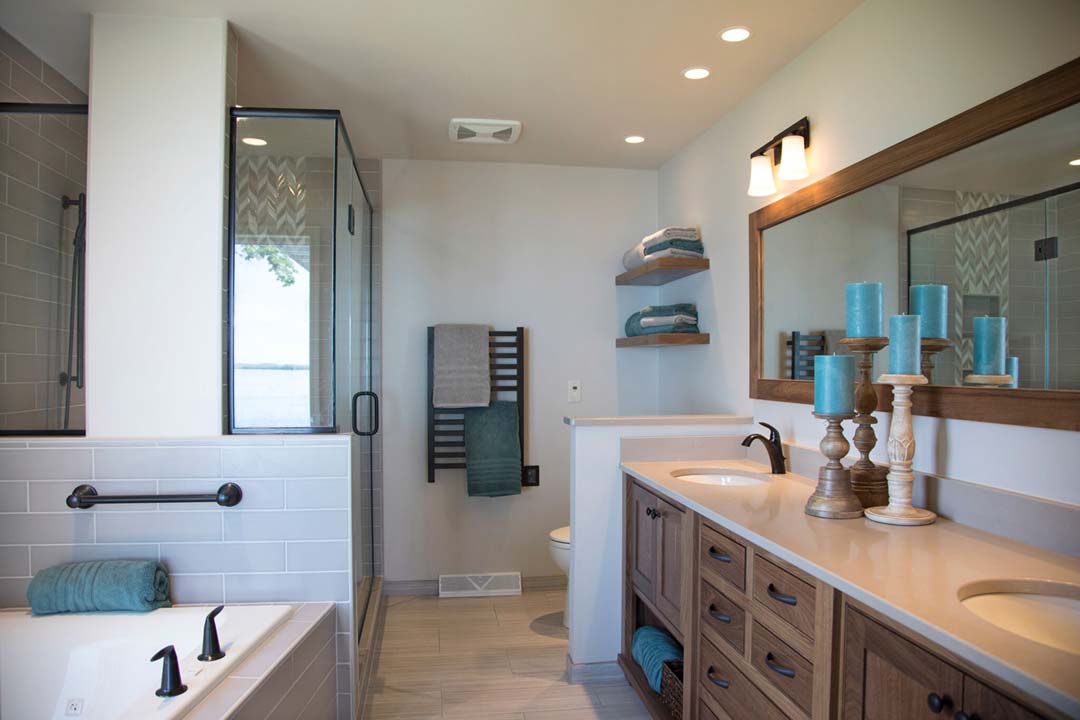 The secret to a beautiful bathroom is in the details. Avoid too many odd fixtures or busy elements. Instead focus on a balance of form and function. It's often the simplest of features that will make you love your bathroom. For example:
Heated floors evaporate extra moisture and warm your feet on winter mornings.
Towel warmers make drying off a pleasure.
Soft-close doors prevent noise during middle-of-the-night bathroom visits.
A lighted medicine cabinet helps you find what you need quickly.
A generous number of GFCI outlets solve many problems. Most bathrooms need more outlets for hairdryers, electric razor or toothbrush chargers, a dry, safe place to charge your mobile devices or enough outlets for strategically-placed nightlights.
In addition to these desirable amenities, everybody wants an easy-to-clean bathroom. That means steering clear of some design elements while welcoming others:
Avoid a tile design that leaves a ridge halfway up the wall that collects dust. Instead, make the tile design flush with the wall above it. Also, large-format tiles are easier to clean than small tiles. Remember more grout, more cleaning.
Consider the maintenance of any decorative elements, cornices, and cabinets and how hard they may be to clean before committing to them.
Use the higher-end moisture and mold-resistant grout and silicone brands to protect your bathroom from mold, mildew, and water damage.
Eliminate small, hard-to-reach nooks and crannies that are difficult to clean.
Consider a modern hanging toilet with a bidet and without the irritating-to-clean u-bend.
Draw Interest with a Fabulous Focal Point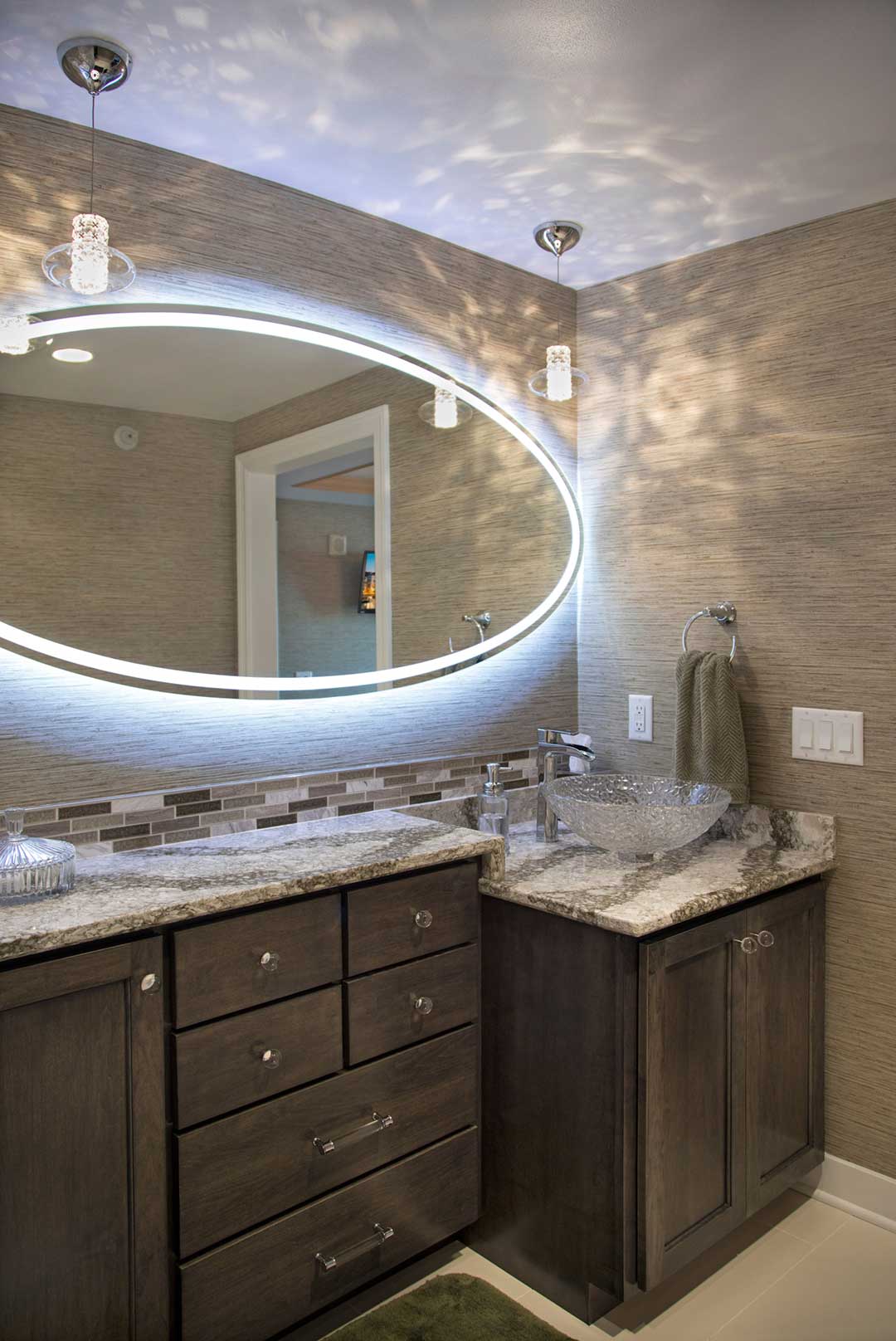 While keeping it simple, choose one particular element in your bathroom that you want to draw attention to (not the toilet!). Consider unique art-inspired mirrors or dedicate a wall to open shelving to display rolled towels, candles, or greenery to create a spa feeling. Maybe feature a glittering chandelier for your ambient lighting, or use a stand-out color for one area of the bath. If you have the room for it, a gorgeous, freestanding tub might be just the thing. Just remember not to include too many focal points or the bathroom will feel too busy and cluttered.
Proper Ventilation is Essential
Ventilation is an essential element of bathroom design, being that the bathroom is the wettest room in the house. Lasting moisture leads to mold and mildew without an efficient ventilation system to dry it out quickly. Proper ventilation can also dissipate unpleasant odors that often accompany bathroom usage. A quiet, but efficient fan located near the shower, and one near the toilet, for example, can work wonders. Ensure that the ventilation system vents outside, not into your attic, or make sure you are not moving moisture problems from one area of the house to another. Working with a qualified contractor is vital as they can identify the need for new ductwork or other electrical upgrades.  
Reconsider the Tub
Rethink your plan to ditch the tub if you have the space for it. A gorgeous soaking tub provides the ultimate in relaxation after a long day and provides a lovely focal point in your bathroom. If you don't have the space, don't feel like you have to cram in a separate shower and tub to keep up with changing trends. If you must combine the two, there are beautiful ways to do so using unique tile work, a glass wall enclosure, and modern fixtures.
Install Bathroom Tile the Right Way
There are hundreds of kinds of tiles in different colors, shapes, designs, and materials that people love to include in their bathroom designs. Any tile work must be done correctly to prevent water infiltration that could cause expensive water damage. Be sure to choose a remodeling contractor who is certified to install a waterproofing membrane like Schluter®-KERDI, behind wet areas like the shower, bathtub, and toilet.
Consider Wellness Features
Spa-inspired bathrooms have been gaining attraction over the years; and now with COVID-19 homeowners are interested in incorporating health and wellness into their bathroom design as well.
With a myriad of products and systems to choose from, hiring a professional designer to help you navigate through a sea of new products can be worth his/her weight in gold.
Today's bathroom germ-free products include hands-free or voice-activated faucets, light switches and toilets, as well as integral exhaust systems that help extract odors and bacteria. High-tech mirrors and medicine cabinets are being enhanced with improved lighting systems that eliminate shadows and can be adjusted to more closely resemble natural light. They can even be used to measure and report on a person's heart rate, changes in weight and other indicators of personal health.
The bathtub continues to evolve into something much more than offering a place for your standard soak. Hydrotherapy options have widened to include sound, color, and even scent, effectively making the tub both a health enhancer and stress reliever. Similarly, many shower manufacturers offer new products that provide a variety of additional water delivery systems that contribute to healthy circulation and relaxed muscles.
When You are Ready for a Bathroom Remodel
If you are considering a bathroom remodel, but aren't sure where to begin, start with our beautiful bathroom gallery for some inspiration. You can also subscribe to our TopNotch newsletter for a fresh source of ideas for your next remodel. If you know what you want and need professional help realizing your bathroom design dreams, contact us today at (608) 257-3034. Our award-winning design-build company has elevated the look and functionality of homes throughout Madison since 1954.