Arguably no home renovation project is more complex than kitchens and bathrooms, which are particularly demanding in terms of layout, fixtures, plumbing, and electrical. Anything that might go wrong will have a cascading effect throughout the project, costing you more money and time. 
Bathrooms are especially tricky, where designers and builders typically work within a finite space, and any errors can ricochet throughout the whole renovation. So here are the dozen most common bathroom remodeling best practices to help you avoid problems from the very start.
Bathroom Remodel Best Practice (BRBP) #1: Begin With a Clear Plan
Changing your mind mid-remodel is always a bad idea, made all the worse in a tightly fitting bathroom with a high density of fixtures that need plumbing and electrical as well as ventilation. Choose to move one fixture or design element, especially later in the project, and it likely will displace other items resulting in construction delays and increased costs. 
These headaches are completely avoidable with thorough planning. Decide the design in detail before any craftspeople ever set foot in your home. Envision the bathroom of your dreams to prevent remodeling nightmares, with a focus on convenience, luxury, and family health and safety. 
BRBP #2: Factor In Your Existing Infrastructure
Following the path of least resistance is smart, especially when a small change in your bathroom layout might have enormous consequences for complexity, cost, and timing. That's why getting your plumber and electrician involved from the very beginning is vital. 
Make sure to review your plans with them before finalizing the layout. Placing the toilet here and sink there might seem most convenient and luxurious, but who knows what's lurking behind the walls? Double-check to avoid unnecessary structural changes and build right the first time.
BRBP #3: Zone Your Bathroom Properly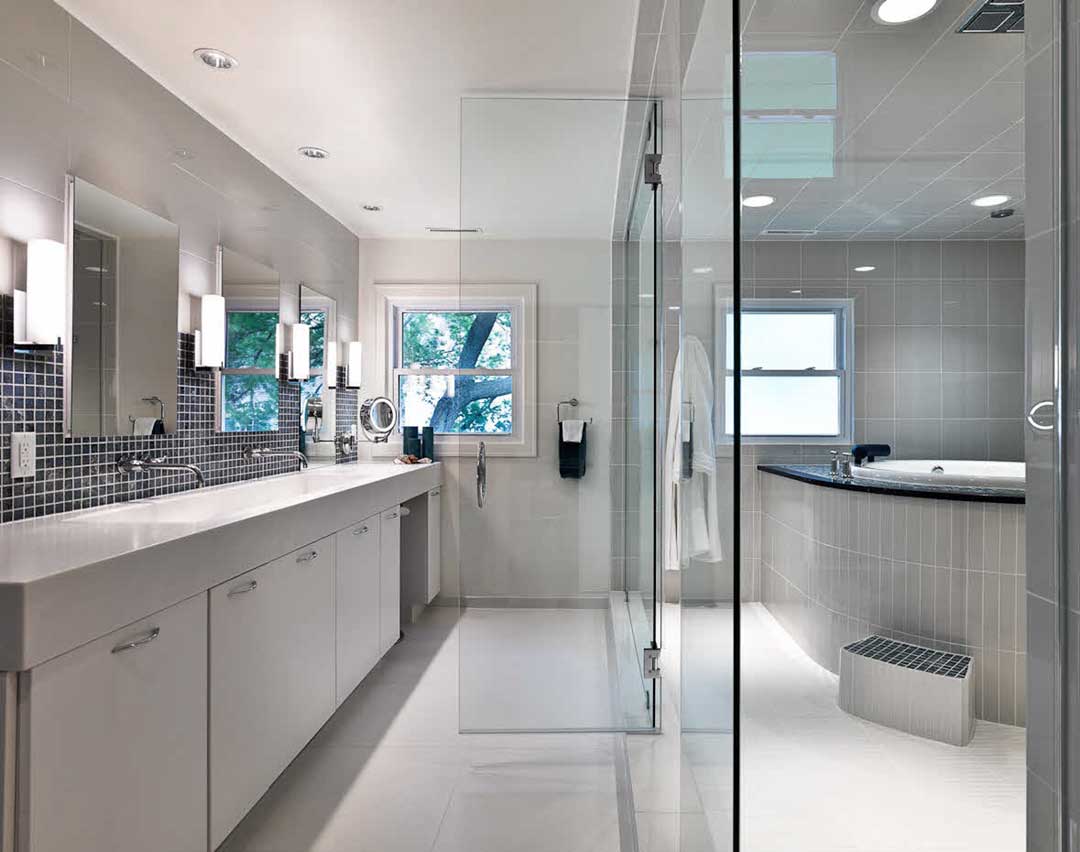 Most bathrooms are relatively small in comparison to bedrooms and kitchens, so the temptation to embrace an open bathroom layout is strong. Expert designers will warn you, however, that such an approach makes for dull bathrooms with fixtures awkwardly scattered against the walls. 
Instead, work with your design team to plan a bathroom that's compartmentalized by function: an area for the toilet, another for the sink, yet another for the bathtub and shower. Something as simple as a central stud wall can do the trick, while more creative partitions can create just the function you need and the aesthetic you desire.
BRBP #4: Create Ample Storage Space
Bathrooms have come a long way from purely functional places to go to the loo to full blown health and wellness centers for the whole family. What often gets lost in the mix, though, is keeping them practical and fully functional, especially when it comes to sufficient storage. 
Work closely with a skilled designer to ensure your renovated bathroom has all the storage space you'll need to succeed. Vanities, mirrors, shelves, and other units are ideal options for visible and invisible storage, most of it on eye level and all of it readily accessible.
BRBP #5: Take Advantage of Vertical Space
Blueprints and floor plans are two-dimensional, so visualizing your bathroom walls — and most significantly the amazing things you can put on them — is often overlooked, especially for a bathroom remodel where the space is tight, and every square foot makes a big difference. 
Options abound! Consider everything from ceiling-high storage cabinets to open shelving for towels, candles, and other knick-knacks. You and your family spend significant time in the bathroom, so artwork, plants, and other gorgeous decorations are terrific choices.
BRBP #6: Install Great Lighting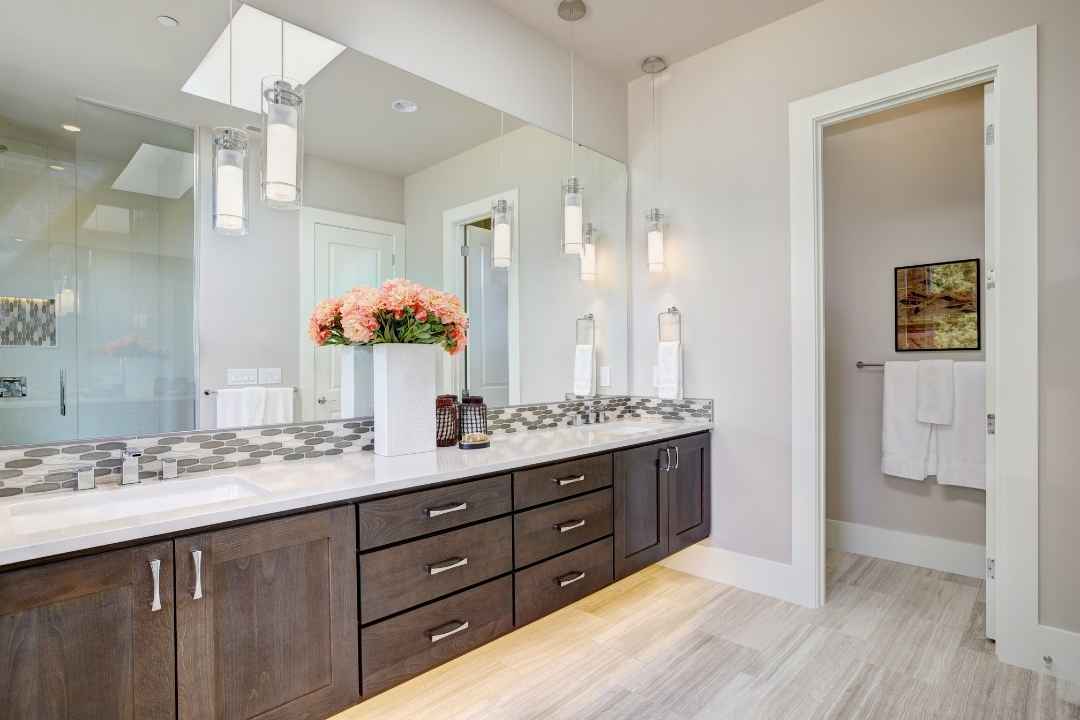 Few living spaces in your home demand better lighting than bathrooms, since your family will be doing precision work in there, from shaving to grooming to makeup and more. So ensure your electrical plan is ready for all your devices, and especially your lighting fixtures. 
Natural light is bright and easy on the eyes, encouraging skylights and windows that also guarantee privacy. Artificial lighting is always necessary, of course, with limitless options for fixtures that are effective but also beautifully aligned with your dream bathroom design.
BRBP #7: Install Fixtures That Aren't Too Large
Our eyes are often more excited than our stomachs — or our wallets. Another common temptation is to purchase freestanding bathtubs, enormous vanities, and other indulgent bathroom fixtures that are simply too large and unwieldy for limited available space. 
Begin big, then dial it back. Partner with your remodeling team to guarantee the right kind of fixtures for your bathroom, both practically and aesthetically. Bigger isn't necessarily better, especially now with specialized materials, ergonomic designs, and custom specs. 
BRBP #8: Don't Place the Toilet Right at the Door
Let's face it, even an expensive, ostensibly luxurious toilet isn't the first thing you want to see when you open your remodeled bathroom door — and it's the last thing you want to see from a hallway or while eating in the dining room when the bathroom door is dangling open!
An easy fix is tucking the toilet behind the door, or better yet, creating a separate zone for the toilet. The latter solution even enables multiple people to use your new bathroom simultaneously, and at the very least create a more comfortable, pleasing atmosphere. 
BRBP #9: Properly Locate Accessories
Bathrooms are all about the extras: towel bars, soap holders, wall-mounted shelves, toilet paper and toothbrush holders, vanity mirrors, etc. An all-too-common error is to assume these should be thought of last, after all the design and build work are completed. 
Instead, work with your design team to ensure these goodies are accommodated, and most importantly conveniently placed. Think about how you use the items, and where from for optimal effect. Utility comes first, but beauty and luxury are close behind. Make them functional, and gorgeous.
BRBP #10: Factor in Aging-in-Place Options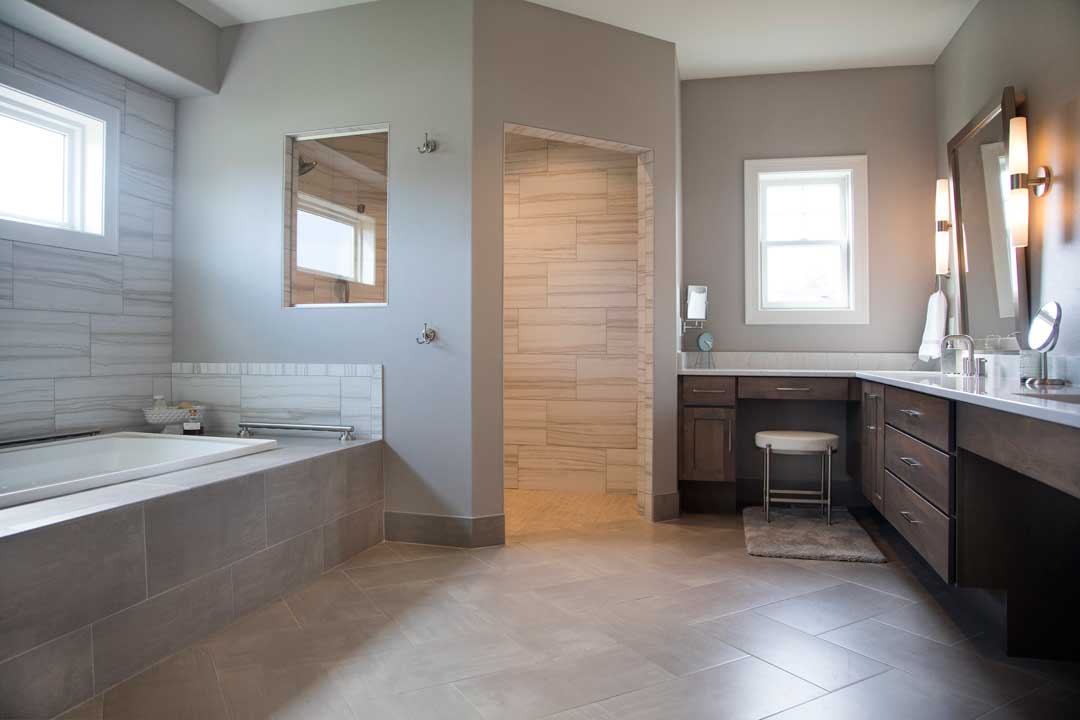 More and more homeowners are opting to age into their houses rather than sell and move to a different and more senior-friendly place. Many families are also deciding to welcome live-in grandparents, who need renovated safety and convenience features throughout the residence. 
Bathrooms are an essential part of aging-in-place solutions, especially since they can be the most dangerous living space due to slips, falls, and other challenges. If this option is vital for your family, design accordingly with walk-in tubs with seats, seamless walk-in showers, toilet rails, non-slip floors, and other age-in fixtures. 
BRBP #11: Use the Right Flooring
To state a screamingly obvious but surprisingly overlooked fact, bathrooms are wet. Water is everywhere, not entirely contained by the toilet, tub, and sink. That means the floor will usually be damp, and often inundated with water from multiple sources, demanding resilient materials. 
Water-proof and -resistant floors are therefore essential. Ceramic and porcelain tiles, plank and sheet vinyl all shed water well, while solid, engineered, and laminated wood flooring work, too. Regardless of your choice, leaks not only damage floors, but can ruin your home. Be careful.
BRBP #12: Ensure Good Ventilation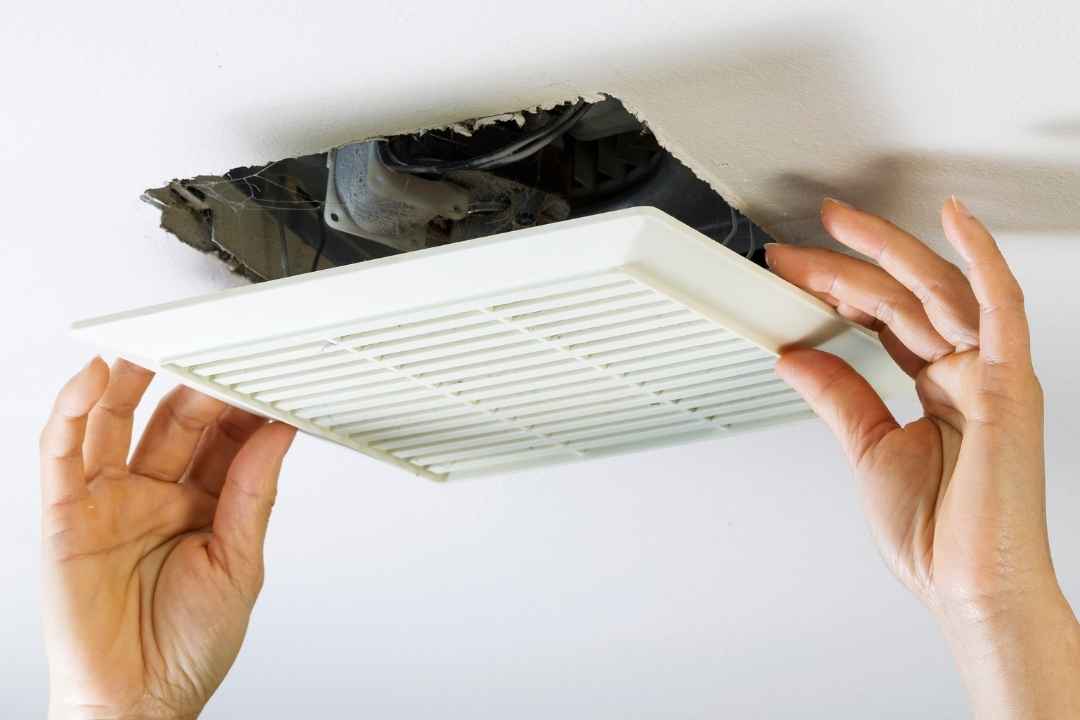 Bathrooms not only collect water, but can be mold and mildew factories. Proper air circulation is the only way to prevent these intruders, not to mention making your whole family's bathroom experience more pleasant. So ensure your bathroom design includes good ventilation. 
That means saying a resounding "No!" to a less expensive but faulty wall cavity, joist opening, and attic venting. Instead, work with your remodeling contractor to design and build custom high-quality pull-through duct vents that force all the foul air outside, and propel fresh air inside.
Bonus BRBP: Partner with a Trustworthy Design-Build Firm
A people-centered business since its inception in 1954, Sweeney Design Remodel of Madison, WI believes that remodeling is better when steeped in values. By guiding homeowners through a proprietary design-build process, customers are informed, engaged, and 100% satisfied. Their commitment to transparency and accountability has made Sweeney one of the most trusted names in remodeling, garnering gushing reviews, stunning work, and award-winning design.  
No matter if you are remodeling your bathroom to update the style, incorporate universal design features, or improve the value of your home, Sweeney Design Remodel utilizes a deep team of highly skilled tradespeople, each with the skills and experience to circumvent potential issues, from design through construction. We never cut corners, and always adhere to a higher set of quality standards while ensuring your bathroom remodel gets completed on time and on budget.
Our 4-step design-build methodology integrates both phases of a project, ensuring seamless communication and accountability from everyone involved. That results in an unprecedented level of transparency and efficiency proven by client reviews of our stunning work and award-winning design. But don't just take our word for it: Take a look at our successful projects, sign up for our newsletter, and reach out to us directly. Let's create your Dream Bathroom!