You've decided that your long-overdue dream of doing that much-needed home remodel is finally here, but have some questions. How should I go about doing it? With whom, and why? Here at Sweeney Design Remodel, we put the "design" front and center within the renovation process because decades of experience and hundreds of satisfied customers like you have proven that strategic approach results in the highest quality work, completed on time and within budget. 
Typically, home remodeling projects in Madison start in one of two ways. The first, known as "Design-Bid-Build," begins with you hiring an architect to design the work ahead. Once the design plans are finalized, you then take bids from various contractors for the construction or "build" part. Because design is handled separately without creative input from a contractor early in the process, operational and cost efficiencies can sometimes be missed.
The other, and increasingly popular method, is "Design Build." By hiring a Design Build contractor, you partner with a design and construction team, seamlessly working hand in hand. Teamed together, they collaborate on designing your space with your specific budget criteria, lifestyle improvements, and selections in mind. You also have the added benefit of a single contractor being responsible for the entire job, from design through construction. 
At Sweeney Design Remodel, we've developed our own proprietary Design Build process. The beauty of partnering with us this way is that we delve deep into your needs and project scope, resulting in a more realistic breakdown of budgetary items that will go into your remodel. And unique to Sweeney, we also arrange for our subcontractors/vendors to conduct a thorough walk through of your home, each providing their expert input on your design plans and selections. 
Such an integrated approach so early on gives you and your family the confidence of working with a deep team of specialists who offer their proven expertise on your project right from the beginning—collaborating on issues and providing creative input so as to prevent future surprises, unexpected delays, and budget overruns. Planning from the onset, the team unified, Sweeney ensures a hassle-free renovation designed to exceed your expectations. 
The design phase is critical for success. This is the key step where we can accurately and transparently estimate how much your remodel will cost, and how long your project should take to build. That's why we break out our design phase separate from construction—two separate phases of the process, thus two separate contracts. Our proven approach gives us the information needed to succeed, and you the confidence that we'll keep our promises. 
Why is that necessary? Here's a detailed explanation.
Design-Build Starts with a Pre-Design Process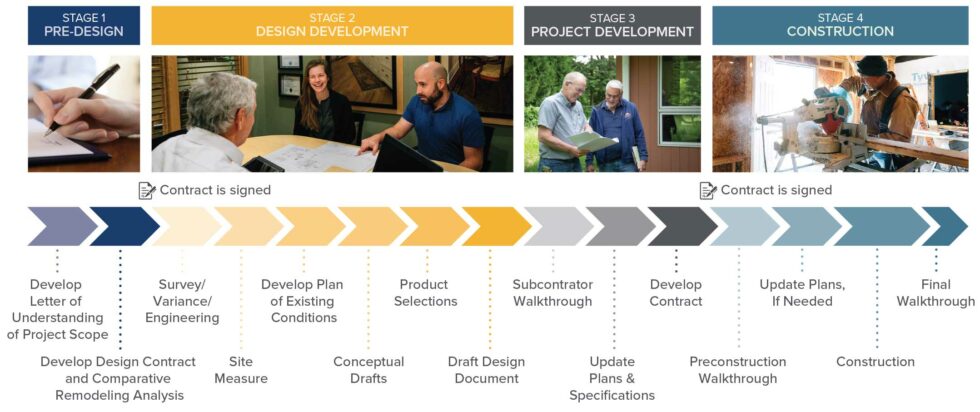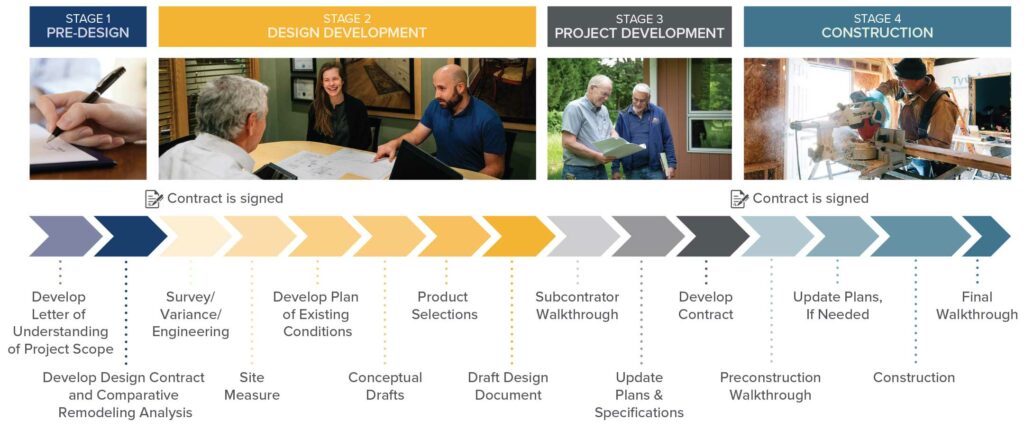 By consolidating all design and construction responsibilities with Sweeney, you'll be assured that clear lines of communication will be established between everyone involved in your remodel. Our integrated Design-Build approach reduces errors, heightens efficiencies, boosts quality, and ensures that your design vision gets seamlessly translated into an on-time, on-budget construction project with oversight and accountability from Sweeney at each phase.
The first stage is Pre-Design, beginning with a 30-minute phone call with your Sweeney project developer. Our design team candidly discusses your expectations, challenges with your space, and zeros-in on budgetary and timing requirements. The next step is an on-site, at-home visit where the conversation continues with more detail, focused on fulfilling your needs and clearly defining the overall project scope. We'll then follow up with our Comparative Remodeling Analysis (CRA). 
The Sweeney CRA breaks down all budgetary items to give you a sense of the total remodel cost – in contrast to considering and approving design and construction costs separately. You'll appreciate tracking one budget instead of two in true Design-Build style. Once your remodel has begun, your Project Managers will be held accountable for that singular topline budget and timeline. If the CRA is satisfactory, you then sign a Design Agreement to get things rolling.
What Happens After Your Design Contract is Signed
The Design Contract describes exactly what goes into this next design phase, and authorizes Sweeney to begin. We'll ask you to complete a survey that comprehensively outlines all furnishings, fixtures, lights, and every detail of the living spaces to be renovated. We'll digest this information and return on-site to take photos and precise measurements to create conceptual drawings using 3-D software to help you visualize all the details. Fun stuff! 
Another step is drafting an Existing Conditions Plan, which outlines your current home structure and scope to act as a benchmark for the remodeling to come. Unique to Sweeney, we'll also send in our team of subcontractors and vendors to offer their expertise from the very beginning. They'll collaborate with each other and provide creative input across their respective lines of expertise, all to avoid any "surprises" later on and ensure a smooth project from start to finish.
The Design Process ends with the signing of a Remodeling Construction Contract, which dovetails off the design specs to formalize and finalize every aspect of the build. By this point you and your Sweeney team have enough information to itemize every element of the construction project, and plan each phase as efficiently and cost-effectively as possible. You'll be reminded at this point of the value of Pre-Design planning, which adds precision to the build. 
Handling Costs: One of the Many Benefits of a Design Contract
In addition to giving you a realistic expectation of overall project cost and timing, the Design Contract helps account for change orders. Since most home renovations are complex and you'll likely make several important decisions once the project has already begun, your budget is likely to fluctuate. That's when your Sweeney team revisits the CRA to ensure that any changes are accurately and transparently calculated, then factored into the overall cost and timing.
Let's get started!
Sweeney Puts the Design in Design-Build
A people-centered business since inception in 1954, all of us at Sweeney Design Remodel of Madison, WI believe that remodeling is better when steeped in values. Guiding homeowners through a proprietary design-build process, our customers are informed, engaged, and 100% satisfied. Our commitment to transparency has made us one of the most trusted names in remodeling, garnering gushing reviews with our stunning work, and award-winning design.  
If you are considering a significant home renovation, we at Sweeney Design Remodel will bring you a deep team of highly skilled tradespeople, each with the talent and experience to circumvent potential issues, from design through construction. We take design very seriously and flourish creatively, never cut corners, and always adhere to a higher set of quality standards while ensuring your ideal home renovation project gets completed on time and on budget.
Our 4-step design build methodology integrates both phases of a project, ensuring seamless communication and accountability from everyone involved. That results in an unprecedented level of transparency and efficiency proven by client reviews of our stunning work and award-winning design. But don't just take our word for it: Take a look at our successful projects, sign up for our newsletter, and reach out to us directly. Let's design your Dream Home!