Home additions come in all sizes and shapes and are prompted by a variety of different needs. If you like your neighborhood, if your home has "good bones" and your site plan will allow it, an addition can be a wise choice. A new room addition might satisfy your desire for a private hideaway or create a bunk room for visiting grandchildren. Additional space might mean that the whole family could gather easily for holiday dinners. And, as the trend toward working remotely continues to grow, a home office would be a decided advantage. While some families initially buy a home with the intention of "moving up" or "moving on" as family needs change, others settle into a comfortable lifestyle and are hesitant to leave a community that feels like home. 
What Purpose Will the Addition Serve?
An addition can be purely functional or highly specialized. Whether an addition embodies multi-use square footage that adapts to new uses as needed, fulfills a desire for personalized hobby space or simply creates a more up-to-date, spacious floor plan is up to you. Dedicated home theaters are not as popular as they once were, but "man caves" and "she sheds" have gained new favor. If you can envision it, the chances are good that your dream can become a reality. Some of the more popular home additions include:
A spacious master bath retreat with abundant closet space
Another bedroom, especially if it includes a bathroom
A separate den or game room
An expanded kitchen with space for informal dining and/or a sitting area
A home office with a private entrance
A full in-law suite to meet a need for aging parents, or to accommodate grown children and frequent visitors
A sun room to double as a greenhouse and informal entertaining space
Any time you consider remodeling or building an addition, the first step should be to visit with a professional to ensure that your plans will add lasting value to your property and that your goals can be accomplished within your budget constraints. Crystallize your ideas and jump-start the process by scheduling a design consultation early in the game.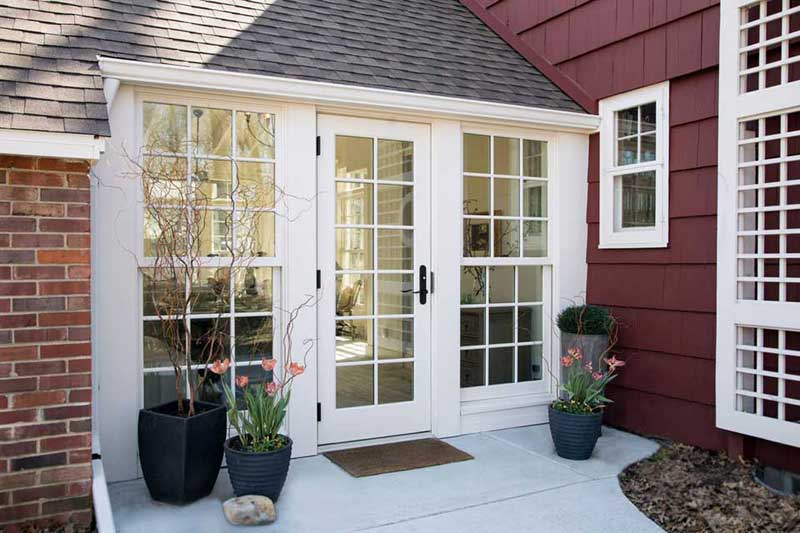 What Kind of Addition Is the Right Choice?
There are two primary ways to add additional square footage to an existing home: build up or build out. While it's true that remodeling existing space is typically more cost-effective than building new space, that option might not add net space to your home. There are some exceptions: You can gain interior square footage by enclosing a covered patio, converting an attached garage or finishing out an unfinished basement. However, those routes do have specific limitations, and may or may not result in the kind of new space that you desire. That's why it's smart to discuss your plans with a qualified design-build firm first.
Adding a ground-level room may seem easier than adding a second story, but that's not necessarily the case. Your design-build firm will be able to offer pertinent advice. Building principles are similar, whether an addition requires site preparation and a new slab, or roof removal and shoring up existing framing structure to carry the new load.
Ancillary considerations when planning an addition revolve around code compliance, community restrictions, building codes, neighborhood values, and budget constraints. As a homeowner, you should consider the potential future return on your investment as well as your current desire for new space. Again, your building professional can guide you to the right decision by sharing with you prevailing costs for the kind of construction you plan.
Determine the Best Size and Configuration for Your Addition
The best way to determine the right size for a new addition is to take stock of your wants and needs. Bigger is not always better. A good way to begin analyzing your needs is to visit model homes, open houses or furniture showrooms with model room displays. If you have specific space requirements, for a billiards table, a loom, a model train set up, or a piece of antique furniture, keep those measurements in mind as you begin planning your new space.
Whether you focus on function, style or convenience, consider enhancing even minimal square footage with built-in cabinetry, shelving, and storage. Be creative with your planned addition; keep a notebook of ideas for using the space or create an ideabook on Houzz.
Think about the added convenience of a combination laundry/mudroom adjacent to the kitchen. Then imagine what else you could do in the space: Drip-dry hanging space next to the washer that doubles as a dog shower? A storage island, with or without a sink, in the middle of the room to ease flower arranging and seasonal gardening tasks? An extended counter to serve as a dog grooming table or gift wrap center?
A room with a separate outside entrance in addition to an ensuite bath allows it to be used as an efficient home office as well as a guest suite, adding both home value and appeal. A second-floor den, game room or hobby room might be doubly attractive with an adjacent outdoor deck. A bedroom designed for grandkids would benefit from the addition of quirky play space — a pair of dormer windows on either side of a "stage" with a sloped ceiling or a nook to accommodate bookshelves and a comfortable reading chair.
When considering the feasibility of an addition to your home, you will want to confirm that existing electrical, plumbing, heating and cooling systems are sufficient to efficiently serve the new square footage. But that is another job your professional contractor will handle.
Sweeney Design Remodel has been working with area homeowners since 1954. We not only design and remodel homes, but we build relationships with our clients, helping to enrich lives and add beauty and value to local homes. Contact us to discuss your ideas and explore the possibilities. Also, sign up for our newsletter to keep in touch with what's new in the world of design and home remodeling.