The visual appeal of a home is so important, yet it's how well we interact with the interior space that makes a remodel truly successful. A well-designed interior is a highly functional room, and this includes both spatial design and eye-catching aesthetics.
When function and beautiful visual design are combined, you have a Madison family home that is seamlessly aligned with your lifestyles, tastes, needs, and who you are as people. With this in mind, here are some important function-focused design features to consider during your next remodel.
1. Take Time Choosing the Layout
A remodel provides an excellent opportunity to reconfigure parts of your existing home layout. For example, depending on the design of your property, you might be able to knock down or move an internal wall to create a larger space or an extra room.
The decisions over layouts will rest on your family's needs and how you see the internal space being used, both now and into the future.
Open-plan spaces often suit families with young children. The unobstructed lines of sight allow you to keep an eye on kids while they play and afford more room for toys and activities. Similarly, open floor plans make conversing with several guests in a group setting easier.
On the other hand, more designated spaces are becoming increasingly important as rising numbers of people work from home. They provide a level of privacy and quiet some family members will find desirable.
There are no right or wrong answers. Your decisions regarding the layout all depend on the makeup and preferences of your family.
2. Be Practical with Your Choices
Any professional remodeling process involves decision-making, and it's essential to be practical with your choices. You can have a room that looks beautiful, but if you find it hard to function in the said room, it will soon become a beautiful frustration with much less appeal.
Depending on your budget and project scope, you might decide to remodel just part of your house. If this is the case, it's advisable to focus on the spaces where things can be made much easier for you. Rooms, where good functionality is of particular importance, include the kitchen, bathroom, and utility areas.
Your family lifestyles will also play a part. If one or more family members work from home or homeschool, then a home office or workroom might become the practical priority in these cases.
3. Utilize Awkward Spaces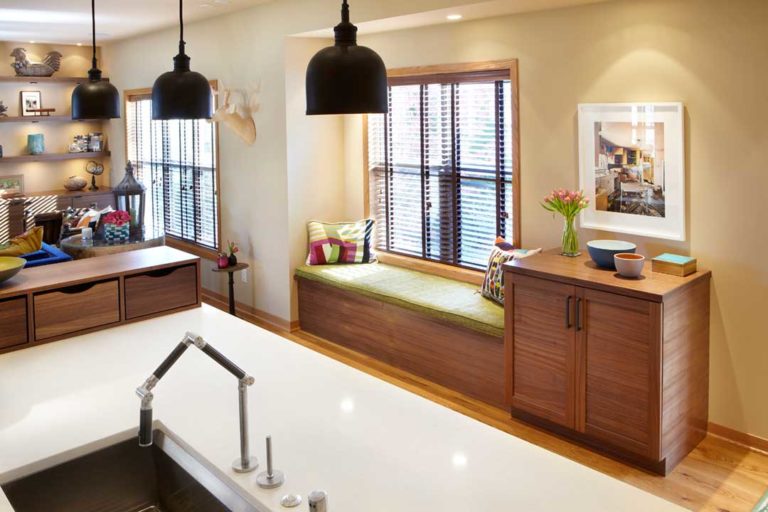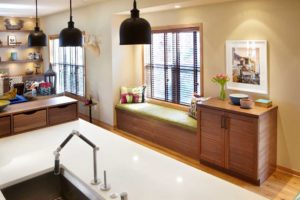 A great way to maximize functionality and add some aesthetic charm at the same time is to utilize awkward spaces. These little nooks or alcoves can be found throughout our homes and often end up gathering dust.
During your remodeling planning, consider how you can take advantage of these empty spaces. With creativity and improvisation, you can add functionality to any empty part of the home.
For example, you can turn a nook at the top of a staircase into a window seat; an unused closet into a little desk space complete with shelves, artwork, and lighting; and a small kitchen niche into a wine display feature.
4. Think About Long-Term Needs
A home remodel is not just for today. It's for years and maybe decades to come. It's, therefore, crucial to think about your long-term needs, both in a practical sense and when it comes to the resale value of your property.
Today's homeowners increasingly seek freedom and flexibility to adapt their homes according to changing realities. Whether it's children turning into teenagers, elderly family members moving in, or a pandemic quickly modifying the way we work, our lifestyles and priorities naturally change over time.
Multipurpose spaces are a much sought-after addition to remodeled homes these days. Also known as "flex rooms" or "bonus rooms," such a space is designed to be future-proof with multi-use options built-in (including wiring and plumbing).
The room's adaptability means it can, for example, go from being an exercise room to a nursery to a playroom to a home office to a guest room over the course of a decade or more. All without any further professional remodeling help required.
5. Designate Storage in Every Room When Possible
A lack of storage is one of the most common problems homeowners face. You can never seem to have enough of it. That's why it's always a good idea to designate storage space in every room where possible.
Luckily, many storage solutions these days can also look very stylish. There are many clever ways to store things away that add aesthetic appeal to just about every space.
There are custom open and closed shelving for living rooms; built-in storage benches for hallways and utility rooms; pull-out gadget drawers and corner pantries for kitchens; and recessed shelving for bathrooms, to name just a few examples.
6. Don't Forget a Lighting Plan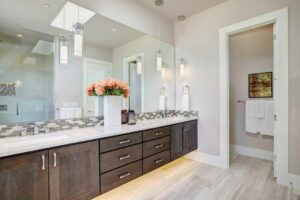 Lighting can make or break a space. Homeowners often underestimate how important good lighting is when it comes to functionality, aesthetics, and perhaps most importantly, our mood.
As humans, we respond best to the natural day-night cycle, and the more natural daylight we are exposed to, the better. An intelligent lighting plan takes this into account and ensures you have a proper balance of artificial and natural light.
Such a plan also factors in how you can use artificial lighting to create a beautiful ambiance in different areas of the home. For example, layered lighting is a popular technique where various forms of lighting (including ambient, task, and accent) combine to maximize the space's functionality and enjoyment.
7. Be Thoughtful About Your Finishes
Whether it's the tiling in your bathroom or the countertop in the kitchen, it's important to be thoughtful about your finishes.
Some finishes require more upkeep and maintenance than others. You'll need to figure out how much work you want to put into sealing, cleaning, or polishing different types of finishes and whether there are easier alternatives.
Another factor to consider is the long-term aesthetic appeal of different surface options. What might be on-trend today may fall out of favor in a few years. On the other hand, a timeless design will remain a beautiful feature well into the future.
Your expert remodeling team will provide you with guidance and advice on these issues.
Choose a Qualified Madison Design-Build Firm
At Sweeney Design Remodel in Madison, WI, we've been helping people create the homes of their dreams since 1954.
As one of the most trusted names in remodeling, we ensure fantastic results for every project we complete. Our 4-step design-build methodology seamlessly integrates both the design and build elements of a project.
Our experienced and friendly team guide Dane County homeowners through a proprietary design-build process where customers remain informed, engaged, and 100% satisfied. We can do the same with you.
Please take a look at our portfolio, sign up for our newsletter, and reach out to us directly. We look forward to discussing how we can help you achieve the perfect home.