If your remodeling plans this year include changing your kitchen layout, you're in good company. Approximately 46% of homeowners who are remodeling their kitchen this year chose to change the layout, according to the 2020 U.S. Houzz Kitchen Trends Study.
Researchers collected responses from nearly 2,600 Houzz users who indicated that they had finished remodeling their kitchen during the past 12 months, were amidst renovation now, or plan to begin remodeling within the next 90 days. Of the people surveyed, the majority (some 40%) opted for an L-shaped layout. In addition, about 46% of homeowners were electing to open the kitchen to other rooms (for comparison, about 20% of those surveyed said they are making the kitchen open to the outdoors).
With so many remodeling options available, it's important to become familiar with the most common kitchen layouts, to determine the right plan for your kitchen remodel.
The Importance of the Work Triangle
How efficient and easy is your current kitchen to use? Since you are getting ready to change your kitchen layout, it's helpful to consider the "work triangle," which is a theory developed in the 20th century for builders and remodelers, according to Architectural Digest. Briefly, the work triangle (also known as the "golden triangle") holds that the three main work areas in a kitchen should form the proverbial triangular shape.
The three corners of the triangle correspond to your refrigerator, sink, and stove. Each leg of the triangle should range from four feet to nine feet, and the sum of the triangle's legs should be between 13 feet and 26 feet. Setting up your work area like this allows you to conserve energy and movement as you switch from removing items from the refrigerator to washing and chopping ingredients at the sink and cooking on the stove.
Keep the work triangle in mind as you discuss layout options with your remodeling team. It will guide you in purchasing appliances, deciding on cabinets, and whether you will include options such as a kitchen island or dining table.
Six Kitchen Layouts to Consider
There's no need for you to reinvent the wheel when it comes to kitchen renovation and design. There are six main kitchen layouts developed and used by remodeling professionals for you to consider:
Galley
Sometimes referred to as a walk-through kitchen, a galley kitchen is built using two walls with a walkway in between. The choice is yours as to whether to keep both ends open or only one. It's an ideal setup when you are trying to make the most of your available space. Homeowners who install this type of kitchen enjoy the layout because of how well it separates the rest of the dwelling from the cooking area.
A benefit of this design is that your appliances and cabinets are easy to reach; this saves time when you are trying to get breakfast ready for the crew before everyone runs off to school and work. Generally, a galley kitchen is suitable for a single cook or a second chef if space permits. A drawback is that galley kitchens usually provide limited space, so you probably cannot fit a kitchen table. If you are feeding a lot of people, the area can get crowded.
Island or Double Island Kitchen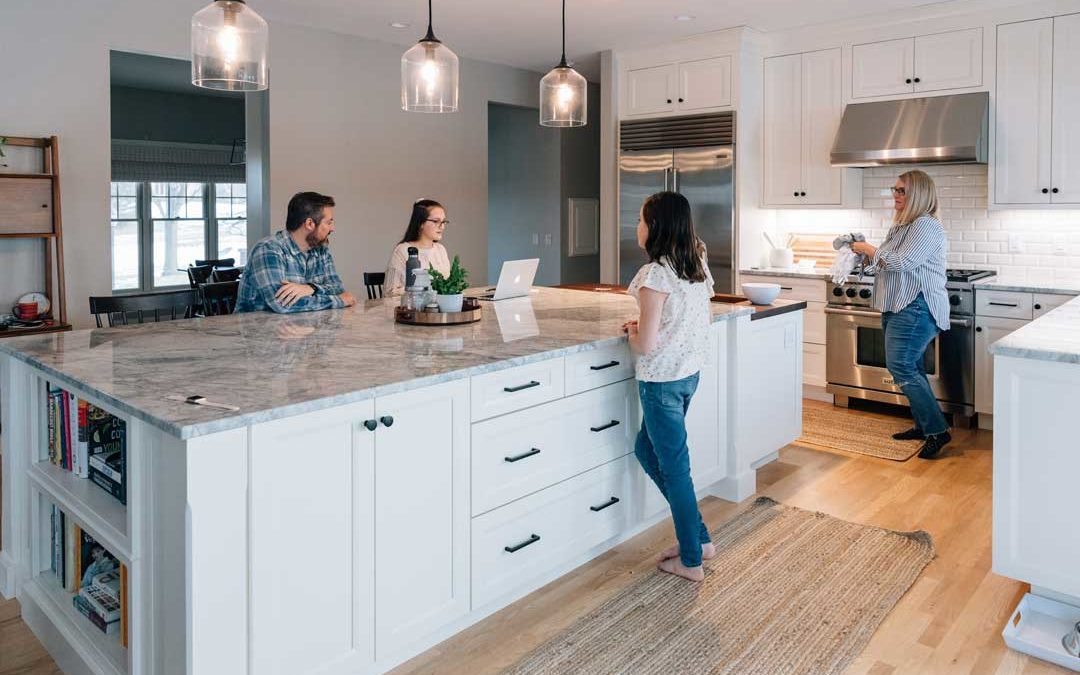 Perhaps you need a lot more surface area in your kitchen to host family gatherings. If so, an island or even a double island kitchen layout could be just what you need. Using an island gives you more workspace, making it easier to stay organized even when you are working with a lot of ingredients and many appliances.
Kitchen islands add functionality beyond extra countertop space. They are ideal for holding different devices, from a food processor and toaster oven to a crockpot. Cabinets are easily incorporated in kitchen islands, giving you the extra storage space you need. You can even include an additional sink, so it's ready right where you need it while doing food prep. This is especially useful when you install double kitchen islands.
L-Shape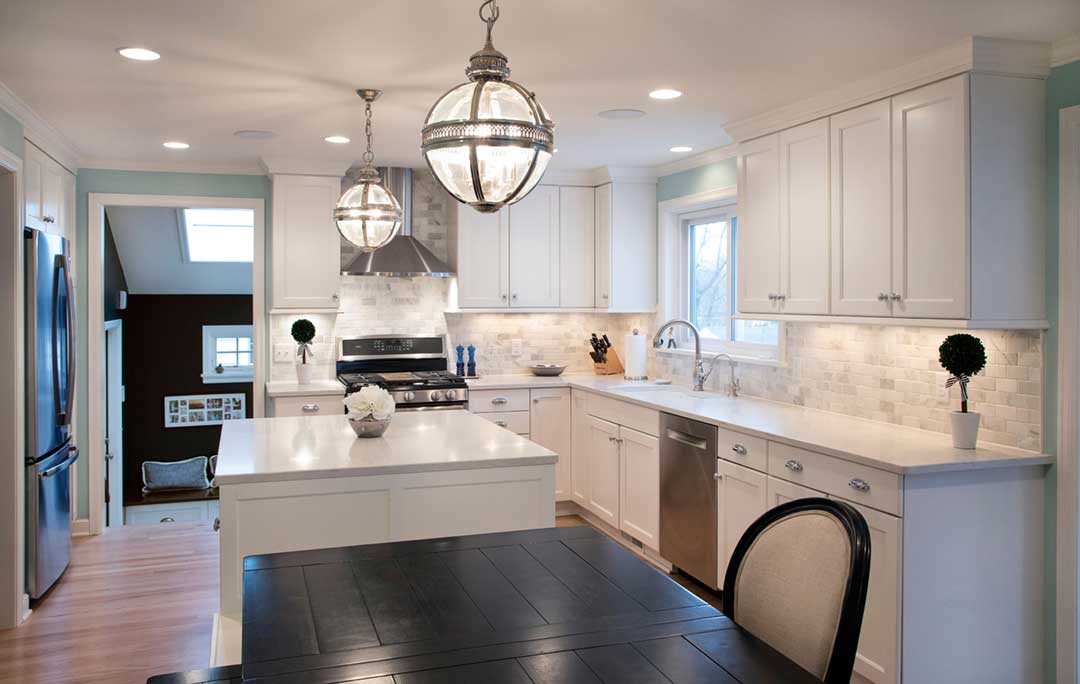 When dealing with limited space for the kitchen, an L-shape approach may be a perfect choice. As its name indicates, an L-shape kitchen layout is in the shape of the letter "L." The workspaces are organized using two walls that form an L. Select this design if you want to cut down on kitchen traffic. It's also a good shape for including a dining table with chairs or even a new kitchen island.
Homeowners will prefer an L-shape kitchen with a wall at least 15 feet in length so that most of the commonly used items will be in easy reach. As long as you use good organizational tactics, such as plenty of shelving, lazy susan turntables for maximizing the use of the cupboards and the aforementioned kitchen island, you should have enough room to cook in an L-shape space.
U-Shape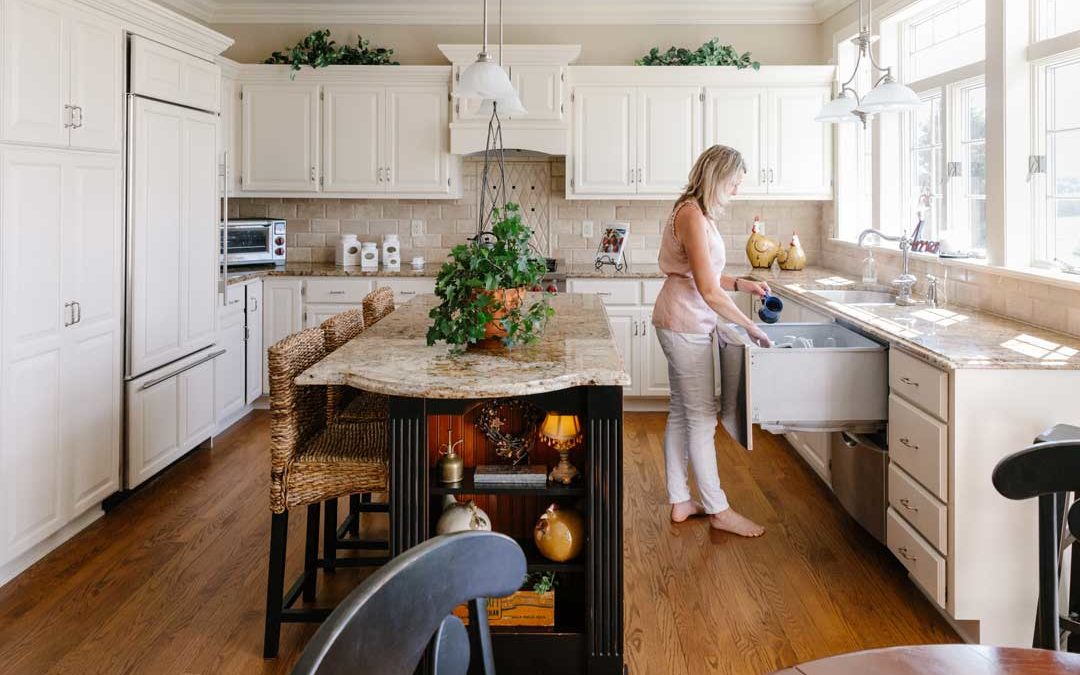 For those cooks who need more work area, a U-shape kitchen is an excellent choice. It's also appropriate when you typically have more than one chef in the kitchen at once. Designers know that a minimum of 10 feet between walls is called for when setting up a U-shape layout.
You can also think of this type of kitchen as a horseshoe design, where it is simple to make a work triangle for maximum efficiency. One caveat: be mindful as you decide where to place appliances and cabinets in a U-shape kitchen. This is because if they are too near each other at the corners, you'll have doors banging as you open them.
Single Wall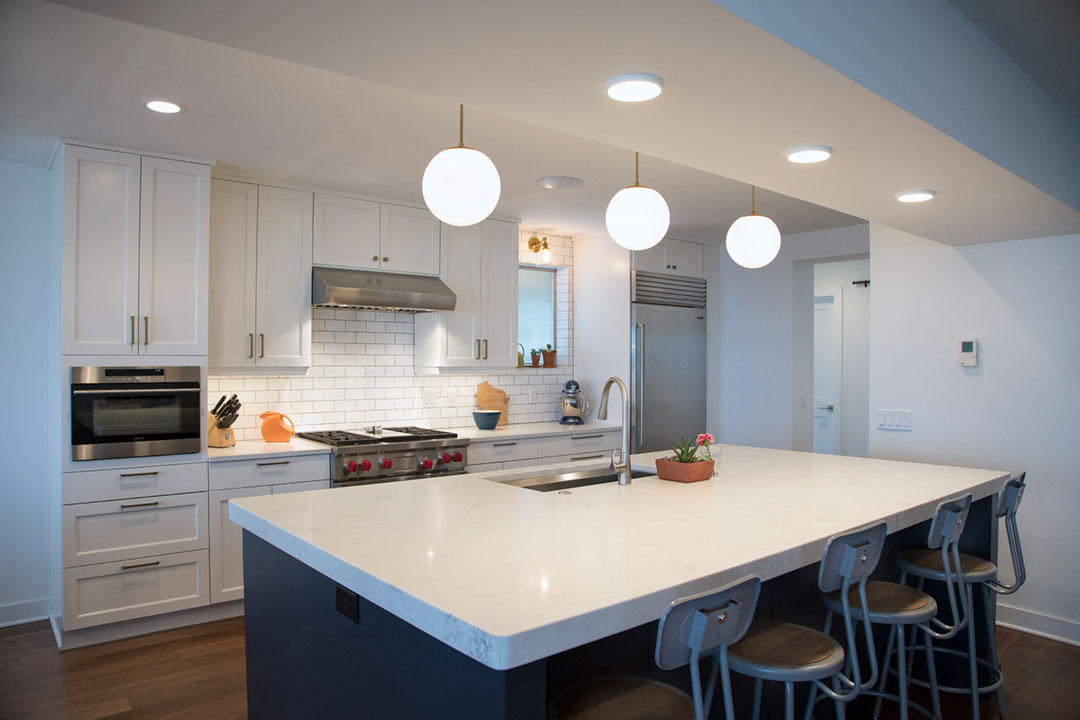 In smaller houses, a single wall layout could be your best choice. All of the appliances, cabinets, and counter space are situated on one wall. Homeowners go with this setup so they can have more room for sitting down for meals. What's more, the single wall approach will not block windows, so your place can have more natural light.
If you include a high dining table, it will give you some much needed additional countertop space. Or, like a small, portable kitchen island, you can use a rolling table that you take out whenever you need extra space for prep.
Peninsula or G Shape
A variant of the L-shape, a G-shape, or peninsula layout gives you an extra "leg." Homeowners build these in rectangle-shaped kitchens. With a peninsula, you have more room for appliances, cabinets, and countertops. Imagine hanging out in the kitchen with plenty of family and friends gathered about the island, either standing or relaxing in chairs that you pull up whenever there's a crowd.
Could you use some inspiration as prepare to upgrade your house?
Subscribe to our newsletter and remain up-to-date on the latest trends in design and new options for remodeling. And while you're at it, have a look at our portfolio of kitchen remodeling projects, which will give you and your family a better idea of what our team of talented experts can do to transform your dwelling. To learn more about our approach to home remodeling or to set up an appointment for a consultation with our kitchen design experts, please click here or call us at 608.257.3034 today.