If you spent a lot of time in your kitchen this year, you probably have a strong urge to purge, organize, and remodel. Cluttered nooks, exposed appliances, messy junk drawers, and skimpy counter space might be driving you mad with a kitchen renovation itch to create the most organized kitchen you can imagine. After all, an organized kitchen will not only be beautiful, but it can help make your day as stress-free as possible. Start making that dream a reality with these seven kitchen renovation ideas:
1. Consider Custom Cabinetry
Only custom or semi-custom cabinetry can organize your kitchen the way you want it. Survey your current kitchen cabinets and notice what works and what doesn't. Then, partner with an experienced design build remodeler to help identify the pain points that custom or semi-custom cabinets could relieve with these kitchen organization inspirations:
Custom Pull-Outs

—Tired of digging into the recesses of deep cabinets to scrabble for stand mixer pieces, the Instapot, mixing bowls, or pots and pans? Enter custom pull-out cabinets specially designed for those items. Your kitchen renovation designer can create sturdy pull-outs that handle the heavy objects. You can easily reach right to the back to efficiently use all of the storage space.

Pantry Pull-Outs

—Pull-outs are also excellent for pantry staples you use frequently. You can organize the cabinets so that frequently-used items are easy to rotate by the freshness date and effortless to grab when you're in the middle of a recipe.

Tray Dividers for Sheet Pans

—Sheet pans can be difficult to store. There's seldom a good generic cabinet that will hold them conveniently, so custom pull-outs with dividers can solve that problem for you.

Lazy Susans

—Corner cabinets are a pain to use and usually end up as wasted space—unless you add a Lazy Susan. Use them in all of your corners to maximize every inch of storage space for the optimally organized kitchen.

Pull-Out Produce Baskets

—While some fruits and veggies do fine in the fridge, many don't. Garlic, onions, squash, potatoes, corn, sweet potatoes, bananas, and stone fruits should remain at room temperature in pull-out produce baskets designed to keep them organized and separate.

Hidden Waste and Recycle Bins

—Imagine the luxury of stowing your garbage and recycling entirely out of sight in a pull-out. This will help reduce kitchen odors as well.
2. Ditch the Junk Drawers
Ample drawers with custom inserts can eliminate the catch-all drawer where you can never find the things you need. Useful drawers can move numerous items off the counter for a gorgeously uncluttered kitchen. Take an inventory of the things you most often stow in drawers and conceptualize putting each of those items in their places, close to where you'd normally use them for a kitchen organization win:
Cutting-Board and Knife Drawer

—Liberate even more counter space with a combination knife and cutting-board drawer.

Spice-Rack Drawers

—If you love spices, why not install two of these. You can store and organize all of your spices off the counter, in the dark, where they stay fresher longer.

Deep Drawer Dividers

—These deep drawers use pegs to designate spaces for your plates, dishes, and cups, so they stay neatly separated.

Stand-Up Utensil Drawers

—Position one of these right next to the stove for all of your kitchen utensils for easy access while you cook to keep them off the counter.

Two-Tiered Drawers

—These double your storage space! Try this deep drawer idea for stowing kitchen towels and other dining linens.

Under-Sink Drawers

—That space under the kitchen sink has been wasted for years until the dawn of the pull-out drawer that maximizes this space. Use it to keep washing supplies handy.

Pet-Food Station Drawer

—Keep that messy pet food out of sight when it's not time for Fluffy or Fido to be eating.
3. Stash it in an Appliance Garage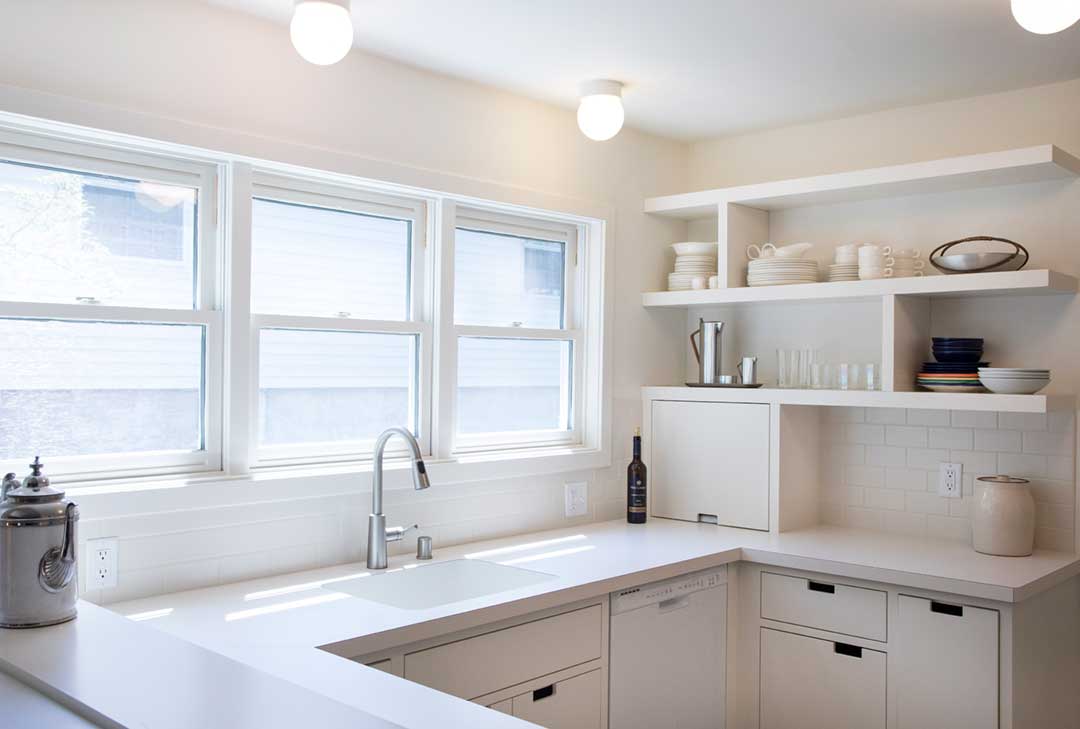 Although they fell out of favor for taking up too much counter space themselves, today's kitchen designers are building them deeper into the walls, so they are flush with the other cabinets. This conserves counter space and contributes to a neat, organized kitchen. They can hide any frequently-used small kitchen appliance you're tired of looking at when it's not in use. Stock each appliance garage with ample outlets to power the appliances while keeping the cords out of sight and out of mind. Consider a sliding panel to hide your Instant Pot or stand mixer, or a bread and toaster station. You could also hide the microwave with a door that lifts and slides back.
4. Beautiful Built-in Appliances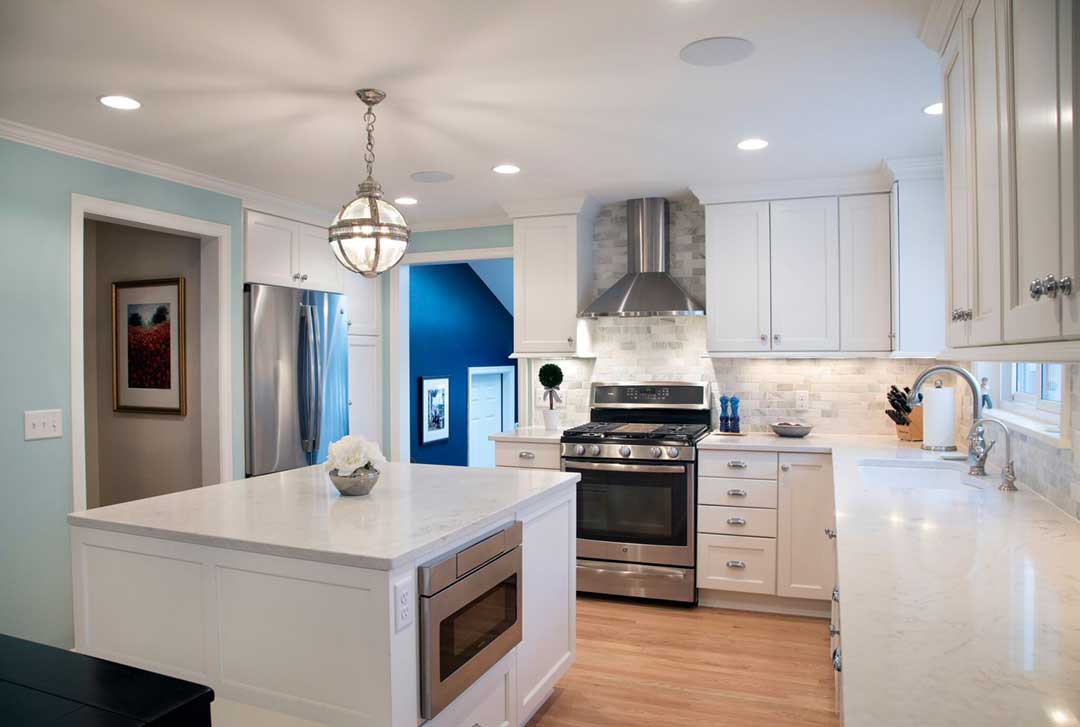 As an extension of the appliance garage, you might also consider dedicated, built-in spaces that give a home to your most used small kitchen appliances. Why not design a built-in coffee and tea station, complete with sliding doors to close off the coffee maker, water heater, mugs, and saucers when not in use? Warming drawers are perfect for holiday entertaining, as are under-counter wine and beverage chillers and paneled appliances that create a fresh, sleek appearance. Built-in appliances also keep the cords and other "background clutter" out of sight and safe from accidental spills. Dual ovens, refrigerators, and freezers can all be built-in for a flush, streamlined, truly organized kitchen experience.
5. Create an Immaculate Kitchen Island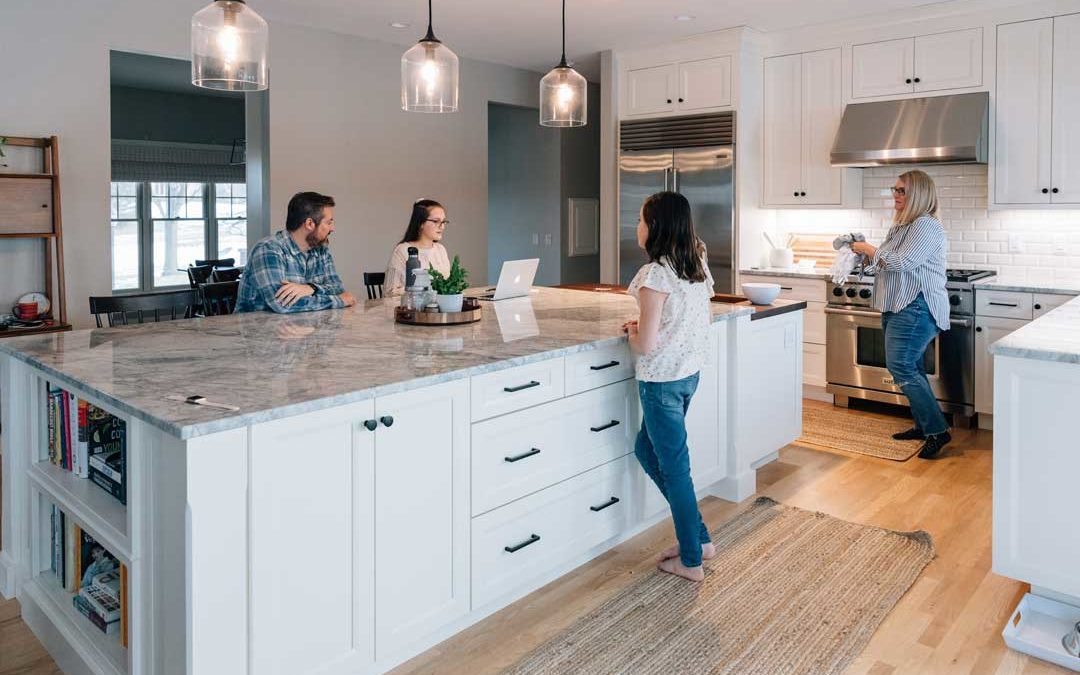 Your kitchen island should be a paradise of storage space. All of those fantastic, previously-mentioned pull-out drawers and cabinets to store bulky items can be housed in the island, along with open shelving for cookbooks and magazines. Open space underneath can also keep the stools for extra seating. Now that you have a clear island countertop, you can use it for prepping, staging, and entertaining like a pro.
6. Dedicate an Electronics Charging Station
For most families, the kitchen is also a place to do homework, pay the bills, and look up recipes online. This has become especially true in the last year. The only problem is that cooking and using the computer at the same time can create a messy kitchen. So, consider building in a separate little kitchen office area, away from the sink, stove, and appliances. Include an organized bank of dedicated charging stations for everyone's devices, a pull-out desk for the laptop, and drawers to organize papers and office supplies. Add built-in shelves for a smart speaker or WiFi booster.
7. Make Your Pantry Work for You
Your kitchen remodel would be incomplete without a walk-in pantry. Consider your current pantry's pain points and envision how you want it to work. Ordinary pantries can become cluttered, messy areas without the proper kitchen organization features in mind. So, consider what you want to store in the pantry and imagine pull-out shelving or shelves with adjustable height levels so that you can customize as your needs change. You might even consider custom baskets or additional cabinets in the pantry, depending on what you want to hide in there. Don't forget slim, back-of-the-door shelf space to organize smaller items. If working and staying at home for long periods has you itching for a special little hiding space, add a comfortable seat and proper lighting for when you need to hide with a good book for a few minutes.
Imagine a Kitchen Remodel with Organization Front and Center
An organized kitchen is a beautiful kitchen. With everything conveniently stowed in its place, there's more room for you to entertain, prep, and enjoy a peaceful meal with those you love. So, if you're ready to begin the next year with the most organized kitchen you can dream of, Sweeney Design Remodel in Madison is prepared to help. We've been guiding homeowners through our proprietary design-build remodeling process since 1954, keeping people engaged, informed, and blissfully satisfied with the results. Visit our kitchen portfolio for kitchen design inspiration. Don't forget to subscribe to our monthly newsletter for a wealth of expert remodeling wisdom. And when you're ready to discuss your kitchen remodel, contact us for a consultation at 608.257.3034.