An unfinished basement can be fertile ground — forgive the pun — for new home improvements. Whatever you have in mind: a hobby room or home theater, game room, workout space or wine cellar, or even additional bedrooms and a family living space, some specific requirements and finishes may limit your options and will influence your choices. If your finished basement is to emerge as functional and attractive additional square footage, planning is an absolute must.
Here are six specific considerations you'll want to address before starting your renovation project:
1.  Water and Moisture Are the Enemies
Unless you grow mushrooms for a hobby, cool, damp or musty basements are not very pleasant. What is below the finished floor is often what determines whether a finished basement will be warm and inviting or remain a cellar unfit for human habitation. Common reasons for basement water and moisture problems include the underlying soil condition, improper roof gutter installation or ineffective maintenance, natural condensation, and hydrostatic pressure.
If your basement floor and walls are concrete or concrete block, some form of water barrier is necessary to prevent water penetration. Concrete does crack, which is essentially unavoidable. But there are effective ways to mitigate the problem and waterproof a basement effectively. These include, in particular, drainage systems. Whether it's new construction or necessary repairs, creating proper drainage around the foundation is vital. The topography is a starting point, but grading and the right axillary drainage systems should alleviate problems.
2.  Be Aware of What's Underfoot
Although a basement concrete floor is perfectly suitable for storing mechanical equipment, it is often not enough to provide the necessary comfort for a warm, livable space. Even in an unfinished basement, a dehumidifier and proper air circulation should be prioritized to prevent odor, mildew, and mold. 
Depending on the age of your home and how it was constructed, an unfinished basement may or may not have sufficient waterproof protection under the slab or in the exterior walls. If it does not have protection, it is relatively easy to fix. The goal is to prevent moisture from seeping through the block or concrete, which results in mold or mildew. Ask about vapor barriers and moisture-resistant finishing materials, especially flooring, and choose your finishing materials carefully. Don't overlook existing problems, inside or out, and plan to repair foundation cracks and exterior drainage problems before embarking on the interior remodel.
Basement ceilings, particularly in older homes, are typically lower than the standard eight-foot height for above-grade rooms. Whether you install carpet, laminate, tile, or engineered wood, you'll want to retain as much vertical height as possible. 
3.  Keep it Quiet!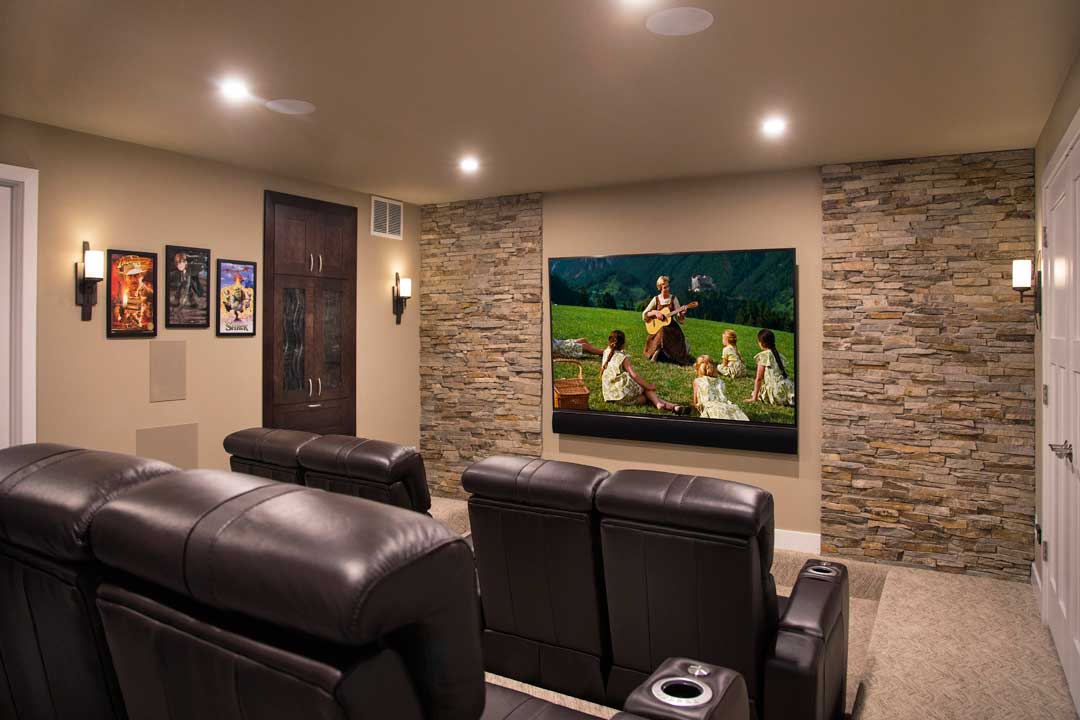 Regardless of how you intend to use your remodeled basement, you'll want to be sure to minimize sound transference between your home's different levels. You don't want to hear footsteps, nor do you want to listen to the water rushing through the pipes and drains. In reverse, while you're upstairs, you won't want to hear the sounds of laughter, music, and television from downstairs. If the insulation between floors is inadequate, your basement renovation might be a nightmare rather than a dream come true.
Ceiling and wall insulation is of benefit for temperature control as well as sound control. It's important to wrap all plumbing and seal penetrations before installing drywall or wall panels. The chances are that street sounds will be less evident in a basement than in upstairs rooms. But sound transference from within the house can be equally annoying, and without proper planning, some places might "echo."
A special note: If you plan a media room as part of your basement remodel, consider materials that will "contain" the audio noise and minimize sound transference to other spaces. Proper insulation is critical, but also consider employing sound-absorbing materials — carpet, fabric drapes or wall panels and upholstered seating — to complement your decor and create a pleasant home theater experience.
4.  Let There Be Light!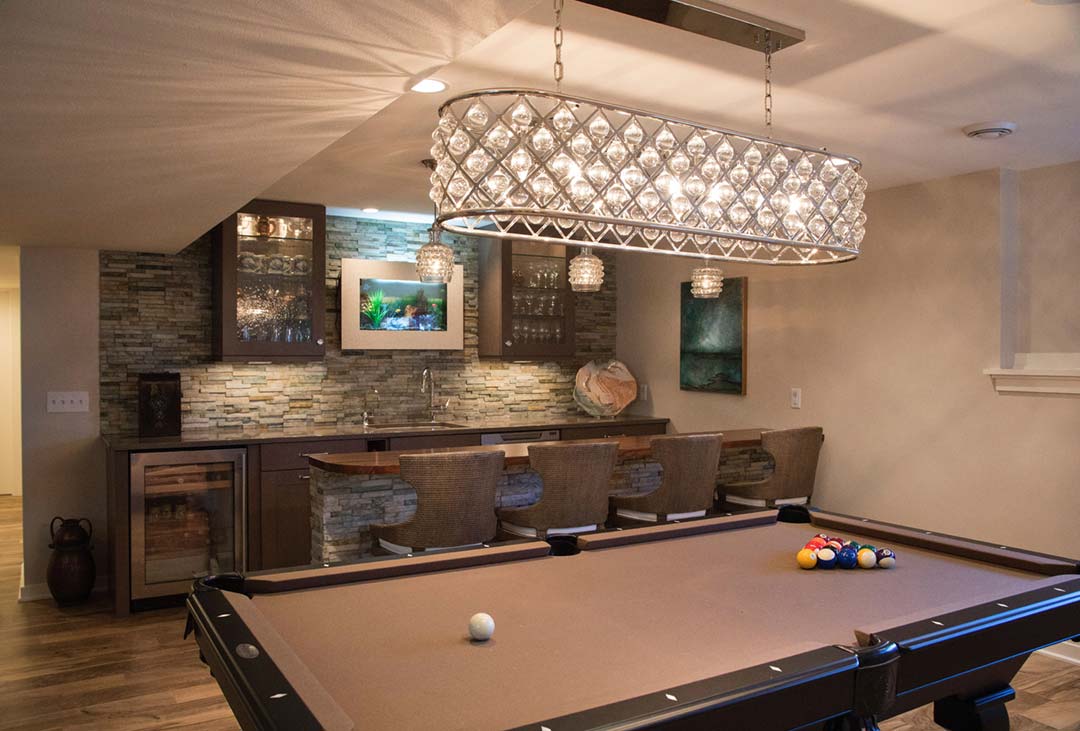 Basements can be dark and dreary, but they needn't be! With the variety of lighting options available to provide general illumination today, a basement can be as bright and inviting as any other room in your home. Plan your basement lighting carefully. Recessed pot lights or ceiling cans are ideal for basements with lower than normal ceilings. Another option – thinline fluorescents with bulbs to simulate daylight come in various sizes and shapes and don't hang more than a couple of inches below the finished ceiling.
Just try to ensure that there are no dark corners in a room. Specialty lights for basement rooms can be as straightforward or as whimsical as you wish:
Hang a series of pendants over a bar counter.

Pick a great pool table fixture.

Install a unique ceiling fan.

Add wall sconces in the home theater or use favorite table and floor lamps for special effects.
Let your imagination run free!
5.  Safety First
A basement remodel must conform to current building code requirements for stair configuration and railings for access from the home's upper floor; and health and safety provisions for emergency egress and rescue operations. While the specifics may vary from one jurisdiction to another, there must be, at minimum, a way for anyone in the basement to get out easily and quickly in case of an emergency. 
If your basement remodel will include a sleeping space, building code requires two means of egress—one that leads to the exterior of the home (e.g., door or window). The size of authorized openings is dictated by code. More stringent requirements apply to rooms designated as bedrooms. Check with local building departments or inspectors, or with your contractor if you have questions.
6. Leave Room For Storage
You probably know that a home cannot have too many closets. That's equally true of basements, but don't think simply about closet space. Consider your own unique needs, and plan accordingly. Could you use a temperature-controlled wine storage room or area with heavy-duty exhaust fans and extra ventilation where you could refinish antique furniture? Would a storage room with specialty built-ins for crafting and hobby supplies, seasonal decorations, bicycles, and off-season sporting gear help control the clutter in your home and allow your garage to be more organized? How about an indoor greenhouse with grow lights to exercise a gardening passion during the winter? Get creative, and utilize every possible option to satisfy your wishes.
There Are No Limits On Creativity
Sweeney's expertise with basement renovations can be your "magic wand" to gain the space that fulfills your dreams. Would you like a fully-equipped workout room, a home office or home theater, or a room where you can retreat with a good book and quiet music? How about a private guest suite or a "dorm room" with creative play space for the grandkids. Our designers and talented construction team will help you find space for a new bathroom, auxiliary kitchen, or a wet bar. Our goal is to blend your new space seamlessly with your existing architecture and decor, resulting in a renovation that not only increases livable space but also adds value to your property.
Whatever you envision — expansive entertaining space or a family-friendly private retreat — Sweeney Design Remodel is here for you. We have been serving clients in Madison and surrounding communities since 1954. There's little that gives us more satisfaction than creative, beautiful new spaces from space that once was drab or unused. Just take a look at our basement renovations portfolio.
If you're not quite ready to get started, we invite you to subscribe to our newsletter. Check out the new ideas that each edition brings you. Then, when you're ready to talk about how we can help you with your home's basement renovation or with any other remodeling project, contact us to schedule a free consultation. In addition to basements, we specialize in kitchens and bathrooms and home additions.