We're homebodies at heart! The Sweeney home
remodeling team believes that every home has the potential to be beautiful and
well-suited to the needs and favorite activities of its owners. We've been
creating functional, attractive spaces for homeowners in the greater Madison
area since 1954. Today, perhaps more than ever, we
believe that home should be a haven from the world, a place where family life
is celebrated and treasured, and where distinctive design contributes to a
personally satisfying lifestyle.
In our view, this is the "Year of the
Basement Remodel." If your basement is unfinished or only partially
"livable" at present, that underused square footage can become
alternative entertainment space for you and your friends, a place where the
kids can retreat to "be themselves," or an area that caters to a
unique vision or particular interest, a home putting green perhaps, or an
expansive laundry room with all the newfangled equipment. Your basement has
almost unlimited potential.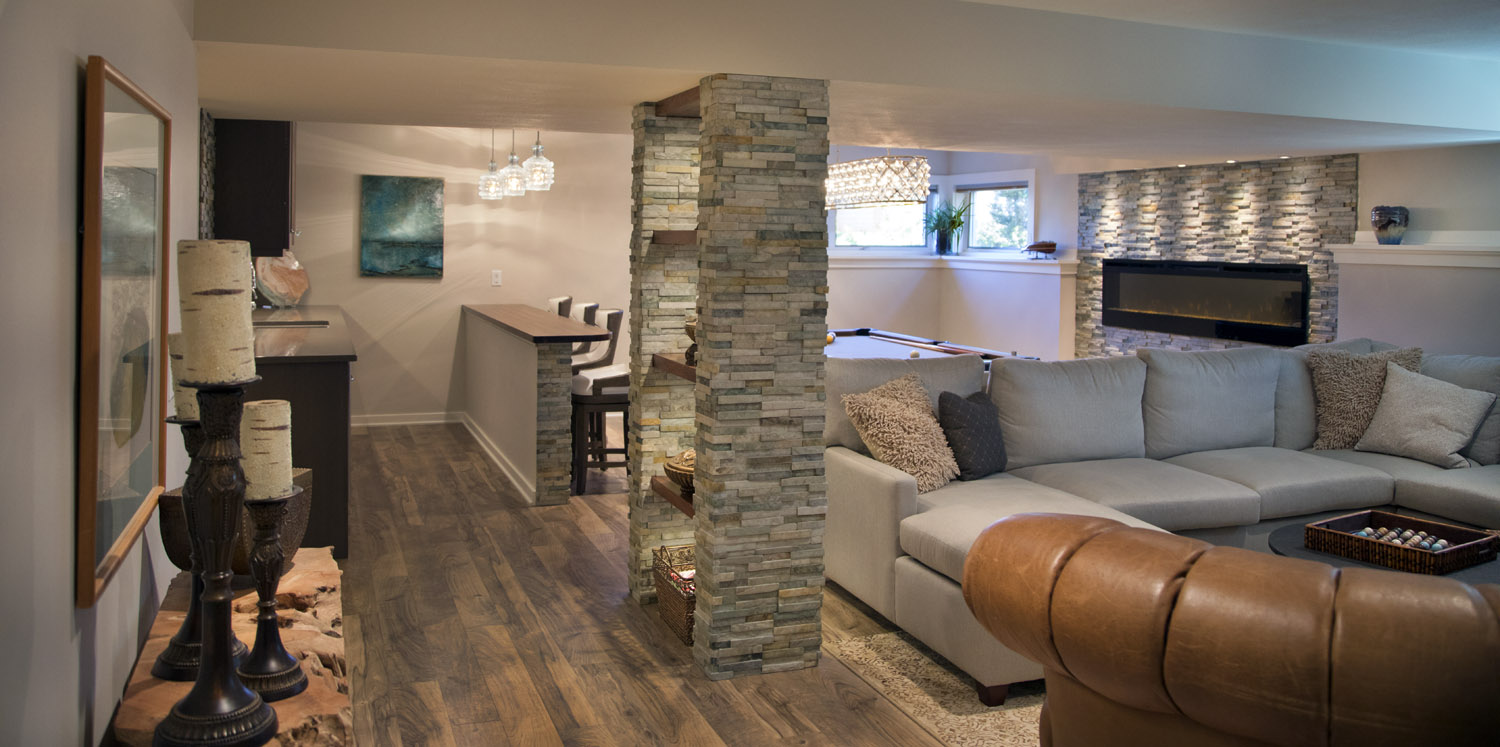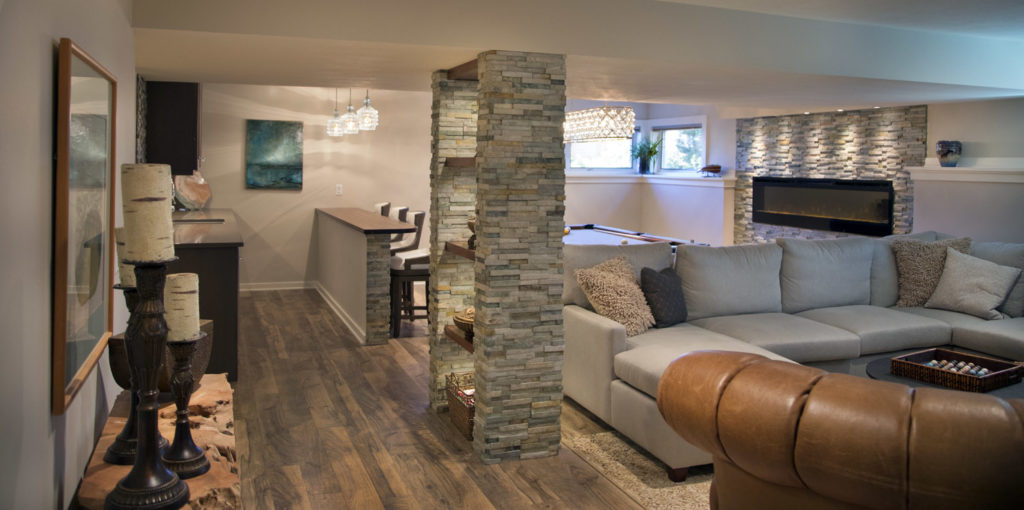 Look to
Your Basement for New Space
The basement should no longer be considered only a utilitarian space. Granted, a basement has always served as a great hideaway for kids; their creative pursuits don't always require more than a basic shell. Basements, like attics, also are perfect for storing the "stuff" that we all accumulate. But neglected basements have so much potential that it's a shame not to put that space to better use. Moreover, a basement is typically a less expensive space to remodel since typically the 'framework' of the room is already there and it's just a matter of finishing out the floors, walls, and ceiling.
If you were to dream about a unique basement
transformation, what would it entail? Here are some possibilities that our
creative designers have compiled:
Home
Theater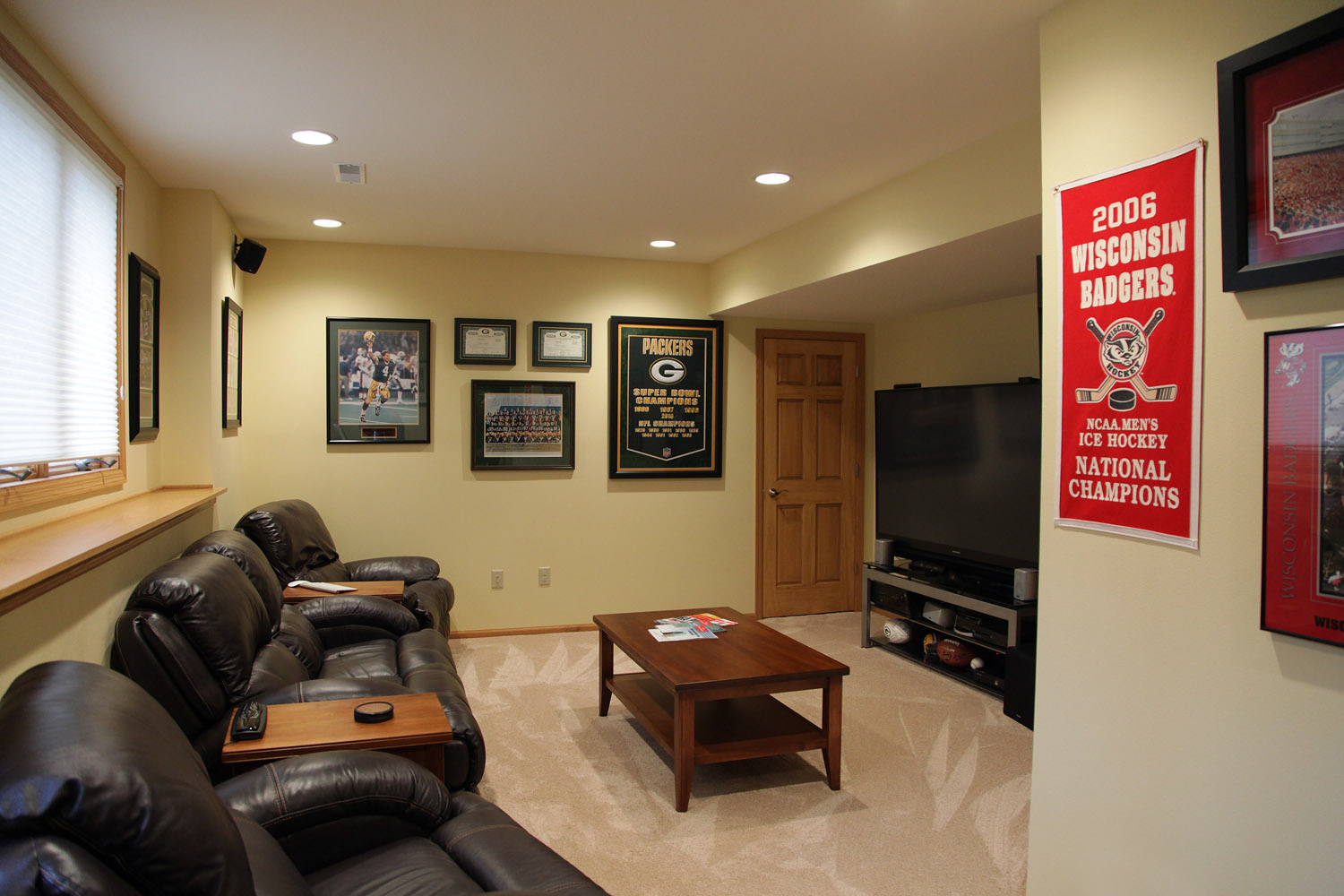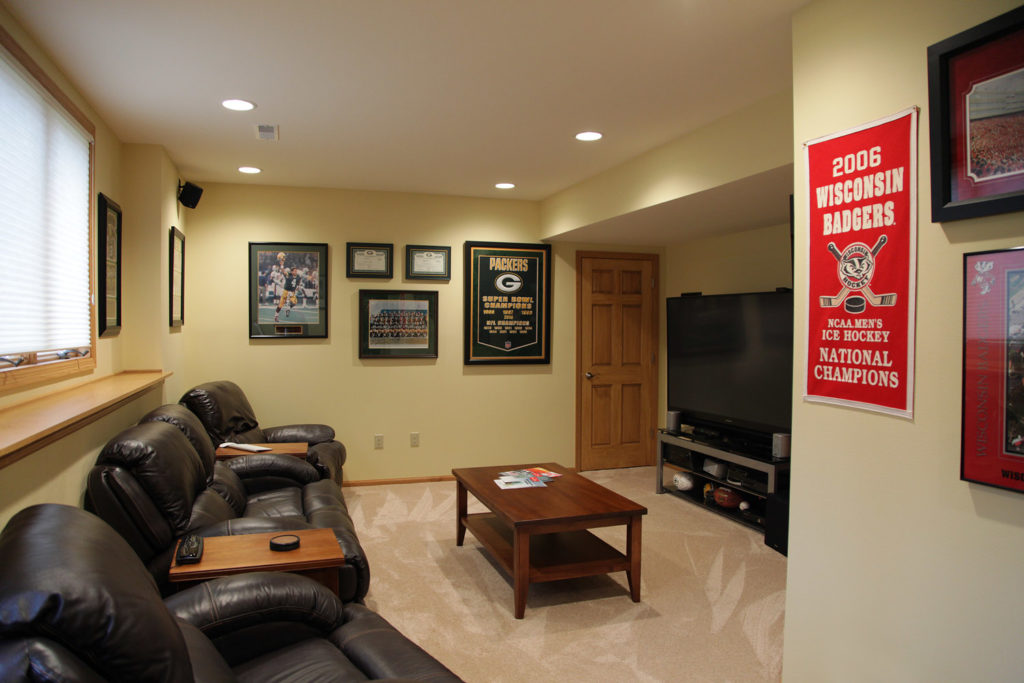 A basement home theater doesn't necessarily have to be styled like a plush screening room for big-screen movies; it might just as easily contain a small stage area for a family band, a large-screen television for watching streaming movies and live sports events, or a place where kids and grandkids can stage creative performances and laugh together at old family movies or videos of recent family vacations.
Man Cave or She Shed
Private getaways are all the rage. No matter what your special interest — model railroading, quilting, genealogy, painting, historical reenactments, or writing the "great American novel," a secluded retreat is a decidedly self-indulgent and highly-appropriate use of basement space, especially if that same basement has been previously underused! With the right lighting and built-ins for supplies, you might find that it becomes a favorite part of your home.
Wine
Cellar or Old-fashioned Cold Room
Many basements are naturally cooler than above-ground rooms. If so, converting a sliver of space to use as a natural wine cellar or convenient cold room would require little effort for maximum impact. However, if your basement is already insulated, a temperature and humidity-controlled space for storing vintage wines, homemade preserves, and aging cheeses is still a viable option. Add an old-fashioned ice cream table and chairs, and install vintage lighting to make it a "tasting room." It would be a modern treasure!
Home
Office
With the advent of flex hours and freelancing
options, the importance of the home office can't be underestimated. If you've
been making do with space carved out of the family den or a spare bedroom
upstairs, why not look to the basement for home office space that is as
efficient and comfortable as the corner office in a high-rise building? Even
without windows, you'll find that decorative options will help you accomplish
your necessary duties. The bonus? Every day can be casual Friday if you wish,
and you won't have a commute to complain about!
Spare
Bedroom or Bunk Room
Without a current dedicated guest room, the
basement is an obvious choice for making one. Your family needs and potential
visitors will, of course, be the determining factor in the design style of the
space. If you have multiple grandchildren, however, a bunk room may be the
perfect solution.  In the same vein,
think about a storage closet or built-in bookshelves with games, books, toys,
and dress-up clothes for kids of all ages.
Fitness
Room or Meditation/Yoga Space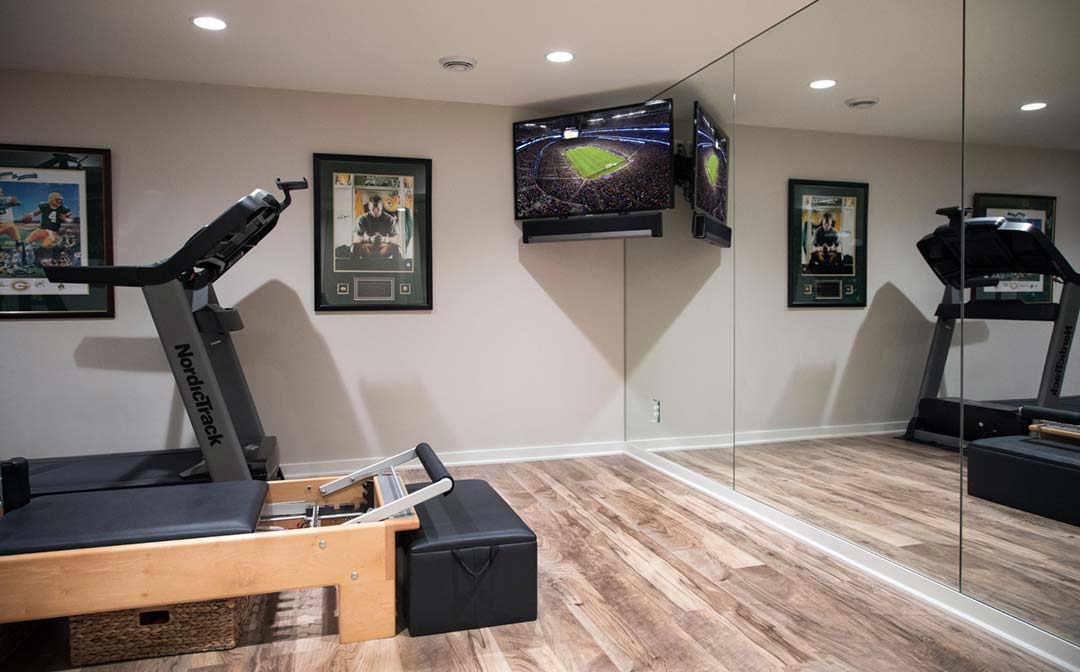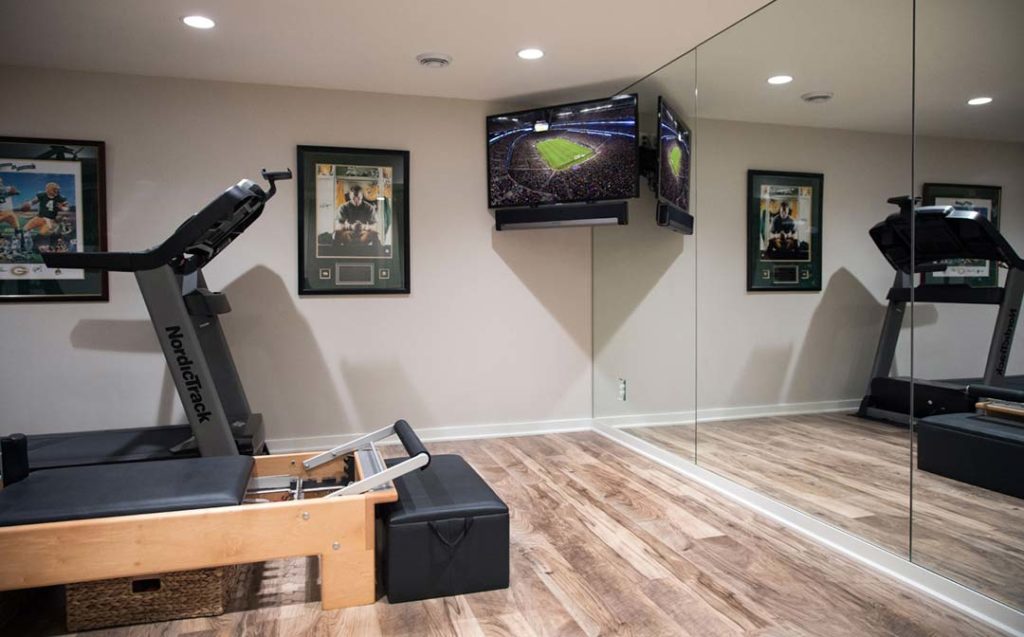 If getting out in nature or going to the gym fall low on your priority list during Wisconsin winters, renovate the basement to include a home gym, casual exercise space, or a room that encourages a focus on personal well-being. It's a smart use of energy, time, and money. Make creative use of existing basement space to boost your health and energy quotient. Your body and your brain will both reap the benefit.
Supplementary
Living Space
Any basement with existing plumbing can transform into an additional living area. Whatever your needs might be — a large den, an in-law suite or temporary living space for a grown child — your options can be tailored to your needs.  A basement with walk-out access to the out-of-doors can also be used to generate additional income. Local code requirements for windows in sleeping spaces require compliance, and there may be other design considerations, but such a transformation is not beyond the scope of a well-planned basement renovation.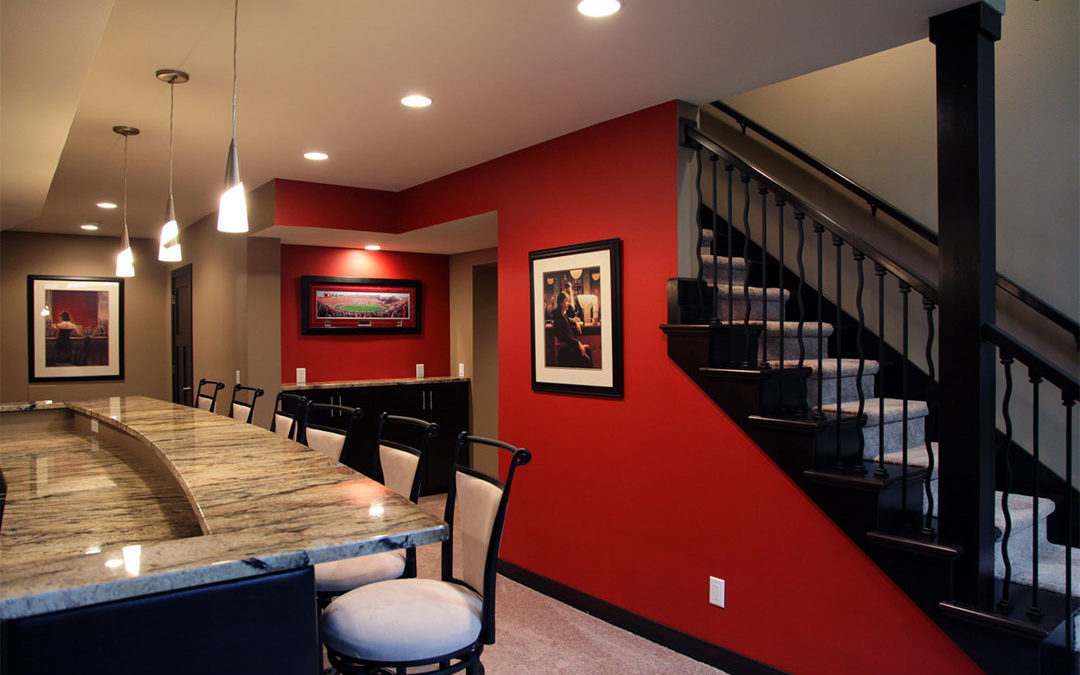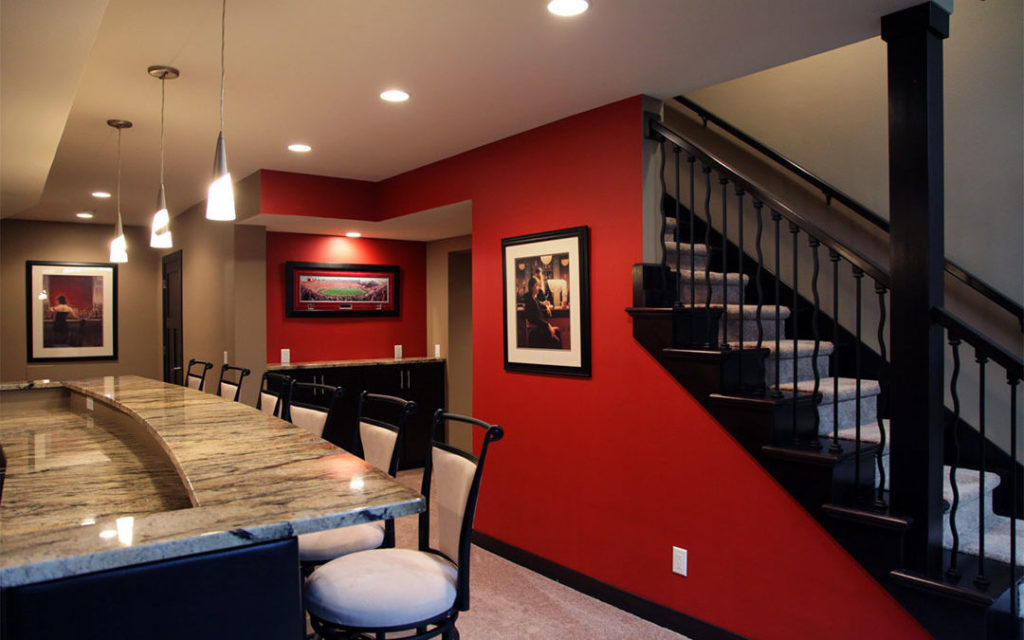 Functional
Basement Remodels
At Sweeney, we understand that planning a
remodel project can be intimidating. That's why our design-build
process is ideal for helping you achieve your desired goals.
We respect every client's individuality, and
we'll help you identify and select the elements that correspond to your choices
and express your personality. Whatever you choose for your basement, the Sweeney
team is here to help with the logistics and the details. It's what
we do!
If this is the year your basement is crying
out for a new look along with greater function and family appeal, contact us
now to schedule a consultation, or call us at (608)
257-3034 to discuss your ideas. We'll be waiting to hear from you!