If you're like many Madison homeowners, you probably think about remodeling your bathroom every time you use it. Whether you want to upgrade a few old fixtures or transform an old, everyday bathroom into a glorious home spa experience, no time seems better than now to scratch your bathroom renovation itch. So what's holding you back? Could be the cost. 
That's not surprising considering the strange times we're living in. Despite the predictions of experts and everyone's best intentions, the pandemic stubbornly clings to our country, continuing to disrupt our lives and our wallets. Inflation is at an astonishing and shocking 40-year high, putting pressure on the government and consumers like you to cut back. 
Piling on top of that is the reality that a bathroom remodel is already more expensive than any other living space in your home, aside from the kitchen. After all, bathrooms and kitchens require not only expensive fixtures and appliances, but also extensive plumbing, electrical, and mechanical work, often resulting in walls and floors being opened or often moved. 
Adding insult to budgetary injury, the pandemic has directly impacted the remodeling industry, too. Not only are material and labor costs at an all-time high due to global supply issues, tariffs, and shortages, but a surprising surge in demand has made renovations difficult to schedule and more expensive. Dane County homeowners are nonetheless in a renovation frenzy, the lines are long. The not-so-hidden secret fueling this rush to remodel is soaring home values – and the record-breaking resale value of doing a renovation, especially for bathrooms. According to the Cost vs Value Report for the Madison, Wisconsin area, the benefit for the full range of bathroom remodels averages over 60%. So let's take a look at all your options, and get you started.
From Bathroom Basics to Bravado: A Choice for Every Budget
Whether you choose to make only cosmetic changes or redesign your bathroom from the ground up, options abound with cost ranges to match. Partner with an experienced design-build firm to ensure your vision seamlessly translates into a remodel that exceeds your expectations and gets completed on time and on budget. Here are three distinct ideas that cover a wide range:
The Bathroom Makeover ($15K-$20K)
Since a bathroom can be one of the most expensive living spaces to remodel, this first option is a great way to cut costs while making a big cosmetic impact. By keeping the existing layout, replacing all the fixtures but not moving them, you won't have to change any plumbing or electrical infrastructure; and by installing a modular bathtub and stock cabinetry, you'll save. 
Replacing the floor with bright or patterned vinyl, adding a faux marble Formica countertop, and dolling everything up with a new paint job works wonders. A new toilet and sink, when tastefully chosen and expertly installed can make your entire bathroom seem new; track lighting, decorations, and other extras add a special touch without incurring too many more costs. 
Arguably the best way to get the most value out of this option is to work smarter not harder with your remodeling firm. An experienced designer can help you cut corners without bleeding your budget; with an eye toward improving what's already there, you'll be amazed what a fresh coat of paint, colored lighting, and resurfacing of floors and cabinets can do for the entire experience.
The Shop and Swap Bathroom ($30K-$50K)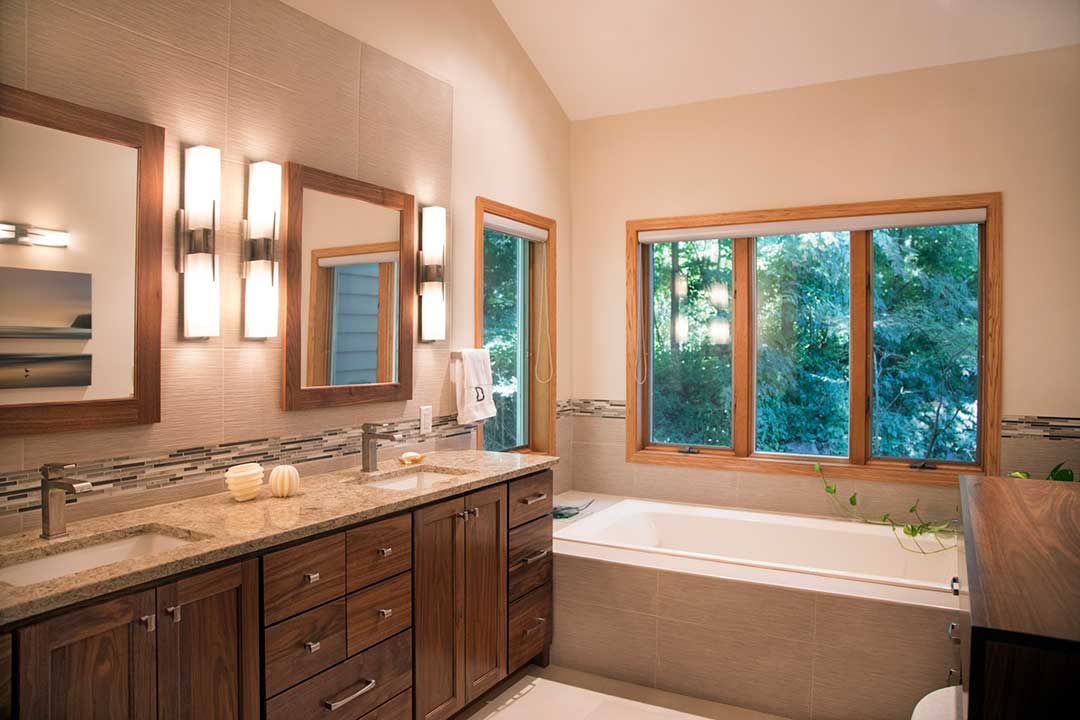 Your mid-to-upper range option stays within the existing walls, but scales to enable moving dividers and fixtures. This choice gives you and your designer more leeway to improve the ergonomics and create a whole new experience with a fresh layout and new and improved toilet, sink, semi-custom cabinets, and tub. Stone or quartz countertops would also add sizzle. 
At this level, you and your designer have greater flexibility and improved functionality with features that could include extra drawers, linen, medicine, and toilet-topper cabinets. Aging-in-place extras such as shower handles and other safety accessories are also possible, alongside high-tech electrical gadgets, motion-control faucets, and other fun extras. 
The best part of this option is the ability to create an entirely new space without disrupting the other areas of your home. By partnering with a creative designer, you can build a new bathroom experience without taking down walls and causing too much disruption. Make sure you cover all the bases, including functional and aesthetic improvements for an ideal bathroom remodel. 
The Full Monty Bathroom ($60K-$150K)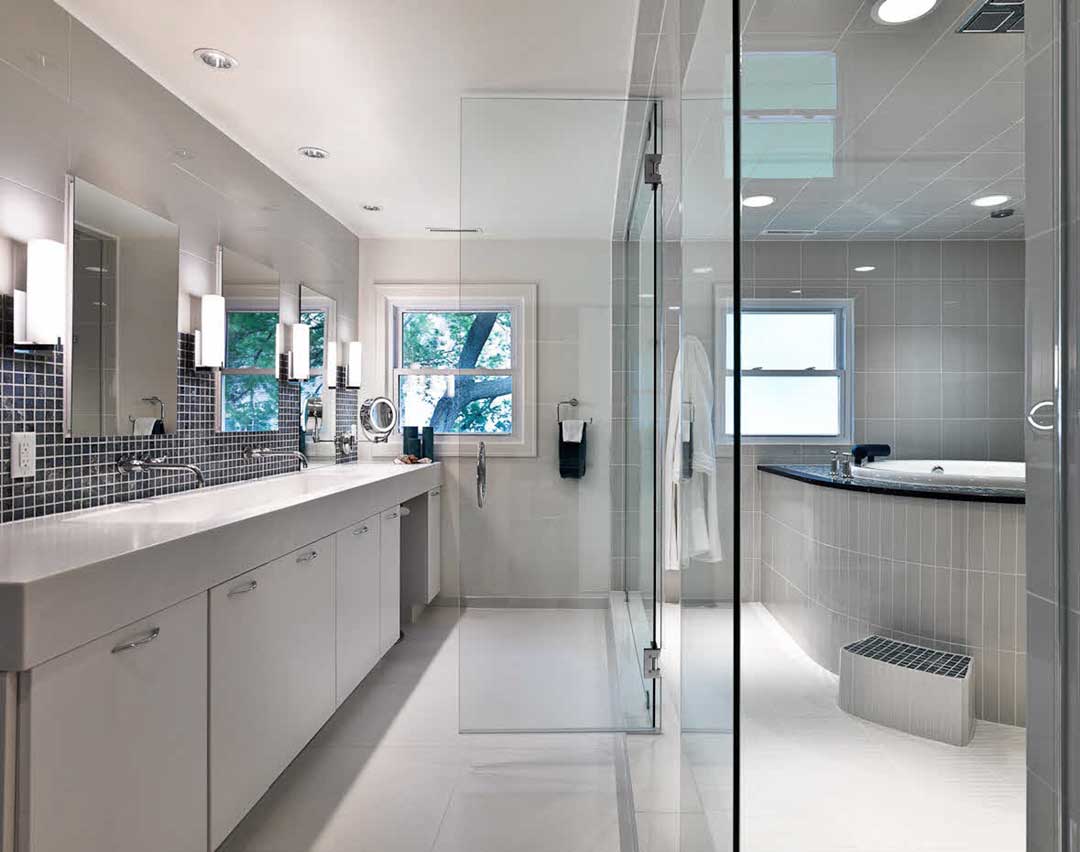 If budget allows, the super deluxe option will add the most value to your home while creating the ultimate lifestyle boost for you and your family. This highest-end option will also give you and your design carte blanche to essentially tear down your old bathroom and design-build it back up again from scratch: You can move walls, expand the floor space, and create anything. 
Since you can pretty much start from scratch, partner closely with your designer to create a clear vision of your Dream Bathroom, and then make it so. Most importantly, ask yourself and your family what the new experience should prioritize: plenty of open spaces for luxurious health and beauty time, or a more practical approach to make-up, bathing, and types of pampering? 
Happy homeowners who embrace this choice revel in a home spa experience, complete with relocated and custom fixtures, boutique toilets and sinks, larger showers and custom sprays and steam; stand-alone soaking or whirlpool tubs, custom cabinetry, heated tile floors, marble countertops, advance "smart" electronics, mood lighting, and exotic decorations. Live large!
A Trusted Madison Bathroom Remodeler for Every Choice
A people-centered business since its inception in 1954, Sweeney Design Remodel of Madison, WI believes that remodeling is better when steeped in values. By guiding homeowners through a proprietary design-build process, customers are informed, engaged, and 100% satisfied. Their commitment to transparency and accountability has made Sweeney one of the most trusted names in remodeling, garnering gushing reviews, stunning work, and award-winning design.  
No matter if you are remodeling your bathroom to update the style, incorporate universal design features, or improve the value of your home, Sweeney Design Remodel utilizes a deep team of highly skilled tradespeople, each with the skills and experience to circumvent potential issues, from design through construction. We never cut corners, and always adhere to a higher set of quality standards while ensuring your bathroom remodel gets completed on time and on budget.
Our 4-step design-build methodology integrates both phases of a project, ensuring seamless communication and accountability from everyone involved. That results in an unprecedented level of transparency and efficiency proven by client reviews of our stunning work and award-winning design. But don't take our word for it: Take a look at our successful projects, sign up for our newsletter, and reach out to us directly. Your Dream Bathroom is worth every penny!