Industry pros weigh-in on the hottest new kitchen, bathroom, and basement design trends
Who knew that 2020 would become such a surprising, confusing, and frustrating year! Predictions are often wrong because life is complicated and what's trending isn't necessarily what's actually going to happen. But the good news is that despite all of this year's challenges, home renovations and remodels are going strong, guided by design trends that are even stronger than ever before. Let's take a look at what's hot for this crazy year and beyond…
The Bedazzled Kitchen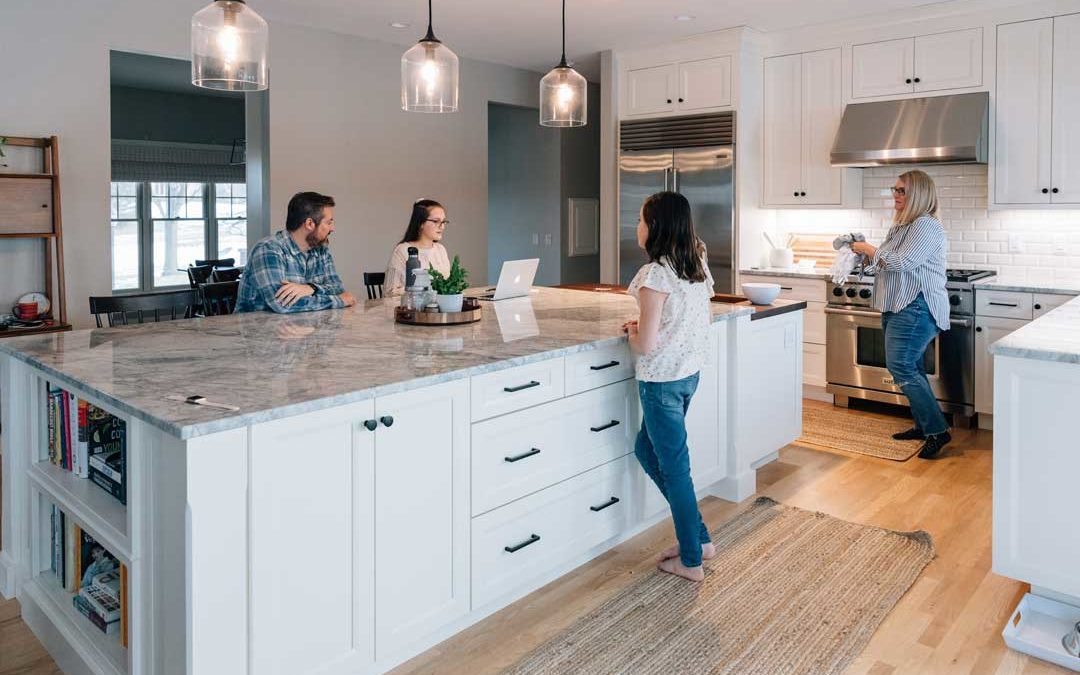 No living space in your home is arguably more important than your kitchen, a shared place where your family gathers multiple times daily to cook, eat, socialize, entertain, and work. That demands an ideal combination of form and function, living and logistics. That tension between getting work done in a wonderfully designed space that's both convenient and comfortable best describes today's two top kitchen trends: create a lived experience with innovative technology.
By "lived experience" experts mean an ideal combination of sleek minimalist design and maximum efficiency. Layouts are increasingly open with islands in the middle and hidden storage and appliances along the perimeter. Trending materials are high-end metals and plastics with matte and textured paints in solid patterns, giving modern kitchens a relaxing feel and contemporary look. Lighting is bold and basic, bright and vivid but relaxing and inviting.
Technology plays a key role, enhancing functionality and efficiency while boosting the cool and "wow!" factors. From touchless faucets to voice-activated smart appliances, today's Madison homeowners demand not only gorgeous living spaces, but the kitchen of the 21st century. Enhancements include state-of-the-art ovens and ranges, terrific looking and impressive hoods, and ventilation systems that ensure safety, health, and wellness for the whole family.
Taken together, today's kitchen is evolving into an all-purpose living space. Features and fixtures from big screen TVs and even couches are becoming natural components of the place most of the family now prefers to hang out in. Greenhouse plants, wet bars and stools, gaming areas, and even desks and other work accoutrements have transformed Madison's kitchens into all-purpose experiences where people spend hours not only at meals but between them.
The None-Too-Soon Bathroom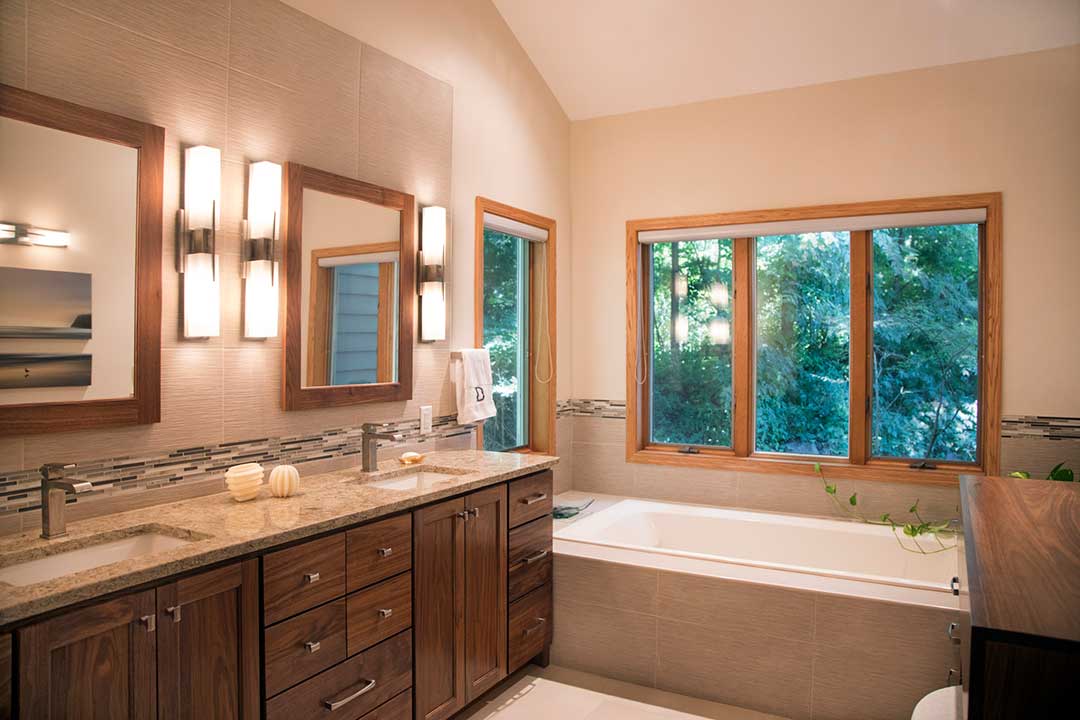 If the kitchen is the central meeting, eating, and entertaining place of your home, then your bathroom is a more private but equally vital space that similarly demands balance between ergonomics and engineering. Hot trends for bathrooms are focused on tone and tech, with a special emphasis on health and wellness components. Amazing bathrooms are, after all, places of revitalization and rejuvenation, infusing you and your family with a lively boost every visit.
Robust ventilation is a trend that's here to stay, eliminating odor but also bacteria and other health risks. Ensure ducts are well spaced and efficient, and fans sufficient in power and reliability. Another concern is the inevitable build-up in humidity which attracts mold, so sanitary surface materials like silicone with fungicides are recommended. These features shouldn't preclude a natural look and feel, as lacquered woods and organics are making a comeback.
Technology has invaded the bathroom, too, as homeowners throughout Madison embrace innovative gear and gadgets. Temperature and humidity controls, voice activated fixtures, and "smart mirrors" with niche features for grooming, makeup, and hygiene are trending. European style bidets, Japanese whirlpools and jacuzzi hot tubs, Italian wide-berthed tubs for two, and high end hydraulics bring a fresh, fun, and international feel to your hydrotherapeutic bathroom.
Lighting always sets the right mood, especially within enclosed spaces like bathrooms. Advanced LED technology enables literally millions of color choices controlled from an intuitive panel and tastefully generated by semi-hidden, indirect track lights. Multi-textured tile trends adorn the floors below, with a variety of contemporary choices ranging from rough stone and concrete to smooth quartz or marble, arranged in patterns from the solid to the geometric.
The Bodacious Basement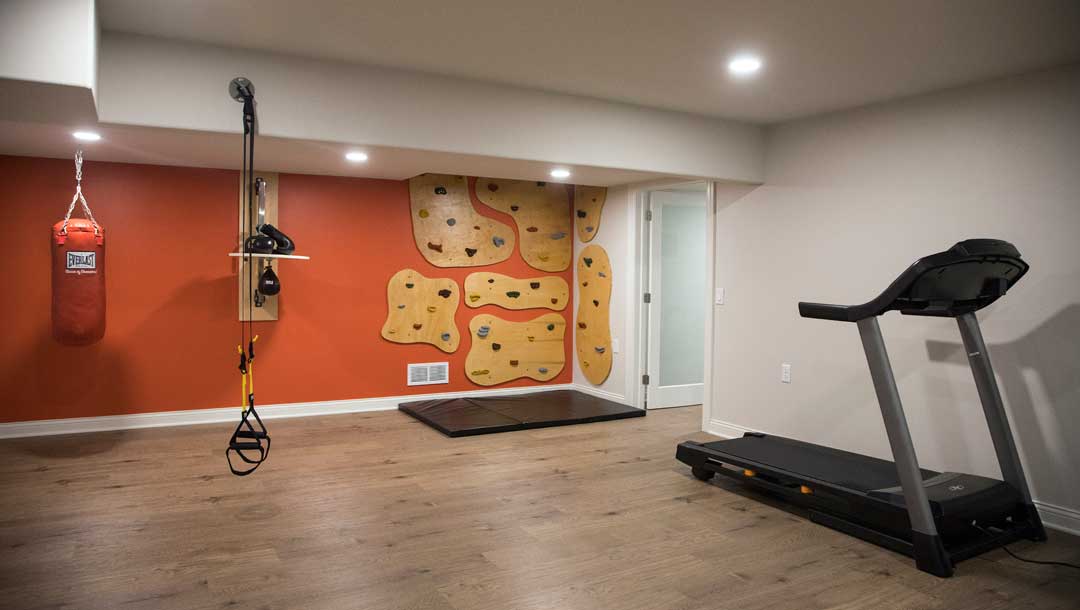 Gone are the days when basements were home design afterthoughts, damp, dusty, and disparaged places used for storage. Lately, basements are trending not only as their own living spaces, but enhanced extensions of the house above: decked-out game rooms, home theaters, offices, gyms and fitness rooms, and even lavish guest suites complete with bedrooms, dining areas, and extra bathrooms. The sky's the limit when it comes to Madison basements below.
The first step in considering a basement remodel is purpose: How would you like to make the most of the extra living space? The next question is legacy: What's there now, and how can you redesign it or start from scratch? Based on your needs and layout, you can then partner with a trusted remodeling contractor to bring the space to life in ways you might not even have thought possible. If there's a major basement trend to note throughout Madison now, it's: "Use your imagination!"
Hot right now are multipurpose basements that, similar to kitchens, have open layouts conducive to socializing. The added space and flexibility enables compartmentalized environments combining play, work, and visitation areas. Depending on your available space and budget, your dream basement can host a guest room, exercise equipment, a full service bar, big screen TV and state of the art sound system — all efficiently and comfortably arranged.
Regardless where you take things, make sure the enhancements match your space and your priority needs. Walkout basements, for example, offer ground level access and offer a host of new possibilities; other layouts might be more restrictive, or introduce logistical challenges including electricity, plumbing, and lighting. Basements are also terrific for renovating in phases:  start with a specific goal and then adapt. Before you know it your family will disappear down there for hours!
Now Trending: Partnering with Sweeney Design Remodel
A people-centered business since inception in 1954, Sweeney Design Remodel of Madison, WI believes that remodeling is better when steeped in values. By guiding homeowners through a proprietary design-build process, customers are informed, engaged, and 100% satisfied. Their commitment to transparency and accountability has made Sweeney one of the most trusted names in remodeling, garnering gushing reviews, stunning work, and award-winning design.
Specialists in kitchen, bathroom, and basement renovation, the folks at Sweeney can't wait to help create your dream home. Take a look at their portfolio of work throughout Madison, and sign up for their newsletter to stay in the know on the latest design trends. The Sweeney Team is eager to apply their proven design build chops to creatively, safely, and efficiently make your home the envy of friends, family, and neighbors. COVID-safe and certified, let's get started!