Screened-In Porches, Three-Season Rooms, and Sunrooms
Room additions come in all shapes and sizes, including three types of "enclosed porches" that enable you and your family to enjoy the outdoors without stepping a foot outside your home. The best of both worlds, these extensions bathe an extended living space with natural sunlight, cool breezes, and stunning views while offering a wide range of functional versatility. Whether creating a new dining, play room, or home office, let's explore your best renovation options.
But before we begin, let's consider your needs and expectations for this unique kind of home extension. Having a commanding view of your backyard could be thrilling while relaxing with family and friends or working by yourself, so how many people, exactly, will the new space need to accommodate comfortably? Will you need running water, air conditioning or heat, lines for appliances or sophisticated lighting? Answers will help anticipate design, layout, and budget. 
Another vital consideration is whether to repurpose an existing porch or build a porch addition or sunroom from scratch. Cost and timing can be significantly reduced by refurbishing rather than building, but what's gained in savings is lost in personalization. Partner with an experienced remodeling firm who asks the right questions, and makes good recommendations based on your needs, not theirs. The most fun room in your home should be stress-free to design and build.
Option A: Screened-In Porch
Your first and most straightforward choice is renovating a porch extension. Basically, an outdoor space that's flush with your home and protected by a roof and screens is the most affordable, easiest, and quickest to implement. Depending on location, square footage, and your home's design, a screened-in porch can be outfitted with various furniture, lighting, electronics, and decorations suitable for just about any kind of living or working space you desire. 
Structural choices vary, but you'll want the overall design and style to seamlessly match that of the rest of your home. If repurposing an existing porch, the screens and additional accoutrements should be both aesthetically pleasing and fully functional. If building a porch from scratch, work closely with your expert contractor to ensure both structural stability and comfort. Good screens are transparent enough to welcome in the sunlight and breeze, and opaque to bugs.
Since a sturdy roof and screens are your only barriers to the outside, choose a Screened-In Porch if you're satisfied with using it only in the summer, late spring, and early months. You'll also want to make sure to properly maintain your screens on a seasonal basis.  You can install a heater for additional flexibility, but realistically this option is most practical when the weather is good. Enjoy the outdoors from the comfort inside by installing a big screen TV, wet bar, BBQ, even an outdoor kitchen to entertain thrilled friends and family all summer long.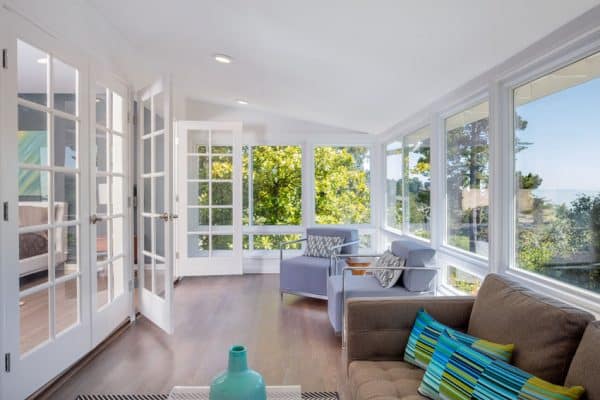 Option B: Three-Season Room
Your next option is similar to the first, but with the added flexibility and functionality of screen covers. You can choose between glass or vinyl, each with their own advantages. Single-pain glass is less expensive, while double-pain also provides some insulation; vinyl is simple and practical, if more sensitive to weather and less transparent. By sealing off the outside, your porch extension extends its utility further into the fall and spring, thus its "Three-Season" name. 
Sandwiched between a screened-in porch and full fledged sunroom, a three-season room strikes an ideal balance between affordability, functionality, and style. Decor and luxury can scale to need, including tiled flooring, comfortable furnishings, and extras including home entertainment systems. Great for childrens' playrooms and casual family areas, homeowners consider them a naturalistic "home inside a home" for sunny days and long afternoons.  
Roofing can be designed in various styles to match your home, either sloped, gabled, or even glass to turn an otherwise dull porch ceiling into a blazing daytime or scintillating evening sky. If built from scratch, position your three-season extension to ensure the best outdoor views with the most practical access to the rest of your home. Impractical for at least a quarter of the year, also ensure the extended space can be closed off and insulated throughout the winter months.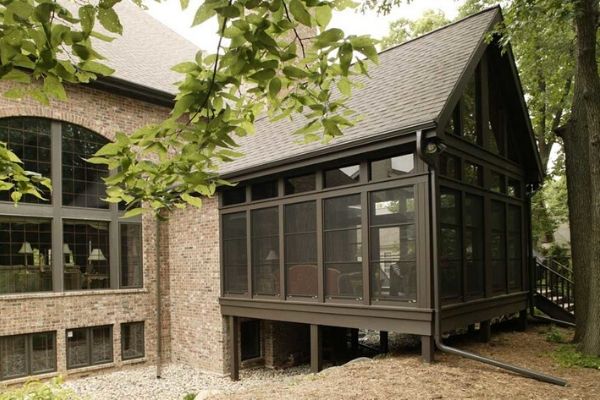 Option C: Four-Season Room
Also called "sunrooms," this third option is actually an interior room addition with expansive views to the outdoors. Unlike screened or windowed porches, these rooms are complex renovation projects in their own right, often involving HVAC systems, electricity, plumbing, and insulation for use year-round. Also similar to a standard room addition, you have limitless choices in terms of floors, wall coverings, ceilings, and decorative embellishments and fixtures. 
To give you and your family amazing visibility to the outside while adding utility, sunrooms use what are called knee or low-height walls to allow room for baseboard heaters, electrical plugs, and other practical functions. Continuous, wrap-around glass transforms the interior walls into views of the great outdoors, while glass panels and skylights can even make the sky above visible directly overhead. Used all year, the views can be particularly breathtaking during winter.
Although different from greenhouses designed to capture light and heat for optimal plant growth, sunrooms nonetheless are perfect for house plants, seasonal flower boxes, herb planters, and hanging gardens. Surrounded by such beauty both inside and out, sunrooms are ideal for entertaining guests, relaxing with the family, and infusing any activity with the exhilaration of nature. So ensure to position your sunroom with the best and most sprawling views possible.
Partner with a Trusted Contractor
Whether you decide on a screened-in porch or go for a fancy sunroom, working with an experienced contractor is essential. Fully licensed and insured is table stakes; also make sure they have a proven track record with these unique room additions, and understand everything about them, including permits, inspections, and their potential impact to insurance, property taxes, and utility costs. Ask them for examples of work completed and customers satisfied.  
A people-centered business since inception in 1954, Sweeney Design Remodel of Madison, WI believes that remodeling is better when steeped in values. By guiding homeowners through a proprietary design-build process, customers are informed, engaged, and 100% satisfied. Their commitment to transparency and accountability has made Sweeney one of the most trusted names in remodeling, garnering gushing reviews, stunning work, and award-winning design. 
But don't just take our word for it: Take a look at the stunning room additions and sunrooms we've designed and built for loyal customers throughout the area, and sign up for our newsletter to keep in touch and see our latest innovative projects. Better yet, reach out to us directly and we'll connect you with a design build expert to discuss your needs, hear about your dream home, and partner with you to turn it into a reality! Now's the time to let the sun shine in.