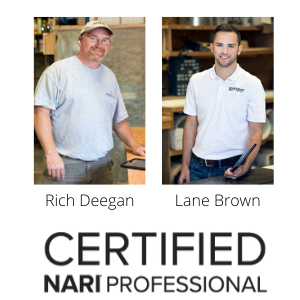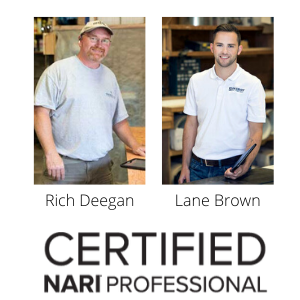 Madison, WI, January 24 –  Sweeney Design Remodel team members Rich Deegan and Lane Brown have recently received the prestigious Certified Remodeling Project Manager (CRPM) designation from NARI, the National Association of the Remodeling Industry.
"Our customers value my reliability, honesty, and attention to detail," smiles Sweeney's Carpenter and Field Project Manager Rich Deegan. "Getting a NARI certification represents my dedication to their satisfaction on each and every project." Lane Brown, Project Manager, and Architectural Designer at Sweeney is equally proud: "I'm honored to receive this certification, which shows how skillful management and transparent communication builds trust and creates a positive, stress-free remodeling experience for our valued customers."
"We're a values-driven, people-first company," insists Tim Sweeney, President. "I'm so proud of Rich and Lane, who bring the same high level of commitment required for completing the CRPM program to each Sweeney design-build project. Continuing education helps all our team members deliver the stunning work and gushing reviews that have made Sweeney the most trusted name in remodeling."
The Certified Remodeling Project Manager (CRPM) designation professionalizes the role of managing a remodeling project. Certified managers have demonstrated superior oversight of every aspect of the remodeling project—project planning, communications, project cost management, quality assurance, risk management, and recordkeeping. Recipients work toward mastering these project components in order to drive end-customer satisfaction and profitability of remodeling projects.
The first step to attaining the Certified Remodeling Project Manager certification is to complete a qualification form, which outlines an individual's background of experience and education in remodeling. Eligibility requirements include working full time in the remodeling field for at least two years and passing a comprehensive assessment exam. Preparation for this exam takes up to 8 weeks of intensive study, offered through NARI's study group programs, to prepare them for the written examination.
NARI's CRPM program measures skill and expertise valued not only by other professional remodelers but by consumers as well. Highly respected by those who have achieved the designation, the CRPM program identifies professional remodelers who have undergone comprehensive review and testing in areas of business management, ethical conduct, and technical skills. In addition, they must also adhere to NARI's strict Standards of Practice and Code of Ethics.
Rich Deegan not only makes each remodeling project as smooth as possible for Sweeney customers, but is an adoring father to his four active children, and doting husband to his wife Angie. Lovers of the great outdoors, the family is active in sports and nature. When not working on a Sweeney project, Lane Brown shares his passion for quality and detail with his wife Andrea, both of whom work on their own house and properties. They love boating and sports and spending time with their daughters, Elin and Clara.
# # #
About Sweeney Design Remodel 
A people-centered business since inception in 1954, Sweeney Design Remodel of Madison, WI continues to believe that remodeling is better when it's steeped in values. They do that by guiding homeowners through a proprietary design-build process ensuring customers are informed, engaged, and 100% satisfied with the end result. Their commitment to transparency and accountability has made Sweeney one of the most trusted names in remodeling, garnering gushing reviews, stunning work, and award-winning design. To learn more about Sweeney Design Remodel visit www.SweeneyDesign.com or call (608) 257-3034.
About NARI: The National Association of the Remodeling Industry (NARI) is the only trade association dedicated solely to the remodeling industry.  The Association, which represents member companies nationwide—comprised of 63,000 remodeling contractors— is "The Voice of the Remodeling Industry."™ To learn more about membership, visit www.RemodelToday.com or contact national headquarters, based in Des Plaines, Ill., at (847) 298-9200.