A basement remodel is an excellent opportunity to increase the amount of usable space in your Dane County home. Basements are often seen simply as storage areas, but there's so much more potential to be had with this often underutilized interior.
From home gyms and guest suites to media rooms and beverage and entertainment centers, a renovated basement provides numerous lifestyle benefits as well as an increase in your property's value. This article explores some popular finished basement ideas and related design considerations. Let's dive in!
Basement Gym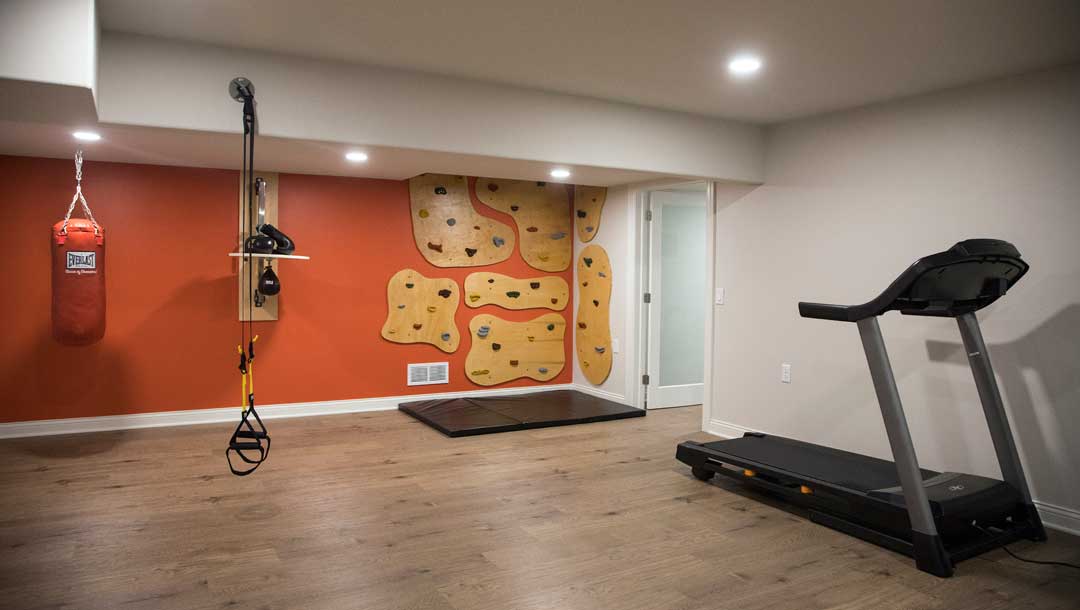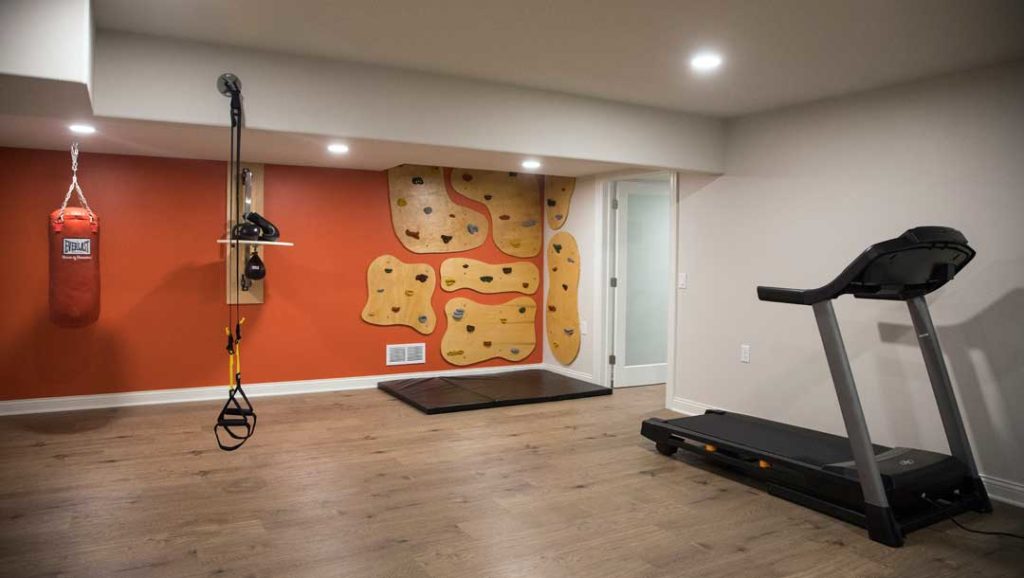 Turning your basement into a gym allows you to maintain a healthy lifestyle without the need to drive to one elsewhere. As well as saving you time and money, it also helps reduce your carbon footprint.
When designing your basement gym, it's important to consider the following design aspects.
Begin by determining the amount of space you need. This depends on the equipment you plan to incorporate into your basement gym and the necessary space for other mobility-focused exercises, such as yoga.
Flooring and walls will require unique features appropriate to a workout area. For example, safe gym environments have durable and non-slip flooring materials such as rubber and foam mats. In addition, walls may require durable paneling to withstand the wear and tear of certain equipment.
Speaking of gym equipment. Consider what will provide a well-rounded gym experience for your particular fitness goals, ability, preferences, and design style you want to achieve. Knowing the pieces you'll be adding will go a long way to achieving your desired look.
Proper air circulation is essential in any gym, let alone the basement. It prevents the development of mold and mildew and keeps the air optimized for high-quality workouts. Explore various options for air purifiers, dehumidifiers, and basement-friendly HVAC systems.
Good light is also crucial in a basement. The more natural light you can get into the space, the better, but it might not always be possible. If not, opt for bright, energy-efficient LED lighting together with layered and adjustable lights for specific workout areas.
Other things to consider include optimized storage features such as wall-mounted racks and specialized weight storage. Plus, a motivational and energizing décor scheme, perhaps with mirrors, motivational artwork, and bright colors.
Basement Beverage Center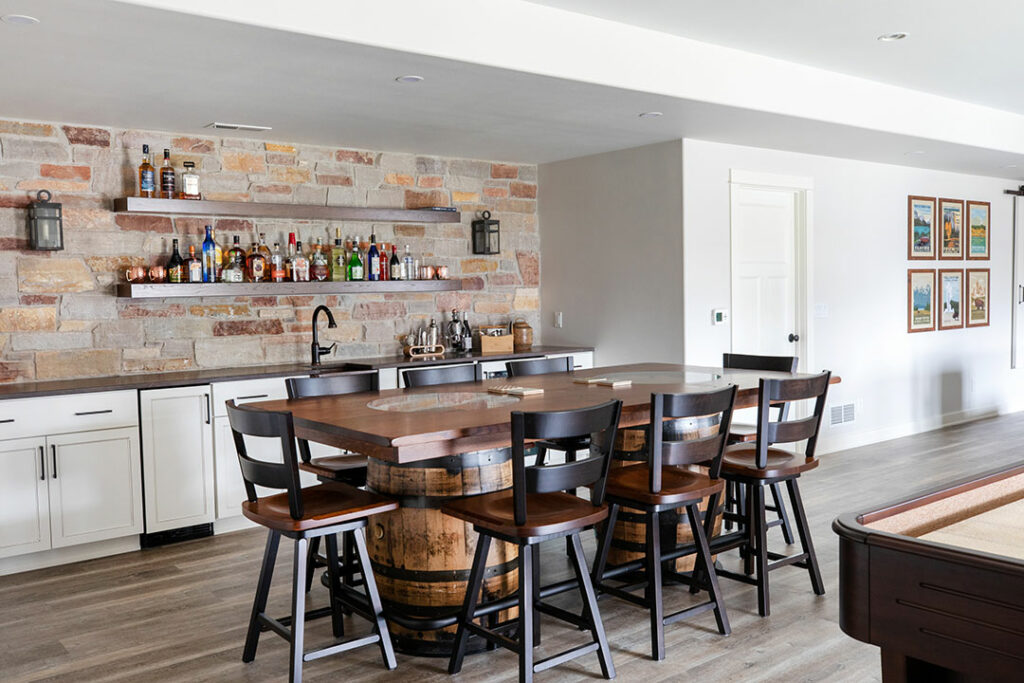 Enjoy your very own swanky bar – or what is known in this case as a basement beverage center.
A basement beverage center typically features a refrigerator, glassware cabinets, a counter, and storage for drinks and snack-related items. It's essentially a dedicated space for entertaining guests or enjoying a relaxing drink after a hard day's work.
When designing your basement beverage center, it's important to determine how many people will typically use the space. This will help you identify options for bar stools and lounge chairs.
Similarly, knowing typical usage will help you plan for ample storage of glassware, bottles, and other accessories and how these will be stored or displayed.
What's your drink of choice? There are many different refrigeration and cooler appliances available, and your choices will depend on your preferred types of drinks and the quantity.
Unless you already have an existing basement sink, further plumbing might be required to install a beverage center sink. Your design-build team will help you assess your basement's current plumbing capabilities.
You can enhance your beverage center's aesthetic in several ways, such as with a feature wall, fireplace, TV, or unique shelving options. It's usually best to go with a design that matches your home's overall style.
As in the basement gym, lighting will also be a key consideration, with possibilities including pendant lights, chandeliers, and recessed lighting, with dimmable options for a relaxing atmospheric ambiance.
You might also consider entertainment additions such as a pool table, Foosball table, dart board area, or games table for cards and boardgames.
Basement Media Room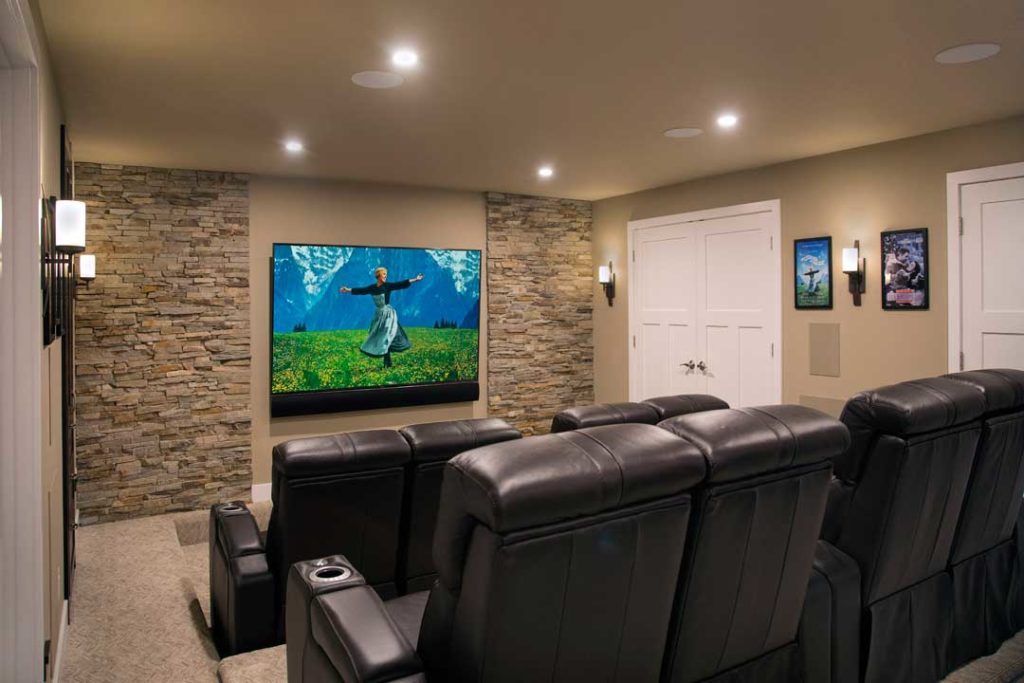 Your basement is also an excellent location for a home media room. This multi-use high-tech space is a cross between a living room and a home theater. It's where friends and family can gather to watch movies or sports events, play games, and surf the net together in a comfortable and immersive environment.
Media rooms typically feature either a large television or a projector and screen, that's the main focal point. These are complemented by a high-quality sound system with hidden wiring for a sleek and clutter-free appearance.
There are a variety of media equipment storage solutions, such as custom-built cabinetry or wall-mounted shelves, that help keep everything accessible and organized.
Things can get noisy in a media room, and soundproofing and acoustics are important considerations even in a basement. Adding acoustic panels can enhance the overall sound, while insulating walls and carpets will reduce the sound that escapes.
The furnishings you choose will largely depend on how you use your basement media room. Specialist home theater seating is available, while sectional sofas offer a more social atmosphere. You can also include gaming chairs for avid gamers and bean bag seats for adults and children alike.
Other things to consider include the following:
Adjustable lighting options that don't interfere with viewing screens.
Window treatments that eliminate glare.
Paint colors that minimize light reflection.
Basement Home Office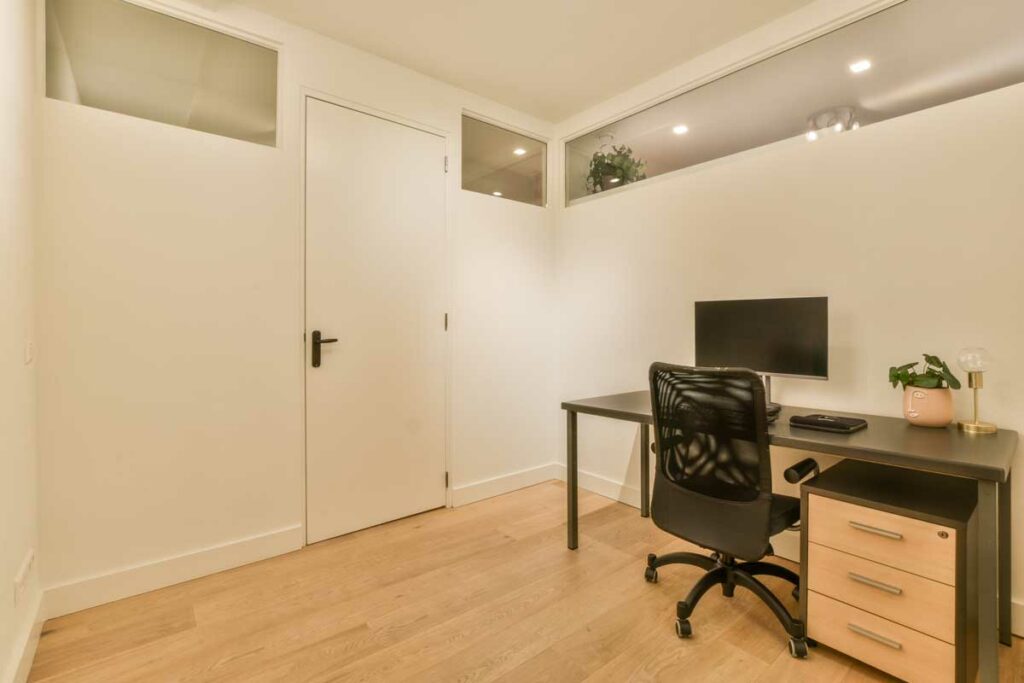 Installing a home office in your Madison basement provides a quiet and focused workspace away from the distractions of daily life. With the inclusion of a window or two for natural light, a basement office can become a peaceful and private sanctuary for work-at-home professionals.
Many design considerations for a basement office will mirror those previously mentioned. For example, it's essential to work out the space you need for your desk, storage, and any additional furniture.
This will also depend on the type of work you do and how many computer screens you may use. In addition, sufficient electrical outlets, network connections, and cable management solutions for various devices will be crucial.
The more natural light, the better. This can be supplemented with layered lighting options, including ambient, task, and accent lighting, to create a well-lit work environment.
Perhaps more so than any other basement idea, storage will be a significant consideration during the design process. Storage features such as shelves, cabinets, and file drawers will help keep your workspace clutter-free and ordered.
When choosing furniture, always consider ergonomic features that promote good posture and prevent strain during long working hours. There are many great ergonomic seating options available.
Proper ventilation and climate control will also be vital in a basement office, as will soundproofing elements that keep sound out rather than necessarily in, like with the home media room.
You might also consider adding a little kitchen area to your basement home office and a sofa that provides an alternative place to sit and read. In addition, plants and other natural elements will enhance your workspace atmosphere and promote creativity.
Basement Guest Suite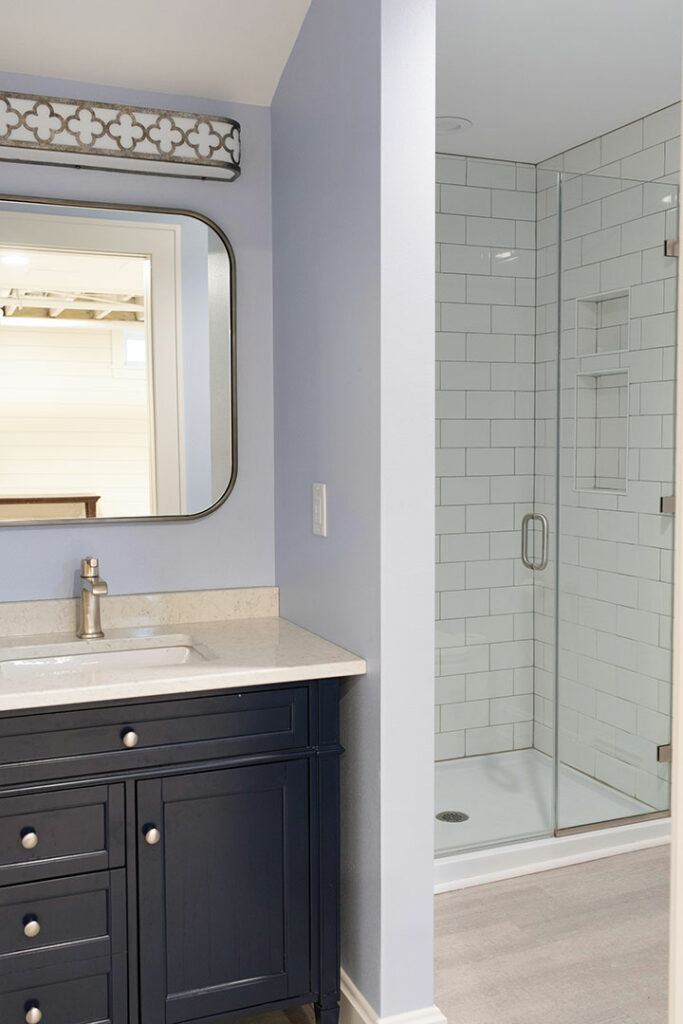 Your basement can also be turned into a comfortable, private, and welcoming guest suite for visitors.
A basement interior might conjure images of a dark and gloomy environment. However, with a carefully planned design-build remodeling process, you can transform it into a light, airy, and beautiful space for visiting friends, family, and guests.
Consider where you can add or enlarge existing windows. Egress windows are required by law and provide easy escape access in an emergency.
White or light-colored walls will increase the natural light in the interior, while an intelligent, layered lighting system will support and enhance overall brightness levels.
A basement guest suite will ideally contain all amenities guests need without entering the main part of the house. For example, an ensuite bathroom ensures they have a dedicated space for their personal needs.
Other features might include a kitchenette and a seating area complete with a television and coffee table.
Typical bedroom storage will also be appreciated by guests, including a closet, dresser, or built-in cabinetry. And comfortable and durable flooring options that keep your guests' feet snug and warm.
Your design-build team of remodeling experts will help you figure all this out during the design stage of your dream home transformation.
Choose a Qualified Design-Build Firm in Madison, WI
At Sweeney Design Remodel of Madison, WI, we've been helping homeowners create the homes of their dreams since 1954, including designing beautiful and functional basements.
As one of the most trusted names in remodeling, we ensure fantastic results for every project we complete. Our 4-step design-build methodology seamlessly integrates both the design and build elements of a project.
Our experienced and friendly team guide homeowners through a proprietary design-build process where customers remain informed, engaged, and 100% satisfied. We can do the same with you.
Take a look at our special approach to home remodels and additions, sign up for our newsletter, and reach out to us directly. We look forward to discussing how we can help you achieve the perfect home.