A home remodel comes with a myriad of choices and decisions. As one of the most significant home improvement projects, it's important to consider every detail carefully. Among these details is the type of cabinetry you choose, whether for the kitchen, bathroom, mudroom, or elsewhere.
This article explores what you need to know when deciding on the perfect cabinetry for your next home remodeling project in Madison, WI or Dane County.
Know Your Functional Requirements
Aesthetic considerations are vital, but the functional requirements for your cabinets are even more so. Therefore, before selecting the perfect cabinetry, you need to know its core function.
How much storage do you need? Cabinets are an excellent way to declutter an interior. They hide things out of sight but can also be designed in part to act as display features for your favorite dinnerware and ornaments.
Specialized storage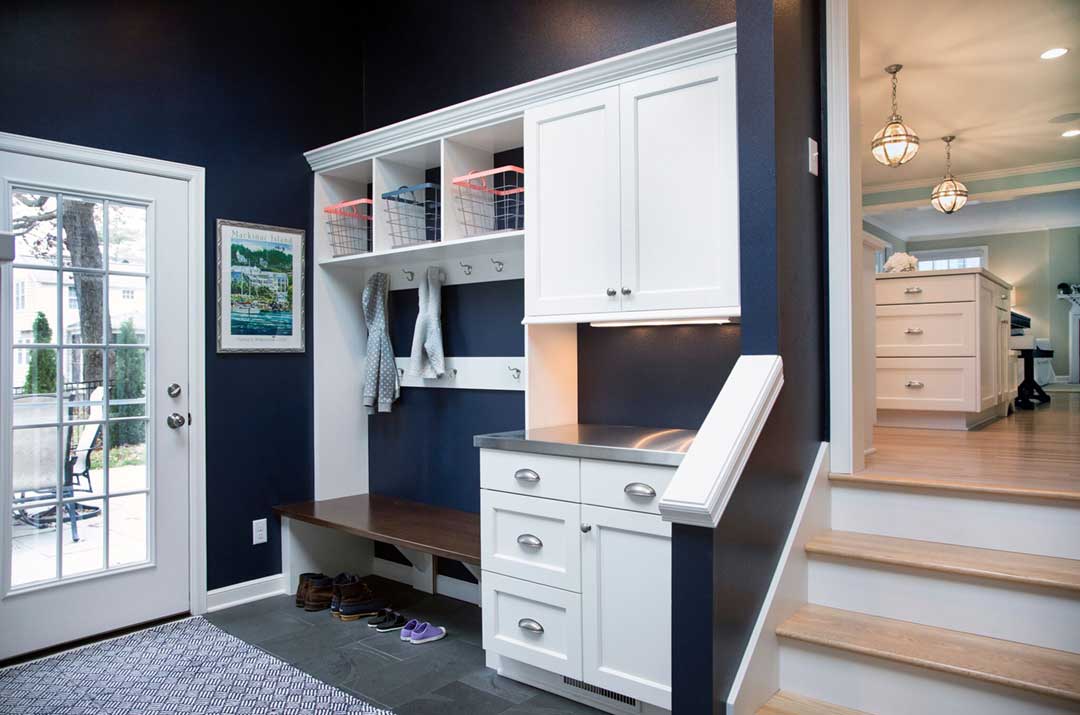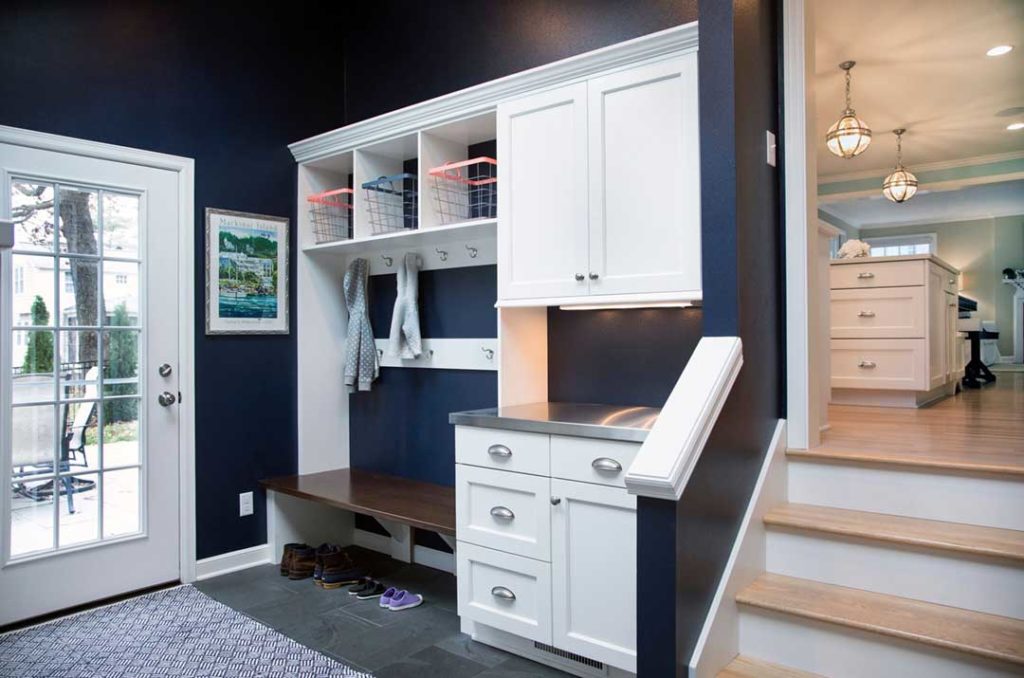 Do you need specialized storage for specific items? For example, a mudroom cabinet might require different storage features than those in a kitchen or dining room (ex: a Cuisinart, blender, waffle iron, glassware, silverware, etc.).
Mudrooms, in particular, are designed to support the transition from indoors to outdoors and vice versa. Here you'll need to consider your lifestyle and the items you use and want to store, such as walking boots, shoes, dog equipment, coats, and sports gear or outdoor hobby items.
Various cabinetry options
In a kitchen, cabinets can be included as part of a kitchen island, where they are built-in into the central unit. These will house smaller items used primarily during food prep but also charging stations and even pots and pans.
In a living room, built-in cabinets typically feature a hybrid open and closed shelving format, with doors at the bottom and open shelves higher up.
Bathroom cabinets are often smaller than elsewhere in the home and provide necessary storage and display features for toiletries, towels, and beauty products. There are wall cabinet options, traditional vanities, and freestanding floor cabinets.
Do you want your cabinets to run to the ceiling? A tall room can influence the amount of usable vertical storage space and the cabinetry you choose.
Budget Considerations
Cabinets come in a wide range of price points, with the key differences being whether they are Stock, Semi-Custom, or Custom.
Stock cabinets have predetermined measurements and ready-made with no customization options. They are a retailer's most basic, entry-level product and are mass-produced in different colors and finishes.
Custom cabinets, as the name suggests, are custom-built to meet your specifications and tastes. These special-order items can be made in any style, material, shape, size, or color you desire. Custom cabinetry is typically made with higher quality materials than either stock or semi-custom cabinetry, including better door hinges and hardware, stronger drawer guides, furniture-grade plywood and solid wood face fronts.
Semi-custom cabinets are manufactured with standard sizes, styles, and finishes. They are similar to stock, but with more customization and added detail, allowing remodelers the flexibility to resize and modify certain elements.
Generally, custom cabinets require the biggest budget and stock cabinets the smallest.
Material and Finish Choices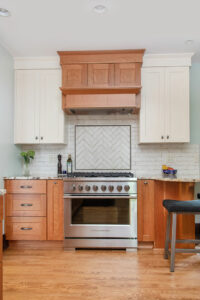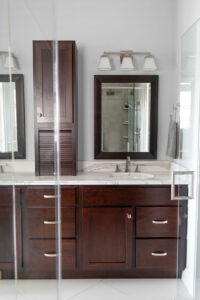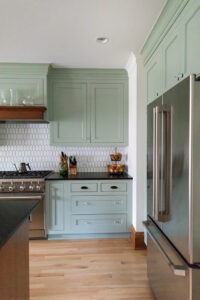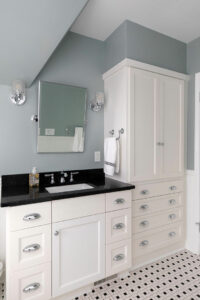 The material and finishes you choose depend primarily on your intended design theme. For example, in a kitchen, the selections will vary according to whether you your design style, whether Traditional, Contemporary, Coastal, Country, Industrial or other possibilities.
There is a wide range of materials that suit any interior theme ranging from wood (including Maple, Cherry, Hickory, and Oak) to manufactured products like Thermofoil (vinyl-wrapped door) and laminate.
When it comes to color, the choices are endless, and you're only limited by your imagination. There are numerous paints, stains, and glazes available to suit every taste and requirement, including but not limited to semi-gloss, distressed, and satin.
Framed or Frameless
The door style of your cabinet is one of the most noticeable features of your cabinetry. It influences the aesthetics of the entire interior and supports your general interior design scheme.
There are two main types of cabinet doors: framed and frameless.
Framed cabinets are where the cabinet drawers and doors are each attached to a box frame. This traditional American design gives added dimension to the door front together with increased cabinet strength and sturdiness. They typically support doors with raised panels and decorative features.
Frameless cabinets, also called "full access cabinets," are often features of a more contemporary kitchen style. The face frame is eliminated entirely, with the cabinet having a more open appearance. It instead relies on thicker box construction for stability. Traditionally found in Europe, frameless cabinets are increasing in popularity among American homeowners.
Door Styles
When it comes to the overall door style, there is a wide range of options. Your choice ultimately depends on the interior design theme you're looking to achieve. Some popular design themes include craftsman, farmhouse, contemporary, rustic, traditional, transitional, and modern.
Door styles include:
Shaker – A frame made from four pieces and a single flat center panel for the fifth piece. Ideal for many different décor schemes.
Slab – A simple flat-panel door without any fancy embellishments. Perfect for contemporary and modern decor.
Recessed – A flat center panel with a raised border around it. Suitable for transitional themes as well as modern and traditional.
Raised – The opposite of recessed. Featuring a center panel raised above the rest of the door or drawer with a recessed border. This works well with traditional, transitional, country, and rustic-style interiors.
Beadboard – A door with a center panel composed of wood paneling with vertical grooves and ridges. Ideal for cottage and shabby chic interiors.
Open – This is essentially where the doors are removed, leaving open shelving as the main feature.
Added Functionality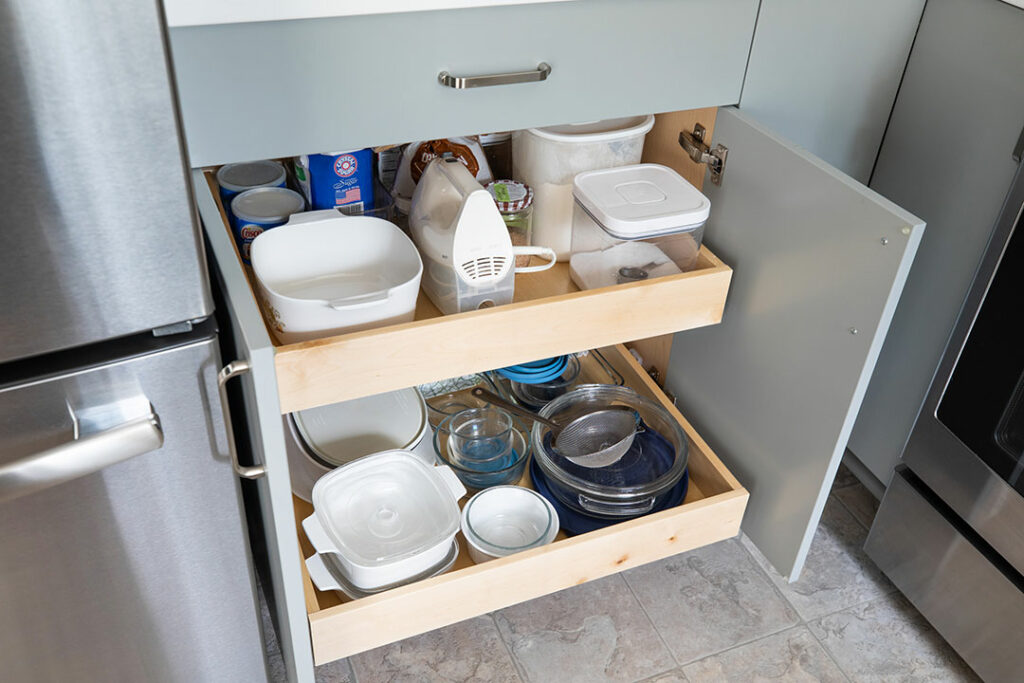 All custom or semi-custom cabinetry can be optimized for added functionality, whether in the kitchen, bathroom, mudroom, living room or elsewhere. However, it's the kitchen where it's often most needed and appreciated by homeowners.
Here are some great ideas for how you can add further functionality to your kitchen cabinets:
Pull-out kitchen trash and recycling bins to keep waste hidden and secure.
Cookie sheet/tray organizers placed next to the oven for easy reach.
Drawer or pull-out spice organizers that help home chefs easily find what they need.
Deep drawers with organized layouts for plastic containers, dishes, and utensils.
Lazy Susan base cabinets that utilize more space in hard-to-reach corners.
Pull-outs and swingouts with lever options for heavy appliances such as mixers.
Appliance garages to safely charge laptops, phones, and other gadgets.
Specialist wine and bar storage for drinks and related accessories.
Pet feeding stations for your beloved dogs and cats to dine in style.
Similarly, for a bathroom, options include:
Adjustable shelving with built-in electrical outlets for toothbrushes and shavers.
Custom pull-outs for appliances like hair dryers and curling irons.
Warming drawer for towels, especially appreciated in colder months.
Vanity drawer organization insert for smaller items.
Hardware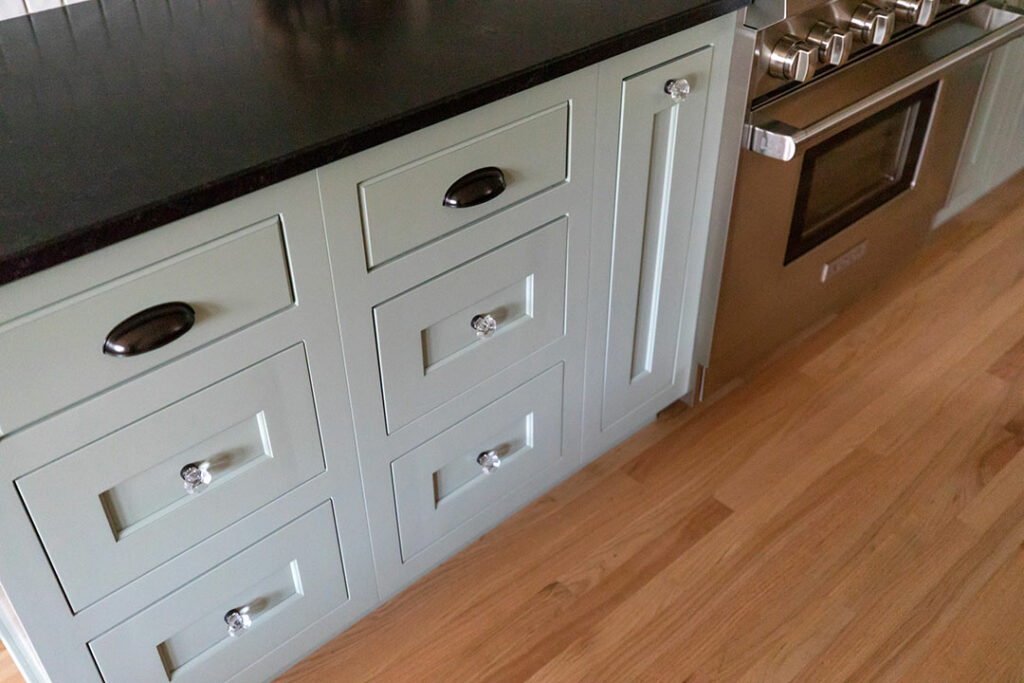 Hardware consists of the various knobs, pulls, and handles you use daily to open cupboards, drawers, and pull-outs. There are so many excellent design choices when it comes to these essential items that it can take time to choose between them.
Function and form are two core considerations when choosing hardware. You want your pulls and handles to be easy, effective, and safe to use while also looking fabulous.
Don't forget, cabinetry hardware also includes hinges and latches for the cabinets and cabinet drawers. They must support easy movement and access and be strong and durable for lasting use.
Your Dedicated Design-Build Firm in Madison, Wisconsin
At Sweeney Design Remodel of Madison, WI, we've been helping homeowners create the homes of their dreams since 1958.
As one of the most trusted names in remodeling, we ensure fantastic results for every project we complete. Our 4-step design-build methodology seamlessly integrates both the design and build elements of a project.
Our experienced and friendly team guide homeowners through a proprietary design-build process where customers remain informed, engaged, and 100% satisfied. We can do the same with you.
Take a look at our special approach to home remodels and room additions, sign up for our newsletter, and reach out to us directly. We look forward to discussing how we can help you achieve the perfect home.