Bringing Madison's Greek Housing into the 21st Century
Remodeling, like ancient Greek philosophy, is a subtle mixture of art and science. The ultimate goal is living the Good Life, but to get there you need to strike a fine balance between what the heart desires, and what the head can create. Restoring older homes is already particularly challenging, making the renovation of the classic fraternity and sorority houses of Madison's Greek Row even more difficult. Experience and expertise are necessary, along with creative design. 
Let's take a look at the special considerations that go into remodeling older homes, and show how Greek houses add several more layers of complexity. We'll discover that despite the many extra hurdles, fraternity and sorority houses across the Greek alphabet have benefited from a thoughtful, creative, and customer-centric approach. The result has been Madison brothers and sisters enjoying Greek life within traditional houses upgraded to look and feel like new.
The Unique Challenges of Older Homes
Vintage houses are loaded with features that continue to make them prime real estate. Classic architecture, expert craftsmanship, exquisite attention to detail, and their distinctively comfortable, multi-generation lived-in look and feel make them coveted and valuable. But each of these strengths create their own weaknesses, making periodic remodeling necessary and difficult. Since many of these challenges impact sorority and fraternity homes, here's a good place to begin. 
For starters, older homes all too often have health concerns associated with them from the antiquated use of asbestos insulation and lead paint through the 1970s. The best approach is to entirely remove both substances: asbestos insulation can be stripped from inside walls and attics, and lead paint similarly removed from all exposed surfaces –  both these procedures are expensive and time-consuming. Leaving them intact yet undisturbed is another, riskier solution. 
Another group of challenges facing older homes is related to infrastructure. Heating and cooling ducts, electrical and plumbing lines all might need updating and sometimes rerouting, requiring significant effort including opening walls, floors, and ceilings. Such procedures are highly disruptive, and often necessitate reworking surfaces and supporting structures that haven't been touched in decades or longer. Leaking foundations can also be a complicated nightmare to fix. 
Compounding these obstacles is the artfully sophisticated and now forgotten craftsmanship that went into building these classic old homes. From intricately designed and interlocking parkay flooring, to delicate filigree and handcrafted awnings, vintage houses feature a level of detail and quality long ago sacrificed to contemporary materials, pre-fabricated designs, and turnkey construction. These needs create unique challenges whenever such features need replacing.
The Compounded Challenges of Greek Homes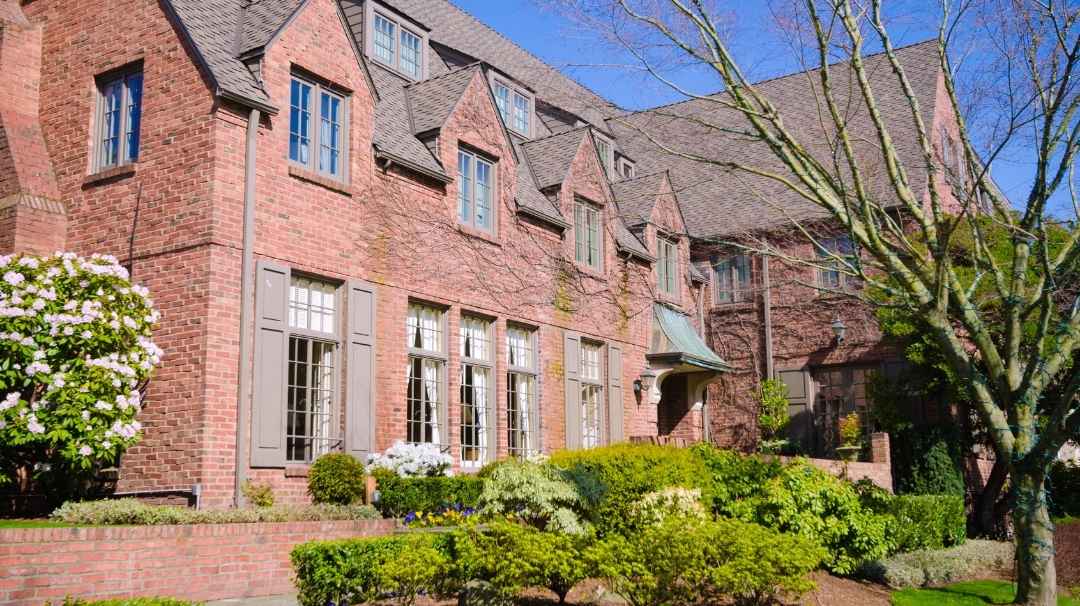 Greek houses are arguably among the most beautiful and historic architectural structures in all of Madison, Wisconsin. That puts them into a category unto themselves, a combination of older homes with landmark status. The good news is that living in them offers a true, "old school" fraternity and sorority experience; the bad news, at least as far as renovating goes, is that working on them at any scale introduces all the complexities described above, and then some. 
At the top of the difficulty list is timing: a remodeling project on Greek Row typically is impossible while students reside on the premises, so work needs to be done when students aren't attending classes. That leaves only a window from about mid-May to late August – essentially only 90 or so calendar days – to complete what ostensibly would take twice or three times as long. That shortened timeline requires expert and detailed planning, every step of the way. 
Another significant hurdle is the infrastructure challenge mentioned above, further exacerbated by sorority and fraternity houses being as much as 90 to 120 years old. As such, they often retain components of old, outdated, and impossible to find mechanical systems that need to be replaced with newer models with different specs and requirements. Along the way classic floors and ceilings may need to be disrupted, sometimes completely torn down, introducing the next set of problems. 
If asbestos insulation and lead paint are hazards in homes from the 60s and 70s, imagine the headaches caused by these now banned materials being ubiquitous in vintage homes from a century ago. Stripping away hundreds of square feet of toxic paint from finely wrought wood surfaces and custom-made furnishings is hard enough, let alone accessing deep wall and ceiling spaces untouched in several decades to remove potentially carcinogenic substances. 
The Need for Expert Remodeling Contractors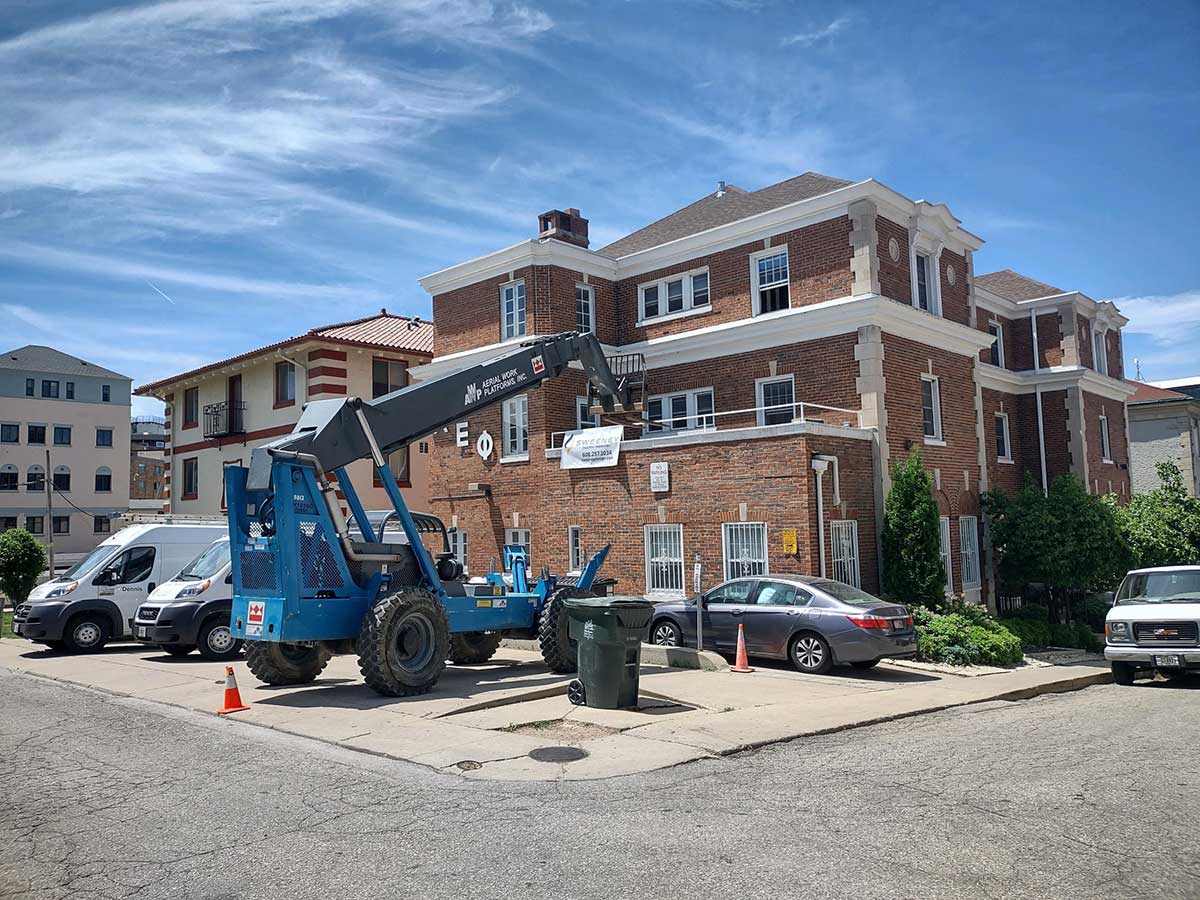 Even if timing constraints can be solved with precise planning, infrastructure and materials challenges addressed with superb construction skills, the exquisite grandeur of these classic Greek houses begs the question of who and how they'll be properly restored. Not only are many of the original materials scarce or non-existent, but the craftsmanship necessary to bring back the original look and feel of these amazing homes is often impossible to find these days. 
The only viable solution is to use a trustworthy, proven, and dedicated contractor having the most experienced carpenters and interior designers. They must also be able to secure special materials and custom millwork from accredited sources after extensive design and research is conducted by an in-house team of designers and their builders. Their team is ideally integrated seamlessly, the designer coordinating with lead carpenter, field supervisor, and project manager. 
Another vital yet often overlooked detail is the requirement to use a state-licensed structural engineer or architect for most Greek house designs. The city of Madison considers these projects commercial in nature, demanding a certified level of support and signed-off construction plan. And let's not forget the pandemic which is ebbing yet still a concern, necessitating precautions including dust barriers, HEPA filtering machines, and rotating work schedules. 
The bottom line is that sorority and fraternity houses take significantly more tender loving care than even the most demanding older homes. Fraternity and sorority projects vary tremendously in terms of scale, budget, and timing, and can include anything from windows, doors, bathrooms, bedrooms, kitchens, and all of the above. The tricky part is that regardless of size, such a remodel demands the best and brightest in the industry, so make sure you partner wisely. 
The Sweeney Difference
The design-build firm started renovating sorority houses on the Madison campus more than 30 years ago. Their specialty became the sorority houses dotting Langdon Street thanks to the high level of quality, and by 2004, the firm had expanded across Greek Row including numerous projects varying in size and scope. Sweeney became the preferred contractor for room remodels to infrastructure projects such as heating, cooling, and fire suppression systems. 
Sweeney has designed and remodeled kitchens, bathrooms, chapter rooms, bedrooms, and foyers. Entire roofs have been replaced, tuck pointed masonry repaired, Sweeney even fabricated and installed 17′ high porch columns that exactly matched the original 100-year-old structures. Clients attribute Sweeney's success to their culture of honesty and integrity, high priority on careful design and pre-construction planning, and use of only highly skilled experts. 
A people-centered business since inception in 1954, Sweeney Design Remodel's design-build process ensures all customers are informed, engaged, and 100% satisfied. Their commitment to transparency and accountability has made Sweeney one of the most trusted names in remodeling, garnering gushing reviews, stunning work, and award-winning design. They never cut corners, and always adhere to quality standards that ensure on-time and on-budget jobs. 
Central to Sweeney is a culture steeped in values, and an integrated team of designers, craftspeople, and project managers committed at every step to exceed your expectations and bring you peace of mind. That unprecedented level of transparency and efficiency is necessary for projects as subtle and complicated as a Greek house. But don't take their word for it: Take a look at their successful projects, sign up for the newsletter, and reach out to them directly.