Mudrooms, despite their unassuming name, are a crucial part of any home. They serve an essential function as a buffer zone between the sometimes messy world outside and your pristine interiors. A well-designed mudroom is functional and beautiful, providing storage for everyday items we need for work, leisure, sports, and walking the dog.
This article looks at some essential things to consider when designing an attractive mudroom for your Madison home.
Where will Your Mudroom Be Located?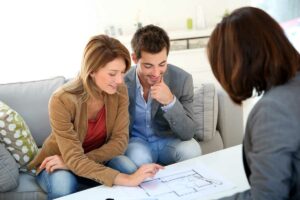 Mudrooms can serve various functions, and their location will depend on your specific needs and the available space you have. Some of the most common areas to locate a mudroom include the front entryway, back entrance, laundry room, garage, and kitchen.
The entryway is a popular location for a mudroom as it provides a transition space from the outdoors to your home's main living areas. A mudroom in the entryway can serve as a catch-all for coats, shoes, bags, and other items that may have come in from the outside. This can help keep the rest of the home clean and tidy.
A mudroom located at the back entrance can be particularly useful for families with pets, as it can serve as a space for washing and drying off after outdoor adventures. It can also provide a place to store pet-related items, such as leashes, toys, and grooming supplies.
When it comes to doing the laundry, a mudroom that's part of a laundry room can be a great space-saving solution. This type of mudroom can also provide a place to store cleaning supplies and laundry baskets, keeping them out of the way.
Mudrooms also make great additions to a garage, providing a place to store often-used gardening equipment and other outdoor gear and serving as a place to clean up after working on a vehicle or in the yard.
Finally, a mudroom off the kitchen can provide a convenient location for families whose kitchen is a central focal point of daily activities. This type of mudroom allows for storing items that might be needed if exiting through a kitchen door to the rear or side of the property.
Kick Clutter to the Curb with Storage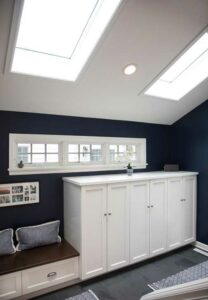 When it comes to mudroom storage, custom built-ins are a popular and effective option. These built-ins can be designed to fit the specific storage needs of your family and the items you use on a daily basis. For example, if you have pets, you'll want to include hooks for leashes and a designated area for pet food. If you enjoy a specific hobby, such as golfing, you may want large cubbies to store your clubs.
In addition to custom built-ins, consider incorporating a mix of open and closed storage options in your mudroom. Open shelving or hooks can be used for frequently used items, such as jackets, hats, and backpacks, while closed storage can be used for things you don't need to access as often, such as seasonal items or cleaning supplies.
When planning your mudroom storage, it's essential to consider all of your needs and plan for more storage than you think you'll need. You may be surprised at how quickly you can fill up a mudroom with overflow items from elsewhere in the house.
By incorporating a mix of open and closed storage and designing your mudroom storage to meet your specific needs, you'll have a space that not only looks great but is also highly functional.
Finishes Should Be Durable as well as Beautiful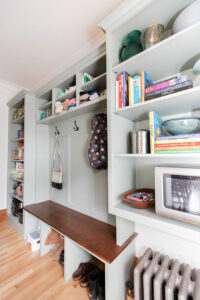 Strong surface finishes are particularly important for a mudroom and practicality should be at the forefront of your mind. You want surfaces that will stand up to daily use and hide dirt and wear, while still looking attractive.
For example, wall paneling and tile are excellent options as they are durable, easy to clean and maintain, and won't show wear and tear as easily as wallpaper or paint.
If you do want wallpaper and paint, you might consider using panels or tiles at a lower level and wallpaper and paint higher up the walls. This can create an attractive visual contrast while keeping the latter out of harm's way.
Then there's flooring. Again, choose practical and durable materials. Dark-colored patterns and natural stone are good choices as they look beautiful, hold up well, and are easier to keep clean. Avoid floor materials that are easily stained or show wear, such as light-colored carpets, as they will quickly look dirty and worn.
Suitable Seating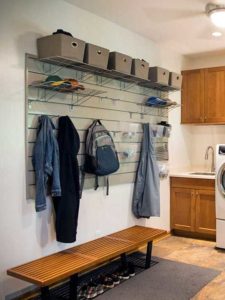 Seating in a mudroom is not just a decorative factor but also serves a practical purpose. For example, when entering the house, you'll want to change your footwear, and having a place to sit makes this process much more convenient.
Moreover, a seating area can double as a spot to take a breather, clean a dog's paws, polish your shoes, or even read the latest news while waiting for someone to get ready.
Here are some seating options to consider for your mudroom:
Hinge-top bench seating: Featuring a top that opens up on hinge mechanisms to reveal storage space inside, this type of seating is great for a mudroom as it provides additional storage space within the seat itself. It's ideal for storing outdoor gear in a neat and organized manner.
Bench seating with cushion: If you want to add a cozy touch to your mudroom, consider a bench seat with a cushion. Some seats come with their own cushions, while others can be adorned with new ones you can buy locally in Madison or online.
Bench seating with open cubbies: This option offers a mix of seating and storage in the form of open cubbyholes beneath the bench seat. The open cubbies are typically used to store shoes and boots but can also feature wicker or plastic baskets for the storage of other essential mudroom items.
When selecting seating for your mudroom, it's always a good idea to measure the space where the seating will go to ensure that it fits comfortably in the interior with plenty of room to maneuver.
Make Your Mudroom Beautiful!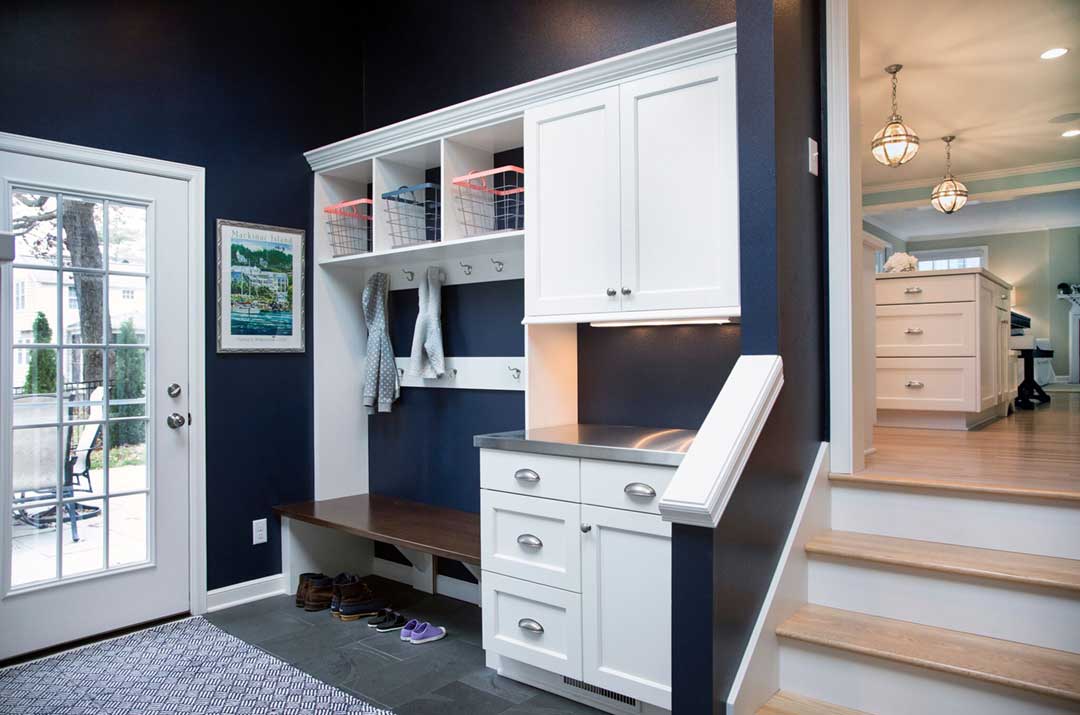 A beautiful mudroom adds character and charm to your home while simultaneously serving its practical purpose. In addition to the functional elements, consider incorporating aesthetic elements that complement the surrounding space and bring a touch of personal style.
Use color to create a seamless transition between the mudroom and adjoining rooms or to make a bold and vibrant focal point if that aligns with your personality.
Add a statement light fixture for ambiance and incorporate decorative accents such as plants, artwork, ornaments, and rugs to make the space feel even more attractive, comfortable, and uplifting.
Choose a Qualified Madison Design-Build Firm
At Sweeney Design Remodel of Madison, WI, we've been helping homeowners create the homes of their dreams since 1954, including designing beautiful and functional mudrooms.
As one of the most trusted names in remodeling, we ensure fantastic results for every project we complete. Our 4-step design-build methodology seamlessly integrates both the design and build elements of a project.
Our experienced and friendly team guide homeowners through a proprietary design-build process where customers remain informed, engaged, and 100% satisfied. We can do the same with you.
Take a look at our special approach to home remodels and additions, sign up for our newsletter, and reach out to us directly. We look forward to discussing how we can help you achieve the perfect home.