When you consider a combination of aesthetics, functional elegance and accessibility in your bathroom, a well-crafted curbless shower should be on your wish list. Creating a seamless and open space while prioritizing safety and comfort, a curbless shower is a modern choice that can enhance the overall value of your home. In this post, we'll look at some of the key considerations for designing your ideal curbless shower.
What is the Difference Between a Curbless Shower and a Traditional Walk-in Shower?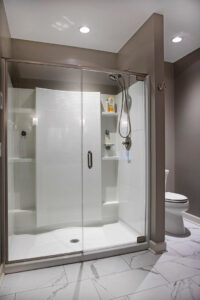 While a traditional walk-in shower and a curbless shower both provide a level of accessibility and design, they have distinct characteristics that influence their functionality, aesthetics and overall user experience.
A curbless shower, as the name suggests, lacks a raised curb or threshold at its entrance, offering a seamless transition between the shower floor and the bathroom floor. This provides a visually-open, contemporary appearance and enables accessibility, making it an ideal choice for individuals with limited mobility.
A traditional walk-in shower features a low curb or threshold separating the shower area from the rest of the bathroom floor. This helps contain water within the shower space to prevent it flowing onto the bathroom floor. The presence of this curb may require stepping over it, making it slightly less convenient for those with mobility concerns.
What are the Benefits of Choosing a Curbless Shower?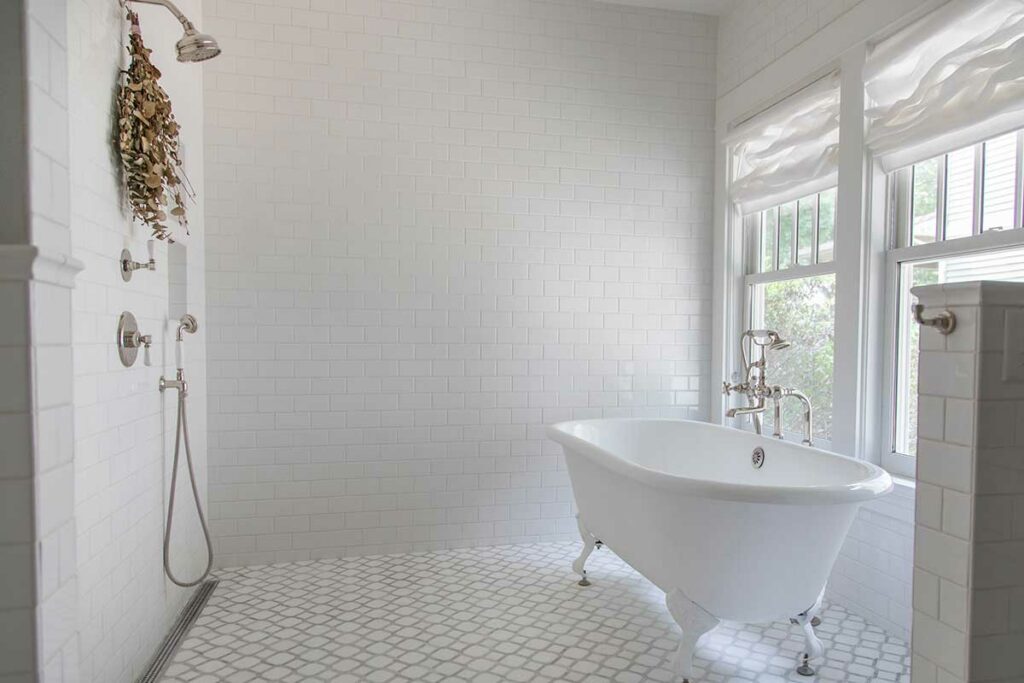 Universal Accessibility
The primary advantage of a curbless shower lies in its universal accessibility. It eliminates the traditional raised threshold or curb, allowing for seamless entry without barriers. This enables easy and safe access for people of all abilities or those wishing to age in place by reducing the risk of tripping. The enhanced accessibility is particularly valuable for those looking to age in place, as it minimizes obstacles and allows for greater independence.
A curbless shower is adaptable for various lifestyles to enhance convenience for all age groups. In addition, it offers ample space for caregivers or assistants to provide support if needed.
Modern Ambiance
The modern design of a curbless shower lends an air of luxury and sophistication to a bathroom, while the absence of a visual barrier creates a spacious ambiance that can evoke a feeling of tranquility and relaxation, turning the daily shower into a rejuvenating experience.
In addition, the seamless transition between the bathroom floor into the shower creates a sense of openness and continuity, especially in smaller bathrooms where physical barriers can fragment the space.
Streamlined Maintenance
Because of its design simplicity, a curbless shower streamlines maintenance and cleaning efforts. There is no curb to trap debris and soap scum. The elimination of a curb also simplifies the installation of larger-format tiles that minimize hard-to-clean grout lines which require frequent upkeep.
Design Flexibility
A curbless shower's design adds an open feel to the bathroom and can suit various bathroom configurations, adapting to both spacious layouts and smaller areas where space optimization is important. It can provide a cohesive appearance regardless of space constraints. The sleek design eliminates the need for a door or curtain and allows other features of the shower to create a stunning focal point, like a designer tile.
Are There Drawbacks to Choosing a Curbless Shower over a Traditional Curbed Shower?
While a curbless shower has its benefits, it is necessary to weight the advantages against the potential drawbacks.
Water Containment
Unlike a traditional curbed shower, a curbless design allows water to spread more freely. This can lead to water splashing onto the bathroom floor. Extra caution and maintenance may be required for safety.
Privacy
Without a door or curtain, the open layout might feel less private. If privacy is a concern, creative solutions like frosted glass panels or half-wall dividers can help, while preserving the open ambiance.
Expense
A curbless shower can be more expensive than a traditional curbed shower. Modifications to framing, plumbing and drainage must be addressed to accommodate the unique design.
Temperature
The lack of a full enclosure might lead to a perception of a "colder" shower, especially in chillier environments. Comfort can be mitigated by installing heated floors beneath the shower area.
Not all Spaces Work
Not all spaces are suitable for a curbless shower bathroom design. The requirement that the drain be set lower than the bathroom floor can present a challenge in some settings, such as in a condominium where structural limitations may make this design unfeasible.
Complex Transitions
Achieving a seamless transition between the entry hall, bathroom floor and the shower itself can be complex. Attention to detail is crucial. It is important to collaborate with an experienced remodeler to ensure a cohesive design that doesn't compromise functionality.
Design Considerations for Your Curbless Shower
Designing the ideal curbless shower requires careful attention to a range of considerations. By thoughtfully addressing these, homeowners can achieve a successful outcome that aligns with their design vision.
Proper Installation
A professional remodeler can ensure that the waterproofing, slope and drainage are executed perfectly to prevent water-related issues over time.
Tile Choice
Tile choices include size, material type, durability and maintenance. Tiles with a slip-resistant surface can help maintain safety while minimizing the risk of accidents. Larger tiles reduce grout lines for visual appeal and ease of cleaning. Because the shower is used often, materials that can withstand moisture and wear over time should be considered.
Related: How Tiles for Curbless Showers Can Bring Your Bathroom to Life
Drain Selection
When choosing a drain, a linear or centrally-located floor drain can complement the design while efficiently evacuating water.
Enclosures
Glass enclosures enhance both the visual and functional aspects of a curbless shower, and prevent water from escaping. Consider either clear glass or various transparency levels that can provide privacy while allowing light to permeate the space.
Showerhead
The placement of the showerhead is a practical curbless shower design detail that can affect the overall user experience. Strategic placement ensures optimal water coverage and minimizes splashing. Consider user height, spray angle, adjustability, and the desire for multiple showerheads to ensure a comfortable and functional experience.
Seating
A well-positioned bench or seat can provide a place for comfortable grooming or convenient relaxation while ensuring that the shower's design remains functional and uncluttered.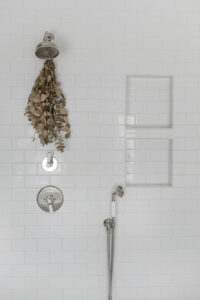 Niches
Curbless shower design details like installing niches for storing and accessing shower essentials eliminates the need for hanging caddies or storage units. This preserves the clean design lines while offering convenience.
Ventilation
An open, spacious shower requires adequate ventilation to prevent moisture accumulation that can lead to mold or mildew growth.
Work with a Bathroom Remodeling Specialist in Madison, WI
Sweeney Design Remodel stands as a reliable and experienced design-build remodeling partner for Madison, WI homeowners seeking to design their perfect curbless shower.
Our professional approach begins with a thorough understanding of your needs and preferences. Together, we'll explore your desire for accessibility and aesthetics, and design a shower that matches functionality with style.
We'll guide you through every step of the process. From concept to completion, we prioritize communication and collaboration, offering insights and expertise to empower you to make well-informed choices that will bring your vision into reality.
With our proven track record of excellence in design and remodeling, an experienced team, and talent for exceptional design, you are assured an exceptional remodeling journey. Contact Sweeney Design Remodel today at 608-257-3034 to schedule your free initial consultation.
For inspiration, view our portfolio of bathroom projects. And sign up for our newsletter offering tips and advice on remodeling.