Are you considering a DIY bathroom remodel?
A remodeling project of any kind is a daunting prospect. Yet when you set out to do it yourself, the complications and stress can be considerable, especially if it's your bathroom. As a small and complex interior, the home bathroom needs specialist professional attention, without which any changes can lead to costly mistakes.
With a professionally renovated bathroom potentially increasing the value of your home by $25,000 or more, it's generally sensible to let seasoned remodeling experts do the job instead. There are many reasons to avoid the DIY option, and some of these we've outlined below.
#1: Expert Material Selection and Professional Guidance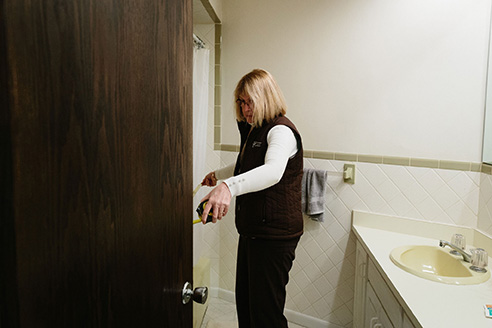 There's a significant learning curve to remodeling your bathroom. No matter how much amateur home improvement experience you might have, it'll be less than that of a professional. When it comes to material selection and design guidance, an experienced remodeling firm will have in-depth knowledge of a wide range of bathroom materials, from tiles to underlays.
The best remodelers are familiar with the latest material selections and bathroom design trends, allowing you to tap into a vast knowledge bank of perfect-fit options you might otherwise never have considered. A professional remodeler's relationships with supply companies also provide you with opportunities to get materials and fixtures at more affordable rates.
By working with a team of professionals, they'll help you avoid spending money on products with a history of underperformance thanks to their knowledge and experience with them. They will ensure you select the best materials and fixtures in line with your goals and budget.
#2: Quicker Completion
Speed is of the essence when it comes to remodeling your home, and particularly your bathroom. You don't want the renovation project to go on for too long for such an important room. Unfortunately, for many DIY bathroom projects, unforeseen complications and mistakes often mean delays of months. These delays naturally cause tension.
Hiring a professional design-build remodeling firm ensures your bathroom is completed according to schedule. Designers and contractors are motivated to get a job done fast and to a high standard so as to then move on to other projects. Professionals can create a beautiful design, source the best and most affordable materials and fixtures, and get the installation work completed quickly and efficiently.
This process makes life less stressful for you and, perhaps most importantly, for your entire family as well.
#3: Your Safety Comes First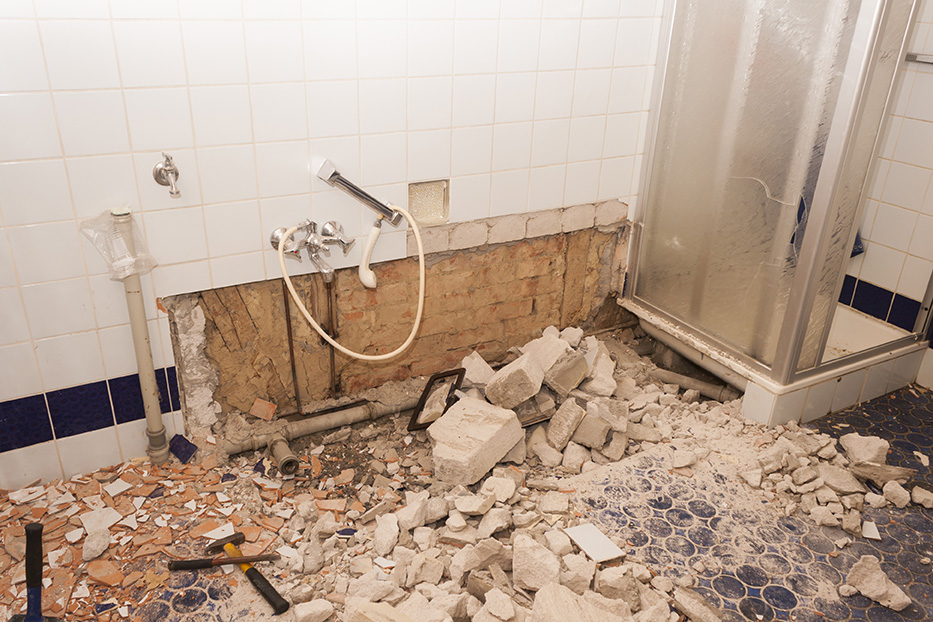 The compact nature of a home bathroom, together with often complex electrical and plumbing systems, means safety always needs to be of paramount importance. This focus on safety applies both during the remodeling process itself and long after when everything is in place and being used.
A small mistake with electrical wiring can have devastating consequences. For this reason, in some countries around the world, it's illegal for homeowners to do their own electrical work. In the United States, you'll need a permit to carry out many electrical installations. It's also wise to check whether damage due to faulty wiring is covered in your home insurance policy.
For the safety of you, your family, and visiting guests, it's preferable to let highly trained professionals design and install the bathroom of your dreams. From light fixtures and switches to heated towel rails and smart showers, it's vital to ensure your household is protected from all potential bathroom electrocution hazards.
#4: Avoid Costly Leaks
Like with electrical work, plumbing is subject to a range of rules and regulations. Unless you're intimately familiar with your local code requirements, it's sensible to leave bathroom plumbing to the professionals so as to avoid costly leaks.
The bathroom is a room where plumbing matters a lot. With regularly used fixtures including toilets, sinks, bathtubs, showers, and radiators, as well as maybe bidets and underfloor heating, it's imperative your plumbing works flawlessly. Any leaks can cause expensive widespread damage and become a serious safety hazard.
A professional design-build remodeling firm will install plumbing fixtures perfectly the first time. They will also know how to design a plumbing system that reduces potential future problems.
#5: Laying Tile Properly is Harder Than it Looks!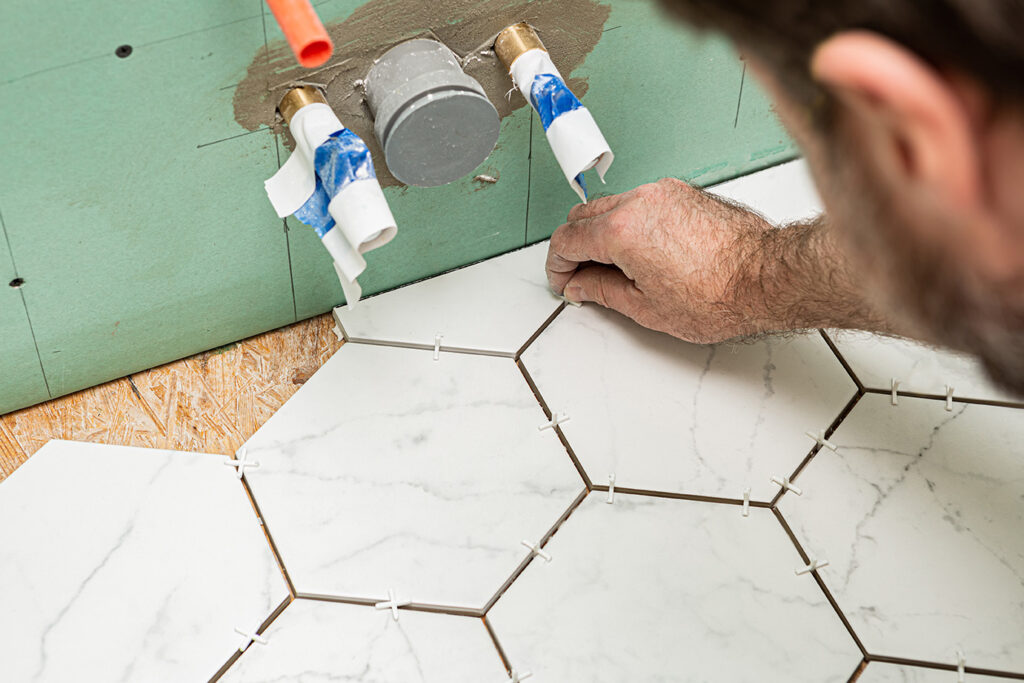 Laying tile might, on the face of it, seem like a simple task. Yet, like many a DIY remodeler will attest, getting it right is another matter entirely. Unaligned floor tiles or an uneven surface not only look bad but can be extremely dangerous in a moist atmosphere.
Part of any successful tile installation is the inclusion of a tile backing board. A popular method is to use cement boards for wet spaces such as shower areas, but this often presents a significant problem. Cement board absorbs water if there are even minuscule gaps in the accompanying waterproofing material, which is a common mistake in a DIY remodel.
If moisture penetrates the grout, it then absorbs water into the framing, causing mold to grow. A much more effective solution that professional remodelers use is the installation of a Kerdi membrane. This 100% waterproof membrane is made of soft polyethylene and is light, easy to shape, fast to install, and more insulating than cement board.
Certified installers can install a Kerdi membrane easily and without failures. This material requires numerous steps to install and should really only be done by a contractor with the training to do so. In order to avoid long-term damage and expensive refits, it's sensible to install the best materials right from the beginning of your bathroom renovation.
#6: Fast and Easy Debris Removal
When you picture a DIY bathroom remodel, it's easy to imagine the installation process and the final beautiful results. However, there's also the removal of the existing bathroom to bear in mind. The resulting debris, for even such a small space, can be considerable. Getting rid of old drywall, rusted pipes, decades-old toilets and sinks, broken tiles, rubble, and unused materials can be costly and stressful.
When you work with professional contractors, they factor in debris removal as standard and have all the resources necessary to deal with it for you. When your project is completed, your bathroom will be ready to use right away, without a rubbish bag in sight.
Create Your Dream Bathroom with Sweeney Design Remodel of Madison, WI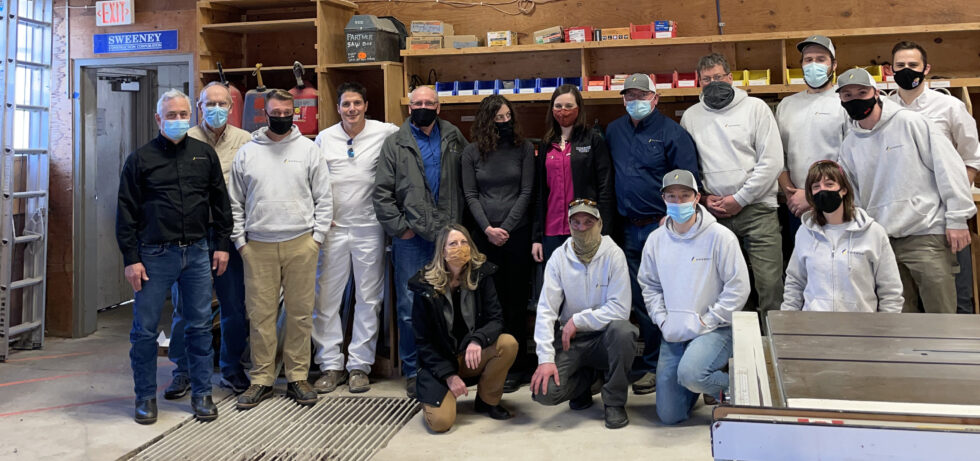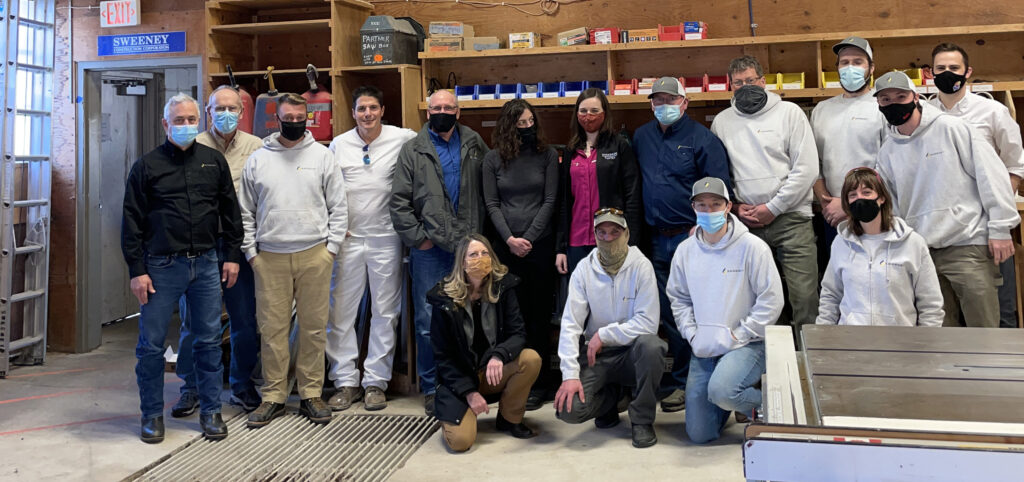 While remodeling your own bathroom is certainly possible, it's generally not advisable. A bathroom remodel is always best left to experienced professionals, especially when there so many important fixtures and fittings within a small and complex space.
At Sweeney Design Remodel of Madison, WI, we've been helping homeowners create their dream bathrooms since our inception in 1954.
As one of the most trusted names in remodeling, we ensure fantastic results for every project we complete. Our 4-step design-build methodology seamlessly integrates both the design and build elements of a project.
Our experienced and friendly team guide homeowners through a proprietary design-build process where customers remain informed, engaged, and 100% satisfied. We can do the same with you.
Take a look at our special approach to home additions, sign up for our newsletter, and reach out to us directly. We look forward to discussing your new dream bathroom!