Homeowners continue to spend more money on kitchen remodels each year. According to the 2020 U.S. Houzz Kitchen Trends Study, spending increased 17 percent from 2018 to 2019, with "wanted to do it all along and finally have the means" as the top reason to renovate now. If you're planning to remodel your kitchen, here are the top kitchen design trends for the Madison area.
Top Choices in Cabinet Design Styles
When choosing new cabinets, transitional style surges ahead in popularity over all other styles. By definition, transitional style is a mix of traditional and contemporary. A blend of comfort and sleekness with a muted, neutral color scheme with bold or dark colors reserved for accents.
Contemporary style cabinets rank second, and modern style ranks third in popularity. Traditional and farmhouse style tie for the last place in the Houzz Study.
As for cabinet colors, white reigns in 45 percent of kitchens with wood-tone and gray following. 
For homeowners simply upgrading existing cabinets, shaker-style doors are their top pick, followed by flat panels and raised panels.
Options for Specialized Cabinet Storage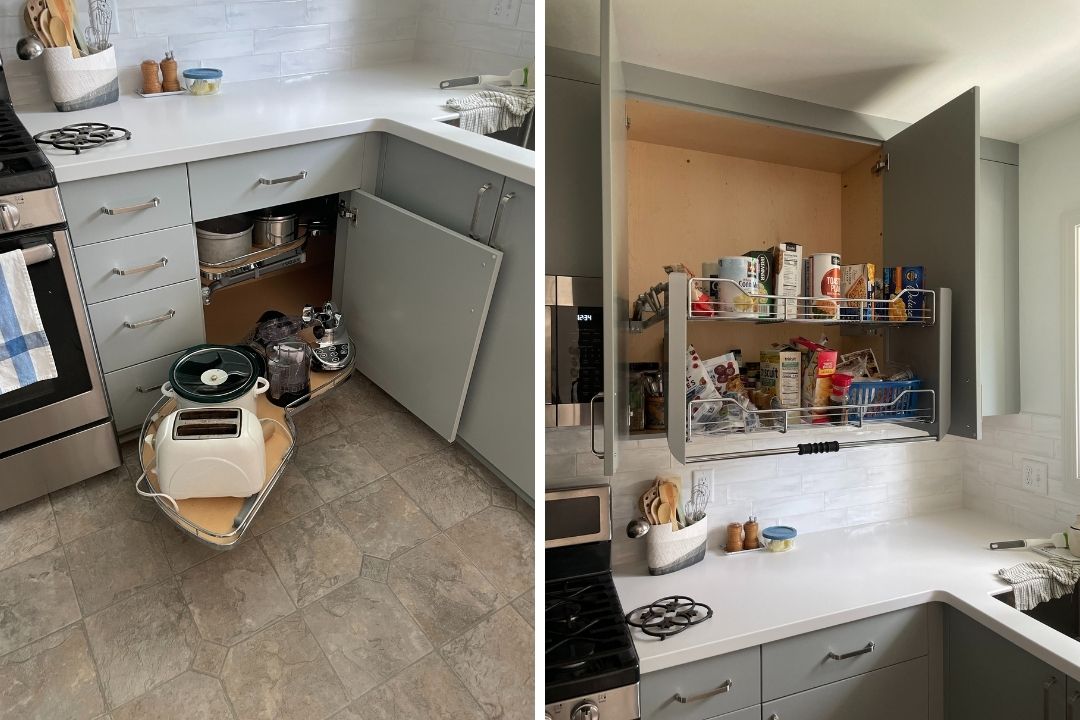 Kitchen cabinets have come a long way since the Hoosier of the early 1900s. Homeowners now have storage options they wouldn't even dream of themselves. The most popular specialty storage solutions and the percent of homeowners who choose them are as follows:
Pull-outs for waste and recycling bins—63 percent

Narrow base cabinets with baking sheet organizers—50 percent

Deep drawers for items like pots, pans, and plastic storage containers—40 percent

Lazy Susan base cabinet in the corner—40 percent

Spice organizers, whether in a drawer or a pull out—39 percent
 Other creative storage options include:
Open shelving to showcase your favorite dishes

A pull-out step ladder in the base cabinets that allows you to reach upper cabinets

Pull-out shelves in base cabinets

Cutlery organizers, including magnetic strips on the wall

Cabinets to hide your small appliances 

Drawer organizers to hold everything from knives to spices to k-cups
Islands Remain a Must-Have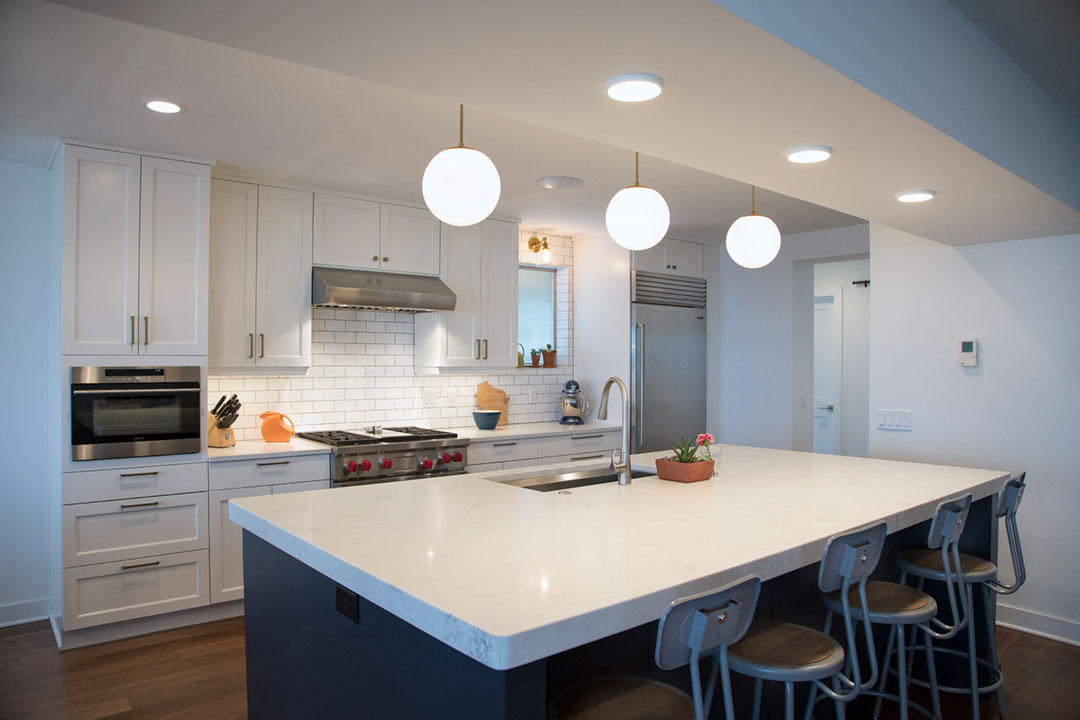 Nearly two-thirds of newly renovated kitchens included a kitchen island. And, for homeowners who didn't have one previously, one-third added one, according to the Houzz Study. Used for eating, entertaining, and socializing, the kitchen island not only offers a large surface area but provides ample storage space. 
What about style? Contrasting elements are popular. Of those homeowners adding an island, 39 percent choose a contrasting cabinet color, 13 percent choose a door style that's different from the perimeter cabinets, and 29 percent choose a contrasting color for the island's countertop.
Full-Height Backsplashes are in Demand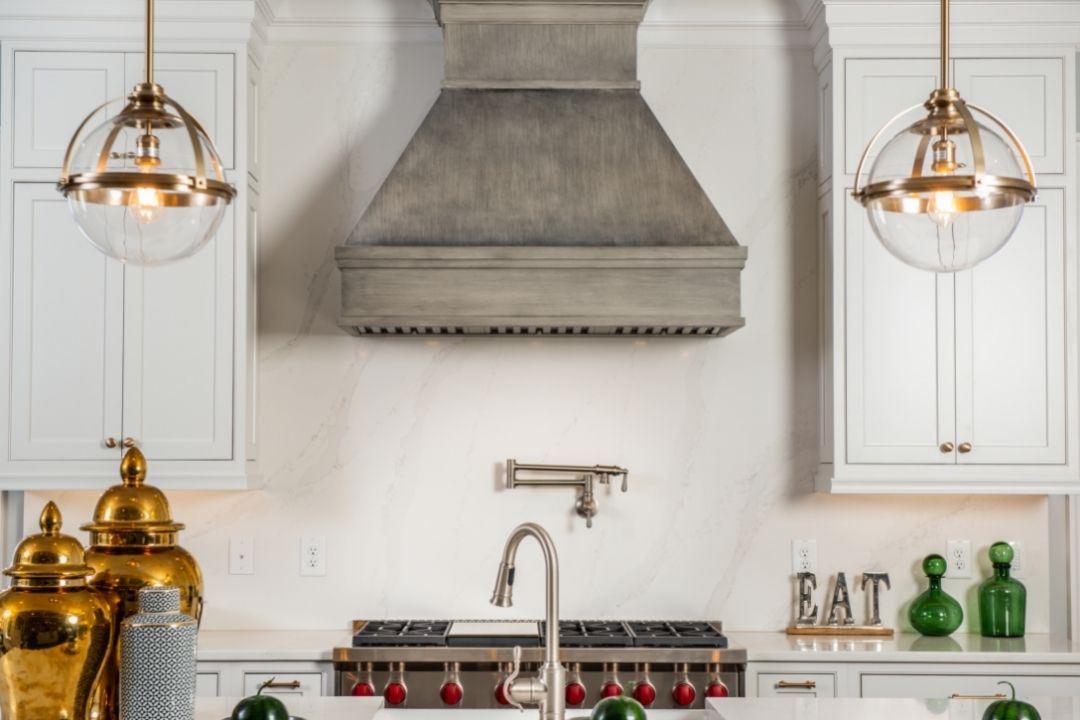 Where to end the backsplash often puzzles homeowners. Do you stop at the cabinet line or go all the way to the ceiling? What about around the range hood? Or where the walls meet awkwardly in the corner? 
In the greater Madison area, homeowners are choosing to incorporate a feature wall where they take the backsplash from the countertop all the way to the ceiling. Ceramic or porcelain tile is the material of choice for 57 percent of homeowners with white being the most popular color. 
In these full-height backsplashes, homeowners are adding visually appealing elements. We're finding tiles whose colors contrast with the rest of the style, are patterned, or are laid in an interesting pattern. Some homeowners use a dark grout to give white tile a luxury look. 
Homeowners who choose to end their backsplash at some point before the ceiling are adding narrow shelves to provide a stopping point where no cabinets exist.
Popular Choices in Kitchen Wall Color
As mentioned, neutral colors still reign in most kitchens, whether for cabinets, backsplash, countertops, or wall color. In fact, 30 percent of homeowners choose gray for their kitchen wall color with white and beige following second and third.
However, some homeowners still prefer to make a statement with bolder colors like blue or green.
Pros and Cons of Flooring Options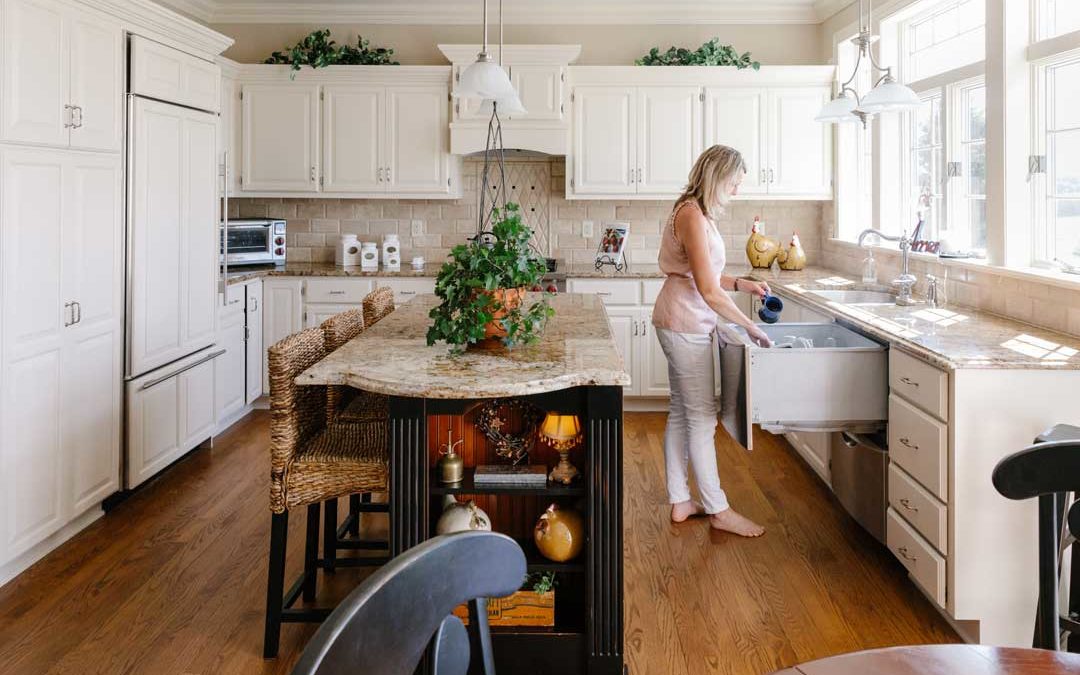 Every kitchen remodel needs a great floor. And, according to the Houzz study, 67 percent of homeowners replace the existing flooring when remodeling their kitchens. This year, hardwood flooring has returned to the most popular choice after a decline a couple of years ago. Twenty-nine percent of homeowners choose hardwood over tile, vinyl, or laminate.
However, what's popular may not be the best choice for your kitchen or your budget. To help you choose, let's look at the pros and cons of the top three flooring options.
Hardwood—The natural warm feeling of hardwood floors never gets old. Cherry, maple, and hickory all hold special powers over the vibes in any room.
Pros
High resale value

Can be refinished
Cons
Most expensive option

Hard to clean

Not resistant to moisture

Scratches easily
Tile—The difference between ceramic and porcelain tile is in the composition and manufacturing process. Porcelain tiles are made with finer clay, compressed under high pressure, and dried at higher temperatures than ceramic. This process makes porcelain more durable and less porous than its ceramic counterpart. Nonetheless, the pros and cons of both types of tile are similar.
Pros
Durable and scratch-resistant

Holds up to moisture, although porcelain more so

Comes in a myriad of styles, particularly mimicking natural stone or hardwood
Cons
Can break when something heavy is dropped on it

Moderate to high price

Slippery when wet

Hard to stand on for any length of time
Luxury vinyl tile—LVT is your budget-friendly option. Available in a limitless number of colors and textures, LVT is made to resemble both hardwood, tile, and natural stone. It's also more durable.
Pros
Impervious to moisture

Affordable

Resists scratches, scuffs, and chips

Soft to stand on

DIY friendly

Highly quality LVT often mistaken for hardwood

Some manufacturers offer warranties of 10-year to lifetime
Cons
Cannot be refinished

Styles aren't as timeless as hardwood

Inexpensive brands show wear and fading from UV rays
Partner with Madison's Best
Have you wanted to remodel your kitchen and finally have the means? Sweeney Design Remodel specializes in resuscitating the heart of the home. From opening up closed spaces and adding custom features to making everything fresh and new and on-trend for the neighborhood, we are ready to help. For the latest in Madison home design trends, and a wealth of other remodeling wisdom, subscribe to our newsletter TopNotch, or reach out now to schedule a 30-minute phone consultation with a member of our team.