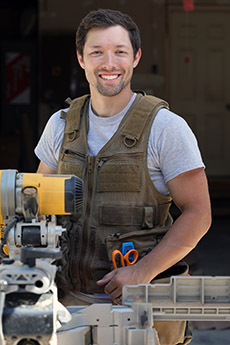 Pete Knudson
Carpenter
With a lifelong passion for home improvement projects, Peter brings energy and enthusiasm to his job every day as a carpenter.
"I've always enjoyed working with my hands and I love the satisfaction of creating something," remarked Pete.
Pete completed the construction and remodeling program at Madison College and worked as a carpenter apprentice at Sweeney in 2018. For two years he worked hard, mentoring under the leadership of our seasoned journeymen carpenters, and soon began managing smaller projects accurately and efficiently.
A family man of four, Pete took a short leave of absence from Sweeney in January 2022 and returned in June 2022. We immediately welcomed him with open arms.
Pete brings a great attitude and willingness to learn to work every day. The team is thrilled to help him pick up where he left off, eager to have him contribute and grow as a carpenter.