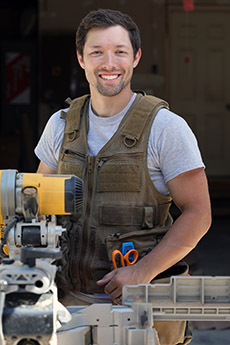 Peter "Pete" Knudson
Carpenter
With a lifelong passion in home improvement projects, Peter brings energy and enthusiasm to his job every day as a carpenter. And, now with a year of work experience at Sweeney, he's doing fantastic!
"I've always enjoyed working with my hands and I love the satisfaction of creating something," remarked Pete.
A graduate of the construction and remodeling program at Madison college, Peter is a hard worker with a strong attention to detail. He is developing his skills under the mentorship of Sweeney's seasoned journeymen carpenters. The team has enjoyed watching Pete develop into a second year apprentice, now  a carpenter managing projects accurately and efficiently while continuously improving his workmanship.
With a lot on his plate, supporting a young family, Pete brings a great attitude and a willingness to learn to work everyday.  When Peter isn't working, you'll find him enjoying quality time with his family.
.